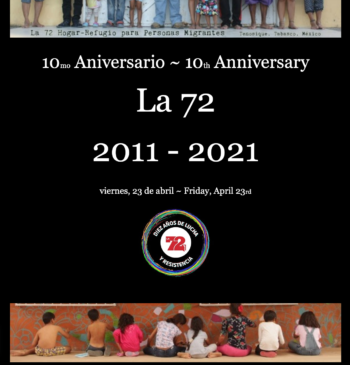 ACOMPAÑANOS A CELEBRAR NUESTROS 10 AÑOS DE ACOGER, PROTEGER, INTEGRAR, Y  PROMOVER LOS DERECHOS HUMANOS DE LAS PERSONAS EN MOVILIDAD. 
***************
JOIN US IN CELEBRATING 10 YEARS OF WELCOMING, PROTECTING,  INTEGRATING, AND PROMOTING HUMAN RIGHTS FOR MIGRANTS AND REFUGEES. 
Make a special 10th Anniversary donation through Paypal or our fiscal sponsor.
Hacer una donación especial como regalo de aniversario. Use Paypal o nuestro patrocinador fiscal.
Considera un VOLUNTARIADO en La 72.
Consider serving as a VOLUNTEER with La 72.
Background: The 72...
In August of 2010, members of the Los Zetas cartel murdered 72 migrants on a ranch near San Fernando in northeastern Mexico. Last year the Washington Office on Latin America posted a reflection on the 10-year anniversary:
The tragedy in San Fernando—which saw the migrants kidnapped and killed, reportedly for refusing to work for the criminal group—was no anomaly. In 2010, Mexico's National Human Rights Commission (Comisión Nacional de los Derechos Humanos, CNDH)  estimated that approximately 20,000 migrants were kidnapped in Mexico. Ten years later, kidnapping remains one of the most common crimes that migrants report experiencing. Authorities have identified hundreds of migrant remains pulled from mass graves—such as the 48 graves with 196 people, discovered in 2011in San Fernando, and another with 49 torsos, found in 2012 in Cadereyta, Nuevo Leon—raising the question of how many of the tens of thousands of unidentified remains in Mexico may belong to missing migrants. A 2019 study found that about one in three migrants experience some form of violence when transiting through Mexico. 
In response to the violence that so many migrants face, and in honor of those killed in San Fernando specifically, the Franciscan order launched La 72, a shelter for migrants in Tenosique, Tabasco near the Mexico/Guatemala border in the months after the massacre. In the years since the shelter opened they have served tens of thousands of migrants from Central America and elsewhere, offering a meal, a room, and at times, assistance navigating Mexico's migration system. 
Franciscan Network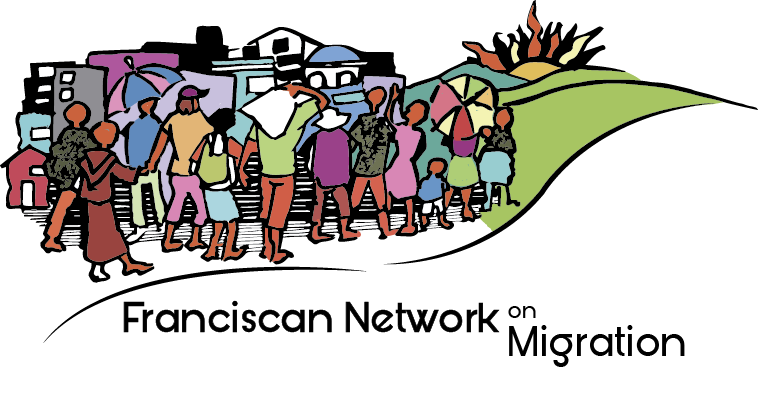 In 2019 La 72 joined with other shelters in Mexico and Central America to create the Franciscan Network on Migration. The network provides opportunities for the coordination of the shelters' work during the ongoing crisis generated by U.S. border policy, Mexico's increased enforcement, and ongoing forced displacement from Central America. 
The need for the work is ongoing. In January of this year, in an attack reminiscent of the massacre at San Fernando, the bodies of 19 migrants were found in two vans. They had been shot, and then the bodies burned. Ultimately, the police were implicated in the attack along with cartels. Just this week came reports of a group of 120 migrants who have gone missing, last seen in Puebla. From a report on the situation: "The 120 migrants were being transported by coyotes, suffering mistreatment and abuse, but then were found by National Guard and local Tlaxclala authorities after one in the group was able to call for assistance through WhatsApp." The concern is that they are possibly back with coyotes, as the group has not been heard from. 
The dangers migrants face is increasing as the Biden administration continues to pressure Mexico, and now Guatemala and Honduras, to clamp down on their borders and block passage of people trying to head north. The border closures and militarization of enforcement only serves to drive people into more dangerous situations. For many, the only chance they have for respite on this journey is through one of the many privately run shelters in the country.  
The Quixote Center is the fiscal sponsor for the Franciscan Network on Migration. You can donate to support their work here.