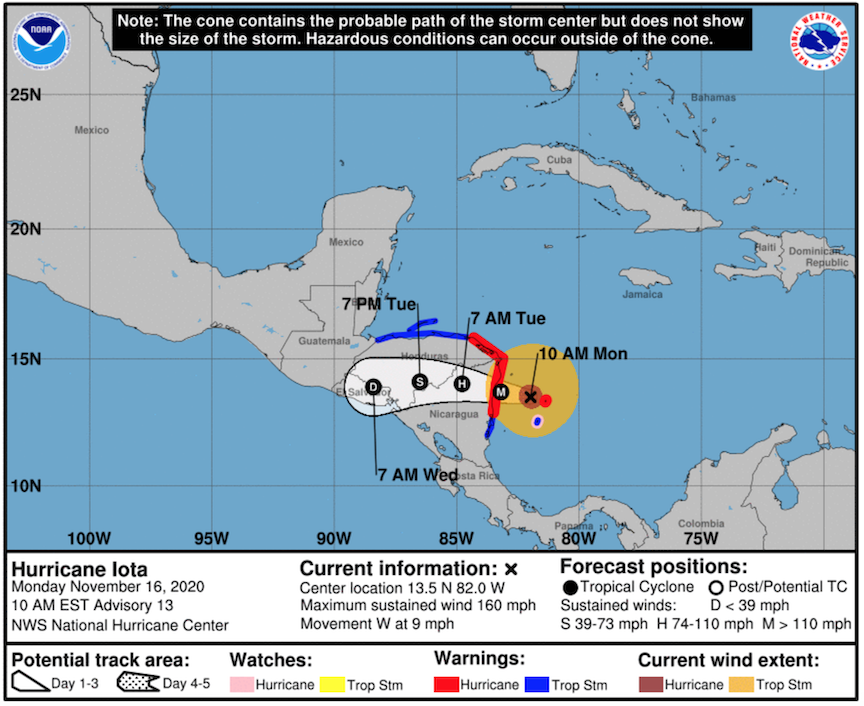 Central America is still reeling from Hurricane Eta, which struck the Nicaraguan coast near Bilwi on Tuesday, November 3 as a Category 4 storm. Eta did extraordinary damage to homes from wind and flooding in Nicaragua, Honduras, Guatemala and in Chiapas, Mexico. The worst damage was in Honduras and Guatemala, which also had the largest number of people who died -  over 150 people perished, mostly from drowning and as the result of mudslides. Much of Honduras near the northern coast remains flooded, with roads near San Pedro Sula cut off. Emergency response efforts have been hampered by the damage to transportation routes, and so the prospect of another, even stronger storm, is daunting indeed.
In Nicaragua there were only two confirmed deaths, both men trapped in a goldmine about 80 miles west of Bilwi. Damage to homes and roads was still significant, and there was a great deal of flooding as well, especially in Rivas. See chart below (in Spanish - from Centro Humboldt).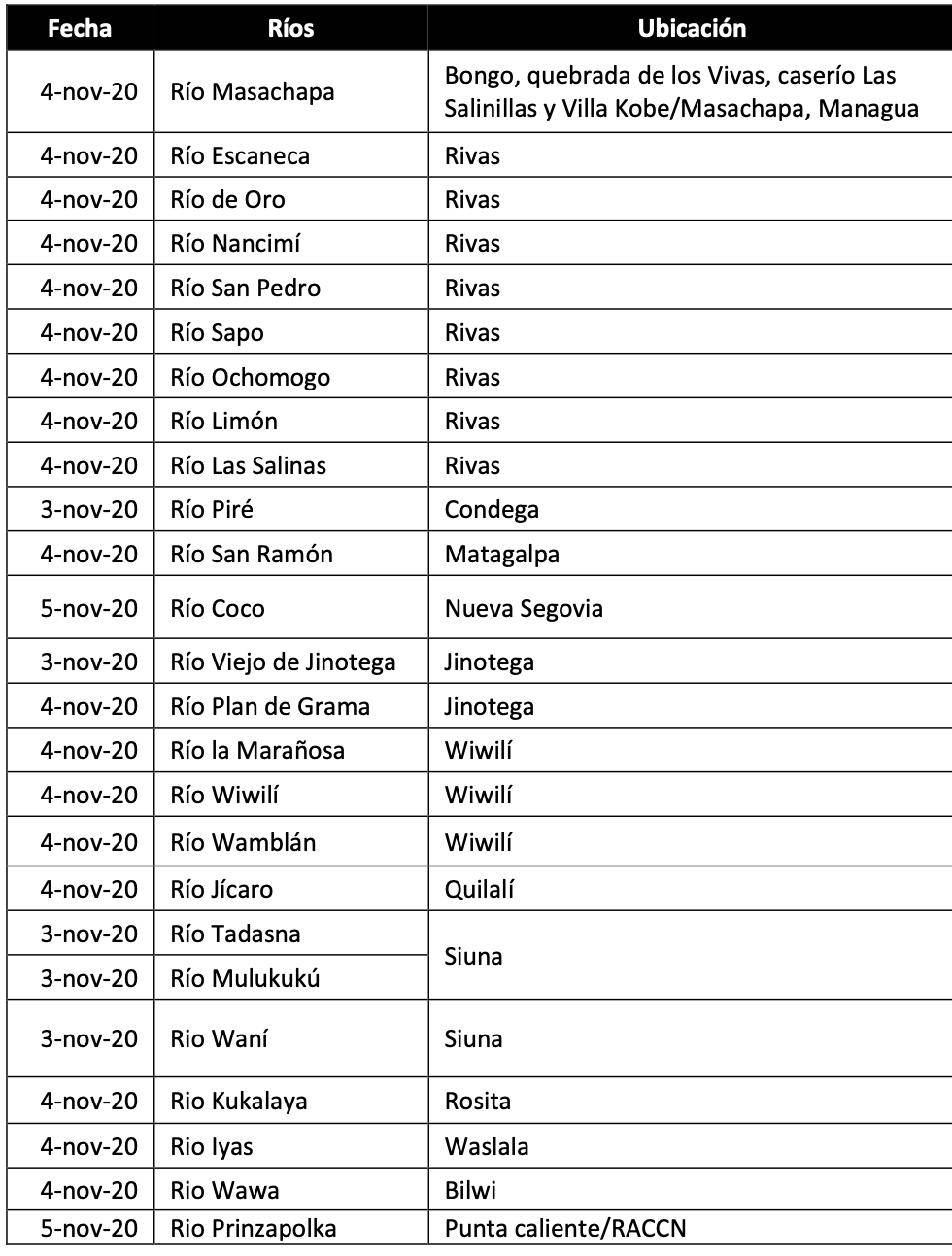 Source: Centro Humboldt
Last week Nicaragua's government began distribution of building supplies to provide shelter to people along the coast, and to begin the process of rebuilding homes. Those supplies may well now just be more debris in the the 160 MPH winds expected from this new storm. Nicaragua was clearly better prepared than either Honduras or Guatemala prior to Eta. The government in Nicaragua has placed a much higher priority on supporting rural communities than its neighbors and has devoted considerable resources to building a disaster response system in the years since Hurricane Mitch. That said, Nicaragua is still a country where resources are limited (and more so as it deals with sanctions from the U.S.). Another major storm will tax the limits of this system tremendously.
In Honduras, people are bracing for the worst. Still suffering from flooding and the government's inability to get aid to people stranded by Eta, the country now faces mass evacuations. The U.S. Embassy reprinted an order from the Honduran government calling for evacuations in the following areas:
Gracias a Dios
Atlántida
Cortés
Colón
Yoro
Francisco Morazán
Olancho
El Paraíso
Choluteca
Valle
All areas previously impacted by Hurricane Eta
A friend whose family is evacuating said the road to Progreso looked like one huge caravan. Displacement is already a huge problem - nearly 3 million people impacted by Eta across Central America. The coming days are guaranteed to add tremendous pressure on people moving, and in receiving communities. We can only hope that the government of Honduras is better prepared - as much as possible, anyway, under the circumstances.
We will have more information as it becomes available. It may be days before we know what the impact will be and what is most needed and where. The storm is expected to come ashore over night. Things we know will need to happen from the U.S. side, is to extend Temporary Protected Status to people from Honduras, Guatemala and Nicaragua again - TPS for Honduras and Nicaragua post-Mitch is in the process of being unraveled by the Trump administration. Minimally, Biden will need to extend those programs and add further protections beyond these original TPS designations for those here now.  Guatemala's government has already made a formal request for this.