Throughout the last year, the number of people being held in immigration detention facilities fell. Starting at about 38,000 last March, the number of people being held in detention at the end of February this year was just below 13,000. As we reported throughout the year, the decline was the result of border policies, specifically Title 42 - a controversial public health order under which people are denied access to regular immigration processing, including the right to request asylum. Under Title 42, people have been summarily expelled when encountered at the border- almost all of them within 2 hours of being picked up. A smaller number of people, primarily those who cannot be returned to Mexico, including those from Haiti, are detained for a few weeks before being expelled. 
Under Trump, over 600,000 people were expelled under Title 42 - which meant 600,000+ people that would have been detained for some amount of time under "normal" circumstances, never entered the system.
Since President Biden came into office, Title 42 expulsions have continued, but the percentage of people expelled under Title 42, versus those placed into regular immigration processing channels ("Title 8") has fallen off - even as the total numbers have gone up all around. In October, 91% of Border Patrol arrests led to immediate removal under Title 42. In March and April, 63% of arrests led to Title 42 removal.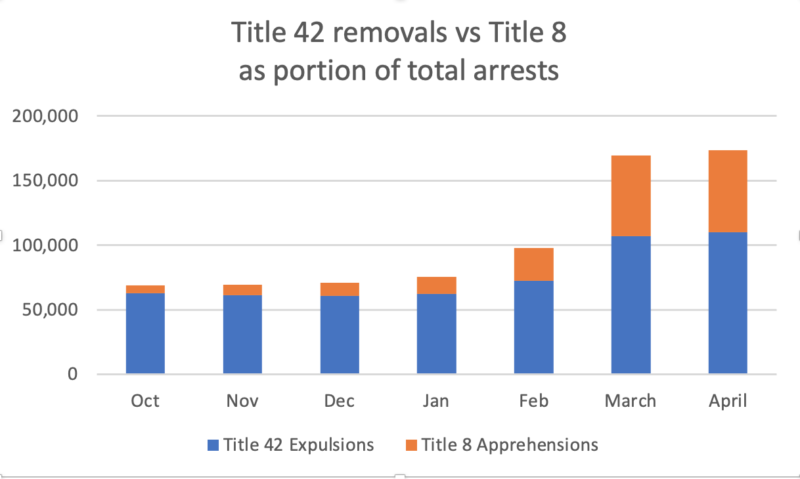 The result of more people being redirected into Title 8 processing is an increase in detention. The number of people being held in detention at the end of the first week in May was over 19,000. This represents a 50% increase in detention since Biden took office. This is true, even though Biden issued new enforcement parameters that have seriously reduced internal enforcement arrests ("ICE" in the chart below). As we can see from the table, the increase in detention is all the result of border arrests and transfers from Customs and Border Protection (CBP).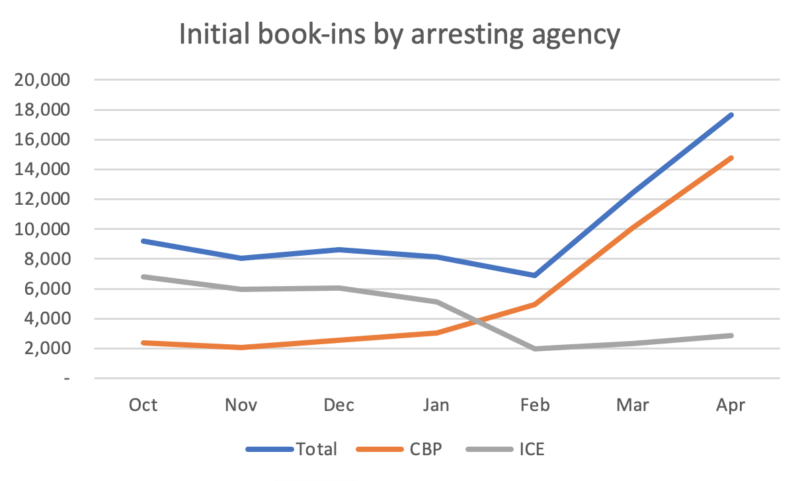 As detention numbers increase, it raises concerns again about exposure to COVID-19 inside detention facilities. Over the course of last year, ICE did very little to adjust its procedures to protect people. It continued to transfer people from facility to facility, it continued to deport people, and within facilities, there was little access to protective equipment and COVID testing. The result was that ICE detention centers became COVID-19 hotspots, leading to the highest annual death rate in years. An investigative report by Detention Watch Network concluded that "between May 1 and August 1 [2020]....ICE detention facilities were responsible for over 245,000 Covid-19 cases throughout the country." 
Finally, the New York Times reported on the spread of COVID-19 around the world as a result of ICE detention practices and deportations.
Given ICE's track record, we are rightly concerned about the health of those incarcerated. For one thing, ICE has NO uniform vaccination program. Indeed, even though a federal agency, it has left vaccination decisions to the states and/or localities where its detention facilities are located. So, unlike the Federal Bureau of Prisons, which provided vaccines for federal prisoners, ICE has provided none for those in its custody. The predictable result is that very few people in detention have received a vaccine. Indeed it was during the first week of May, that the first known vaccines for anyone in ICE custody in Texas were provided by Houston's public health department; 130 doses delivered to the Houston Processing Center.  Meanwhile, in Texas, 402 people are in isolation after testing positive for COVID-19.
System wide, there are currently 2,123 people who have tested positive in ICE custody - or 1 out of 9 people in custody. 
Physicians for Human Rights wrote a letter to the Secretary Mayorkas of the Department of Homeland Security saying,
The number of COVID-19-related deaths in custody, and immediately following release, continues to increase. Although release of people from immigration detention is the most appropriate solution to this crisis, it is also an urgent human rights issue to ensure that detainees have timely access to the potentially lifesaving COVID-19 vaccine. PHR submits this letter based on more than 30 years of experience documenting health and mental health risks in immigration detention, providing medical and psychological evaluations for individual clients, and producing peer-reviewed articles and national research reports, including one based on interviews with 50 people held in ICE detention during the pandemic that shows ICE's cruel and callous treatment of detainees and failure to ensure safe conditions.
The recommendations in the letter are:
Issue an unequivocal public statement that all people in immigration detention should be vaccinated as a priority population. While acknowledging the important role states and localities play in vaccine rollout, there must be an indication from federal authorities that vaccinating people in immigration detention is a priority. As the agency responsible for ensuring the health and safety of people in immigration detention centers, DHS must play a clearer role in ensuring access to vaccines and coordinating with the appropriate state and local authorities. 
Ensure that vaccine supplies are reserved for people in immigration detention. Consider direct allocation of federal vaccine supplies to detention centers, as the Bureau of Prisons already does for people in other federal detention facilities. Alternatively, or additionally, ensure that state public health authorities dedicate a specific proportion of their vaccine allocations to people in immigration detention facilities located in their states. 
Provide community legal and social service providers and advocates with access to detention facilities to communicate with detainees about the vaccine. Clear messaging on vaccination plans must be delivered to people in detention by trusted sources.  
The full letter is here.
You can help elevate these demands by calling the Department of Homeland Security comment line at 202-282-8495 and let them know you support insuring that all people held in ICE custody receive a vaccine - and that they be released as soon as possible!