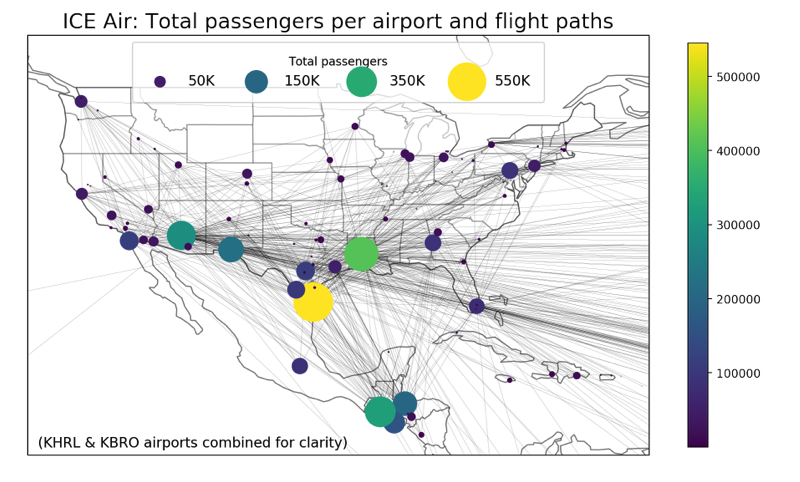 Last week ICE deported 61 people to Haiti. Though deportation flights have been occurring at a regular pace to countries throughout Central America in recent weeks, the flight to Haiti raised criticism to a new level. Certainly, given the fragility of Haiti's health infrastructure, the administration could find a way to halt deportations for a time - right?
Indeed, this week 27 members of Congress asked the House leadership to include a ban on deportations to Haiti in any future coronavirus legislation. Suspending deportation flights to Haiti is important. But I would hope that Congress could find the courage to suspend all deportation flights for the duration of this pandemic. Given the way this process is organized there is no way flights can be conducted safely.
The first thing to understand is that deportation flights, like most of the U.S. immigration enforcement machinery, are a business. Immigration and Customs Enforcement runs an airline of sorts called ICE Air Operations. ICE Air subcontracts with private charter companies, who get paid well per flight hour, no matter how many people are on the flights. Most of ICE Air operations run through a single contractor, Classic Air Charters (CAC). CAC manages flight calendars, and subcontracts with additional companies - Swift Air and World Atlantic Airlines - for deportation flights. CAC received a one-year contract, with four one-year extensions written in, worth $646 million in 2018. 
If you scroll through the news release section on ICE's webpage you will find celebrations of ICE Air picking up U.S. citizens and permanent residents in Nicaragua, El Salvador, Honduras, Colombia and Guatemala. Of course, what first happened is that a charter plane was filled with people being deported. They were taken to those countries, and then the private charter service is paid to bring people to the United States. With other international travel from these locations being blocked, these charters are one of the few ways people can return to the U.S. The private charter companies get paid going and coming.
Like any other airline, ICE Air runs hubs for international and domestic flights. For international (read deportation flights) the hubs are in Miami, FL, San Antonio, TX, Brownsville, TX, Mesa, AZ and Alexandria, LA. These hubs are themselves detention sites, or "staging areas." People are transferred from facilities throughout the United States to one of these staging facilities, where they will be detained for up to 72 before being put on board a plane to be deported.  
The flight to Haiti last week left from the Alexandria, LA staging area. The Alexandria staging area is also a business - it is run by the for-profit prison company GEO Group. The facility can detain up to 400 people a day. The facility also has the largest number of confirmed coronavirus cases among detention staff in the country.  Of 19 confirmed cases among ICE detention staff recorded on April 10, 11 were at the Alexandria Staging Facility. But the actual number of cases may be even higher as ICE is not reporting staff working for contractors - e.g. GEO Group staff or subcontractors working for them. Louisiana prison and jails are among the hardest hit in the country outside of the New York area. Actual incidents of COVID-19 are thus much higher than ICE is reporting - including at the Alexandria facility.
What that means is that everyone on the flight to Haiti was likely exposed to coronavirus, as well as the hundreds of people who were processed through that facility on their way to Honduras, Guatemala, and El Salvador.
That a staging area like this has seen this level of cases is not surprising. People are being transferred from all over the country. Coronavirus is now confirmed in facilities throughout ICE's detention network. For example, one man scheduled to be on the flight to Haiti last week was transferred through two other facilities before arriving in Alexandria. Both of those facilities also had confirmed cases of coronavirus. City to city transfers like these within the United States also take place on ICE Air flights. The potential for spreading the virus through multiple transfers, many on airplanes, to then be held in a staging area for three days and then placed on an international flight, is obviously very high.
Remember, there is no screening for COVID-19 except for temperature checks before people board.
There are documented cases of people arriving from the United States aboard these flights who are confirmed to have COVID-19 within days of arrival. 
There is no way this process can unfold safely. Yet, the Trump administration, rather than slow the flights, has gone so far as to threaten to sanction any country whose government refuses to accept deportation flights - despite the clear risks involved. 
Yesterday, April 13, two deportation flights landed in Guatemala totaling 182 people. The first flight originated from the Alexandria Staging Facility. At least one person tested positive for COVID 19. Earlier, Guatemala's health minister said that 75% of returnees on a flight in March have tested positive.
Members of Congress should seek to stop deportation flights to Haiti. But they must go further. The government must suspend all deportation flights for the duration of this pandemic. To continue these flights puts the health of people in detention, staff and the communities people are being returned to at further risk.