Nicaragua was struck with a category 4 hurricane on Tuesday this week. Hurricane Eta formed and quickly strengthened in the Caribbean last week and into the weekend. It came to shore as a very strong, slow moving storm near Bilwi on the northern Atlantic coast, and cut across the northern part of the country, swelling rivers and dropping rain all around. 
As of Wednesday there were two reported deaths, both gold miners who perished in a mudslide west of Bilwi. Nan McCurdy with the Nicaragua Network reported on Wednesday, that "The torrential downpours on November 4 have caused the flooding of some neighborhoods in Jinotega, San José de Bocay and Wiwilí where 27 people were evacuated by the army.  The strong currents of the Wamblán River dragged down the suspension bridge." Further flooding and mudslides are always possible as the rain continues to fall, but it does seem as though Nicaragua has seen the worst effects, and has come through okay. That said, there has been significant damage to homes along the Atlantic coast and interior flooding with the result that some folks will be displaced for a time.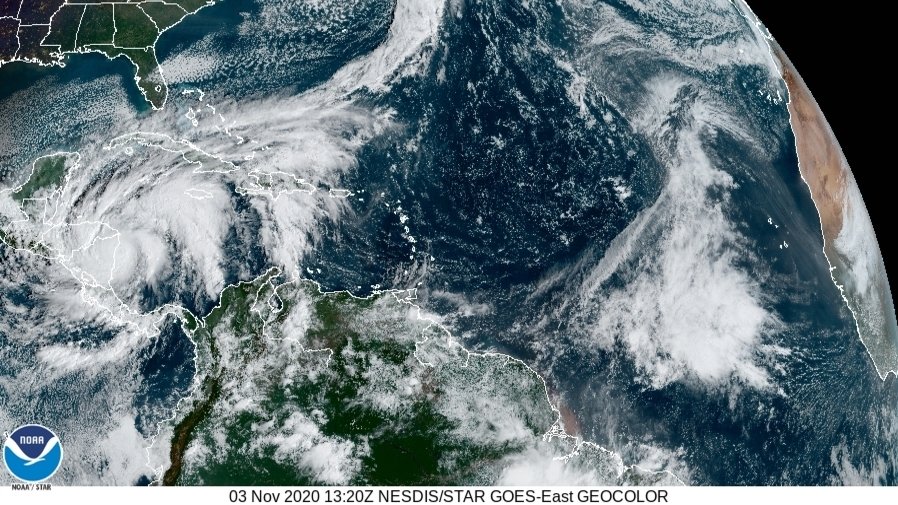 National emergency response systems put in place since Hurricane Mitch struck in 1998 were mobilized before the storm. On Tuesday, Erika Takeo with the Friends of the ATC wrote about precautions being taken: "Within the framework of prevention and mitigation of damages, more than 80 tons of food and basic elements were sent to the shelters (about 20 thousand people have been evacuated) that have been installed in safe areas of the city of Bilwi. Also, more than 1,500 troops of the Nicaraguan Army rescue unit were mobilized to the areas with red alert, and a provisional hospital with medical equipment from the Ministry of Health has been installed to attend to emergencies." 
We spoke with folk at Institute of John XXIII on Wednesday. As the rain was still falling, it was too early to know the full impact of the storm and, therefore, what emergency, or longer term responses might be needed. We will continue to be in touch. For now, we proceed mostly with relief that the people of Nicaragua seem to have come through the storm as well as could be expected. 
Honduras and Guatemala have been more severely impacted. In Honduras at least 13 people have died in flooding, and many more in Guatemala, as 25 people were killed in a single mudslide near San Cristobal Verapaz.
We will have more information on impacts in Honduras and Guatemala early next week. At this point any funds we raise for Honduras and Guatemala will go to the Franciscan Network on Migration, which coordinates the work of shelters in Central America and Mexico.