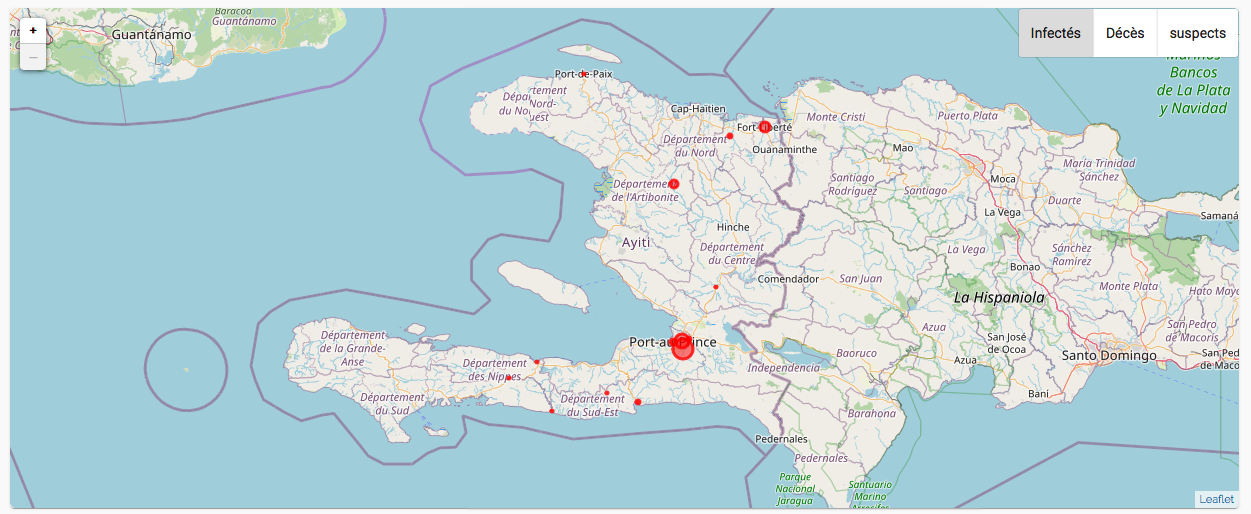 Mapping COVID-19 in Haiti
As of today, Haiti's confirmed cases of COVID-19 are currently 43 with another 485 suspected cases awaiting test results. Three people have died. While actual infections may be much higher, as widespread testing is not yet available, certainly things could be worse. The Dominican Republic has over 4,000 confirmed cases and 200 deaths. Haiti's health infrastructure has been decimated by decades of structural adjustment policies and demands for reduced budgets. So it is not in a position to manage thousands of cases – another reason to suspend deportation flights!
Deportation flights - more to come?
Last week, Immigration and Customs Enforcement deported 61 people to Haiti. The move caused a huge stir, leading to outrage among members of Congress and multiple stories in the media. Of course, the U.S. has been deporting people throughout the COVID-19 crisis, the vast majority to Guatemala, Honduras and El Salvador. Indeed, 12,000 people have been deported to Guatemala since January. Just this week, ICE deported 182 people in one day on two different flights. On one of those flights, 44 people tested positive. On April 12, Guatemala had 167 cases of COVID-19 confirmed nationwide. WIth one deportation flight, the U.S. government increased infections in Guatemala by 25%. Though there is controversy over where the flight originated, flight tracking indicates clearly it was from Alexandria, LA and ICE's staging facility there. That facility has the highest ICE staff infection number in the country (currently at 13). It is the same staging facility where the flight to Haiti departed from the previous week.
In the last week, 27 members of the U.S. Congress sent a letter to Nancy Pelosi and other House leadership demanding that any future coronavirus legislation include a ban on deportation flights to Haiti. We agree, and have signed onto a letter being circulated by the Haiti Bridge Alliance calling for a suspension of deportation flights, as well as mass release from ICE detention facilities. If you represent an organization, please consider signing onto this letter until April 21.
That said, ultimately we need to stop all deportation flights, and stop them now. Another flight is likely scheduled this week to the Domincian Republic - some reports indicate it will stop in Haiti first. Further flights are planned to Ecuador and Colombia  Flights to Honduras, Guatemala and El Salvador continue unabated for now. This cannot continue. 
U.S. blocking exports of medical supplies
Haiti and other countries in the Caribbean will NOT be able to get protective equipment and medical supplies from the United States.  From the Miami Herald:
Caribbean nations struggling to save lives and prevent the deadly spread of the coronavirus in their vulnerable territories should not look to the United States as they seek to acquire scarce but much-needed protective gear to fight the global pandemic
A spokesperson from U.S. Customs and Border Protection confirmed to the Miami Herald that the agency is working with the Federal Emergency Management Agency to prevent distributors from diverting personal protective equipment, or PPE, such as face masks and gloves, overseas. Ventilators also are on the prohibited list.
The move stems from authorizations under the Defense Production Act which allows the federal government to take more control over procurement of emergency supplies. It also allows the president to ban the export of certain items. Customs and Border Patrol is enforcing this in regards to ventilators, marks and other protective items. 
In Haiti, domestic production of masks and other protective gear was launched two weeks ago to both produce needed materials and keep some factories at work.
Now Haiti's government seems set to begin reopening garment factories. The prime minister announced this week that starting April 20, some factories would be reopened. In the short term, about 30% of the sector's capacity would be reactivated - to allow for more space within facilities. Garment production makes up 90% of the value of Haiti's exports.
Update from Gros Morne
In the section of Haiti where we work, in and around the community of Gros Morne, there are no confirmed cases, but people remain cautious. The agronomy team from the Jean Marie Vincent Formation Center have been delivering seeds to farmers throughout the region. The rains have not yet come, but when they do, we want farmers to have what they need to plant, so there will be more food in the area in 3 months. Hunger has been a constant specter for rural communities over the last several years. A large bag of rice is now selling for 2,000 Haitian gourde at the local market - over $20. 
As the team travels in the region they are also disseminating information about COVID-19 and preventive, sanitary measures for reducing the spread of the disease. Check out the map below to see where we are working.