In August, the United States began sending Central Americans who had been detained at the US/Mexico border under Title 42 to southern Mexico. There, they were put on buses and taken to the border with Guatemala and dumped. Flights to Tapachula have been taking place near daily for this purpose over the last two weeks, alongside several other flights to Villahermosa in Tabasco. From there people are driven to the border at El Ceibo and expelled.
Earlier this week I spoke with someone who works at La 72 shelter in Tenosique, Tabasco. She had just been to the one shelter in El Ceibo on the Guatemala side of the border that has been receiving people expelled from Mexico. While there, she interviewed several people who had arrived on a removal flight and then been bussed to the border.
One family, a woman and her daughter, had come to the United States to reunite with the father and a sibling. The father and child arrived just before COVID-19 border restrictions took effect last year. They applied for asylum, and were paroled out pending review. When the mother and sister arrived at the US border, their experiences were far different, under Title 42. They were held at a Border Patrol station for five days - in one of the infamous "hieleras" ("coolers"). They were then put on a plane they thought was taking them to another detention facility in the United States. Told nothing, they found themselves in an airport in Villahermosa, then a bus to El Ceibo. While in custody, they requested asylum and were told that it was not available to them.
The denial of asylum, while refusing to explain to people what is happening to them, has been the norm under Title 42. The emphasis in the original CDC order was rapid expulsion. The logic, such as it was, being that the United States lacked the capacity to detain and test people in a manner that was safe. Thus, people were to be removed so quickly that the average time between encounter and expulsion for most people during the Trump period of Title 42 was reportedly two hours. Under Department of Homeland Security guidance for implementing the policy, people encountered by Border Patrol were not to be taken to a regular detention facility at all and only moved by vehicle if separation between migrants and Border Patrol personnel could be maintained. Under these rules, there is no space for asylum claims, or even, apparently, explanation to people about what is happening to them.
From a public health perspective, this is all theater. People are being detained (and yes, those conditions are not safe), for days anyway, before being put on planes - where segregation between those being removed and staff is not really possible. The risk of exposure to COVID-19 in these conditions is actually very high, as Immigration and Customs Enforcement has done a really bad job at managing COVID-19 in its facilities. There is currently a renewed outbreak of the delta variant among those in ICE custody  (see here, here and here for examples), including those placed in staging areas while awaiting removal. For over 18 months now, ICE deportations and removal operations have contributed to the spread of COVID-19 around the world. It is still happening. So, in the name of public health, the Biden administration is maintaining a policy that actually increases the risks of COVID-19 spread. 
Haiti removals amidst crises
The reader may recall that starting back in February the Biden administration was expelling people from Haiti at an alarming rate. In the space of two months, Biden expelled more Haitians than Trump had during the previous fiscal year (2020). By June this year, Haiti was facing an explosion of COVID-19 cases - the worst since the pandemic started. While the timing corresponded to a new wave of infections throughout Latin America, Haiti had to that point gotten off fairly easily, all things considered. Though testing was clearly limited, by the spring of 2021, Haiti had the lowest mortality rate from COVID-19 in the region. Following the massive removals, that all changed. Coincidence? Perhaps, but certainly the link between these expulsions and the dramatic increase in COVID-19 infections is not far-fetched. After all, it is not as though Haiti's tourist industry would be driving infections, as happened in Mexico this summer.
[caption id="attachment_9643" align="aligncenter" width="1366"]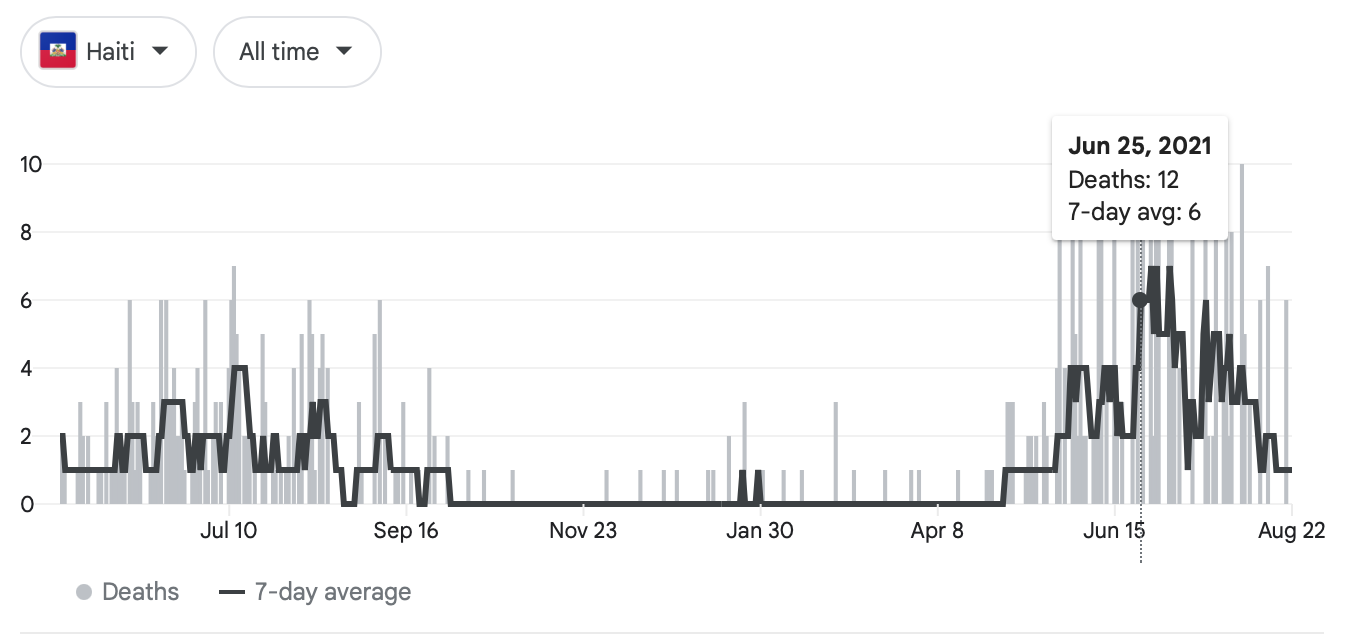 COVID-19 Deaths in Haiti[/caption]
Whatever the case, we joined others, led by the Haitian Bridge Alliance, UndocuBlack and Family Action Network Movement (FANM), in denouncing these removals as unsafe and a violation of human rights. Biden never completely relented — pausing removals briefly, but always restarting them. Then President Moïse (July 7) was assassinated, and it seemed like there would be a reprieve. But it did not last either. 
During the second week of August, the United States sent two deportation flights to Haiti. This happened despite an ongoing security crisis that decision makers in Washington D.C. are well aware of — not least because the president had just been gunned down at his own residence. None of those on the flights were so called "criminal removals." They were all being expelled from the border under Title 42 - including at least one child under two years of age. 
Two days after the second flight, an earthquake struck the southern peninsula of Haiti, killing over 2,000 people and injuring 12,000. 
For now, flights to Haiti have been halted again — for how long, we do not know. A public commitment to stop expulsions to Haiti has not been issued. Back in 2016, when Hurricane Matthew devastated the same part of Haiti struck by last weekend's earthquake, the Obama administration halted deportations to Haiti...for two weeks. Biden needs to do better.
Fierce urgency of now
Whether it is dumping Central Americans in Mexico's southern states without explanation, or removing Haitians to a country on the brink of collapse, Biden's moves under Title 42 are a disaster. If Biden's commitment to this lousy policy is the desire to maintain a "deterrent," it is not working. The push factors are too great.
COVID-19 has wrecked the economies of Latin America. In Central America, this has been compounded by hurricanes, and ongoing political crises in Honduras, El Salvador and Guatemala. Even Nicaragua, which has not been the source of much migration north, is seeing numbers increase while the United States expands sanctions against the Sandinista government. Migration from Cuba is on the rise, and Haitians from Brazil and Chile are on the move again, as economic woes have been met with racist and xenophobic backlashes in both countries. Venezuela remains the source of a mammoth regional migration crisis —the roots of which are impossible to separate from US sanctions there (even if the media has managed to do so). 
So far, Biden has met this new reality with the same draconian approach as Trump. For all of the fanfare about the end of the Migrant Protection Protocols (which might be brought back by Court order), and renewed TPS for Haiti in July (positive moves to be sure), the underlying policy infrastructure of the Biden administration remains Trump's: A reliance on Title 42 as a workaround to deny asylum and deter migration; increase in the use of removals further and further south, making it hard for people to try to re-enter the US, while also violating every public health rationale the Title 42 policy was supposed to be based on; and the maintenance of a regional dragnet of enforcement agreements to keep people away from the United States/Mexico border.
Nevertheless, migration to the United States is increasing and it is likely going to continue to increase, since this increase has little to do with US border policy. People are fleeing impoverishment and violence, and the sources of both have gotten worse over the past 18 months, especially in Central America and the Caribbean. If the United States is serious about addressing the "roots" of this migration it will have to dig much deeper than the current regurgitation of neo-liberal bromides that Biden has thus far promoted as "new" policy.
In the meantime, at the border we will continue to encounter human beings seeking safety, work, and shelter. The people arriving at our border are not the enemy. They have been forcibly displaced. It is very possible to process people in an orderly fashion that extends to them the legal protections to which they are entitled. It is possible to do all of this in a way that maintains an equal, if not far greater, commitment to public health than is currently being done. 
The time to start doing that is now.