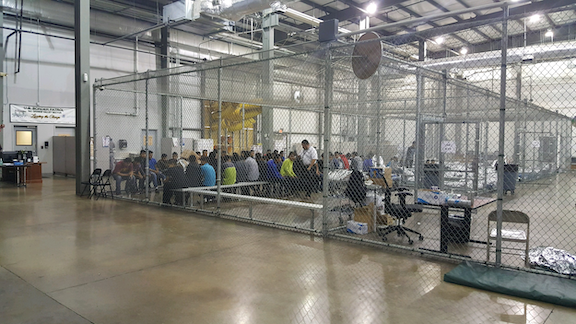 Immigration and Customs Enforcement is currently holding 16,600 people in its network of detention facilities. This is the lowest number since Clinton was president. And yet, the reasons for this low number are not by and large good, nor has the reduced crowding in detention facilities translated into better conditions. 
How ICE got to 16.000... 
There were close to 53,000 people in ICE detention on October 1, 2019 - the first day of last fiscal year. That number was huge by historic standards. Indeed, the all time peak in detentions had occurred a few weeks earlier in August, when there were over 55,000 people in ICE detention facilities around the country. ICE was, at the time, over budget, and shuffling money around from other Department of Homeland Security Accounts, including FEMA and the Coast Guard, to cover the deficit - and doing so without congressional authorization, not that there were any serious consequences for doing so. At the time, more than a quarter of those in detention were people seeking asylum who had already passed credible fear interviews. Thus, the budget crunch was wholly of the administration's making, in particular its decision to hold asylum seekers throughout much of their asylum process. However, when questioned, ICE and Customs and Border Protection would simply point to the "crisis at the border" as an explanation for being over budget, and with their hands out for FY2020, ask for more money for enforcement and detention.
In FY 2019, as in most years, the majority of people in detention were transferred from Custom and Border Protection. Which means, most people in detention are folks transferred from Border Patrol after being apprehended at or near the border with Mexico. During FY 2019 such apprehensions were at their highest point in over a decade. 
As FY 2020 began the number of people in detention were falling - as border apprehensions fell. By March of 2020 the number of people being held in ICE detention was down to 38,000 - though by historical standards still very high. There were a number of reasons for this decline, perhaps most importantly is the fact that there is a cyclical flow to annual migration and the numbers were, by last summer and fall, coming down as they always do. The Trump administration also launched the Migration Protection Protocols earlier in 2019. So, by the beginning of 2020 any decline in detention figures had to be juxtaposed against the 50,000 people redirected to "wait in Mexico" for asylum hearings.  
The decline in detentions witnessed during the first half of FY2020 was not, therefore, the result of Trump's team doing anything right. But things were about to get far worse.
COVID...
The COVID pandemic would set in motion a number of policies and processes that have accelerated the decline in detention numbers to its current twenty year low. It is important to underscore that this all-time low is the result of truly horrible policies - not a decision to treat migrants better. 
The most important factor in this decline is the imposition of an administrative order issued by the Centers for Disease Control and Prevention in March of 2020. This order invoked powers under Title 42 of the Public Health Services Act to halt immigration for public health reasons. It is important to underscore that the CDC did NOT want to issue this order. Trump's chief immigation advisor, Steve Miller, had come up with the idea of invoking "Title 42" to shut the border down. The CDC initially said no, because there was no public health rationale for doing so. After being pressed by administration officials, the CDC relented, and issued the order on March 19, 2020.
Under the provisions of the order, Border Patrol is empowered to summarily expel people it apprehends at the border - with no processing and no due process. People are not able to ask for asylum, except under extremely limited circumstances. Border officials have happily noted that 90% of the people apprehended are expelled within two hours of being encountered. Others, particularly those not from Mexico or Central America, may be detained (in theory, not by ICE) briefly before being put on a plane. Title 42 expulsions reached well over 200,000 people from late-March to the end of September. These people were not, as a result, being redirected to ICE detention facilities.
While fewer people have been coming into the system, ICE has continued to deport people. ICE has deported thousands of people throughout the COVID-19 crisis, despite pleas from foreign governments, members of Congress, human rights groups, and public health officials all over the world. Just this week Senator Markey and other members of Congress once again demanded that the Trump administration halt "unnecessary" deportations. 
Rather than stop, or even slow down, however, deportations are increasing. Some low-lights:
Guatemala, Honduras and Nicaragua were slammed by Hurricane Eta on November 3, 2020. Thirteen days later, Hurricane Iota hit the region - coming to shore just 13 miles from Eta's landing site. ICE has continued to deport people to Guatemala and Nicaragua anyway. Honduras' airport is underwater, so, for now, flights to Honduras have been suspended. Nicaragua receives very few deportees normally, so the one flight to arrive in the last two weeks is not a huge burden. For Guatemala, the number of flights has been extraordinary: 15 flights between hurricanes, and two deportation flights the day after Iota struck.  Guatemala's government has requested temporary protected status for people in the U.S. Nydia Valezquez has introduced legislation to grant TPS to people from Guatemala, while expanding it for people from Nicaragua, Honduras and El Salvador (all countries whose TPS designations post-Hurricane Mitch, Trump has refused to renew). 
As I am writing this update, ICE is trying to deport 28 children (part of 23 family units) from facilities in Texas and Pennsylvania. A coalition is working to gain their release:
Presently there are 28 children, who are part of 23 families, in indefinite detention - during a pandemic. They come from Guatemala, Nicaragua, Peru, Honduras, El Salvador, Ecuador, and Haiti.
In Dilley TX, there are 26 children, many who have been detained for nearly a year and a half, including toddlers and teenagers, at the South Texas Family Residential Center. In Berks, PA, there are two children who have been detained for more than eight months at the Berks County Residential Center. 
These #28children have no stay of removal. They are at imminent risk of deportation.
In all of this time, none of these families have been allowed to request asylum in the United States. They are Plaintiffs in more than five federal suits challenging their right to seek asylum, their right to be free from harm and the right to be free during a pandemic. In each case, a court has determined that the judicial system has no authority to help them. 
You may recall that over the summer a federal judge demanded that ICE release children from detention because of the COVID epidemic. The judge, however, claimed she had no authority to demand the release of the parents - and ICE refused to let the parents out. The order, if implemented under these circumstances meant the separation of families once again; so the judge vacated the order. The tragedy currently unfolding now is the result of ICE's earlier intransigence. [Click here to get involved in the effort to halt these deportations]
Conditions...
So, we have the lowest number of people being held in immigrant detention in 20 years because our government seems intent on keeping all migrants out of the country, while continuing to deport as many of the people already here that it can. 
For those still in detention, conditions have not improved. If anything they are worse. In FY 2020, 21 people died in ICE custody - the highest number of deaths in fifteen years. At least one-third of those deaths were from COVID-19. 
Freedom for Immigrants' most recent report on conditions in detention shows that FY2021 is not off to a great start. No one has died yet this year, but the COVID nightmare continues, contextualized by systemic deficiencies in the provision of health services that pre-date COVID by decades, and the utter failure of ICE to adapt its operating procedures to the reality of a highly infectious disease. From Freedom for Immigrants (FFI):
During this period [October 23 - November 23], FFI documented a general degradation in conditions in ICE detention and backsliding on COVID-19 preventive measures, mirroring "pandemic fatigue" outside of detention. People in detention reported backsliding even in facilities that had previously implemented minor reforms in access to personal protective equipment, soap, and sanitizer. At the same time, FFI documented continued failure on the part of ICE and its contract staff to observe basic COVID-19 prevention protocols. FFI also documented an apparent reversal in an early directive to provide limited, free access to phone communication in detention in a range of ICE facilities. FFI also received reports of a new brand of toxic chemical disinfectant at use in at least one facility. Medical neglect remained rampant, as did abuse and retaliation for internal organizing.
It is worth noting that the companies involved in detaining people are still getting paid. The private companies that receive contracts from ICE for detention have written into those contracts bed minimums - they get paid a base rate no matter how many people are being held in their facilities. Over the last year, as the number of people in detention has declined, I estimated that these companies received $500 million for empty beds. With the minimum payments set at a 30,000 daily average of people in detention, they are currently getting mostly paid for empty beds. Which is to say, they have the funds to treat the people in their facilities better. 
We stand by the demand to free everyone from immigrant detention facilities. The last six months have made apparent that detention is inhumane, and that neither ICE nor the companies they use to staff their detention machine, have any interests in caring for the people in custody; people who, we will repeat over and over and over, are not serving any kind of criminal penalty in detention, but simply waiting for the government to decide their status. These people could just as easily wait with family and community members, and if treated fairly, people do in fact show up for their hearings. 
Detention is unnecessary, and inhumane. #FreeThemAll