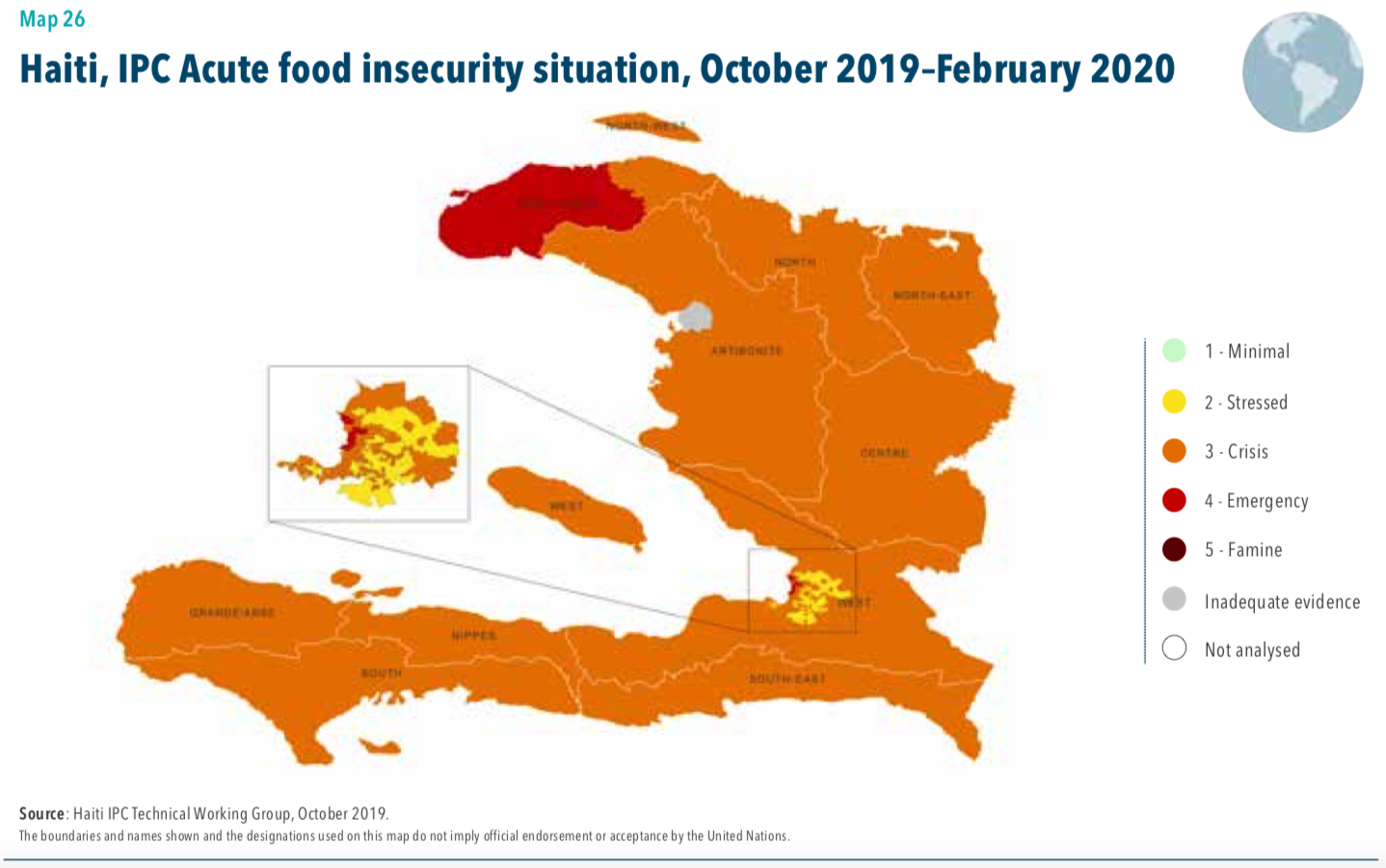 The world is facing a global hunger crisis of "biblical" proportions, at least that was the headline for CNN's report on the looming impact of coronavirus on food supply chains and health systems around the world. Does biblical mean really bad? Or huge? Or end of times? Not clear. But certainly the point was global hunger was about to spike. Prior to the emergence of COVID-19, the world was facing a crisis of maybe pre-biblical proportions – or more Hebrew Scriptures than Revelations-level stuff. The World Food Program's report for the coming year initially identified nearly 130 million people facing a crisis level or worse for insecurity around the globe - meaning they either did not have enough food, or could only eat by foregoing other necessities. These pre-COVID numbers were modified upwards as borders began to shut and economies slowed. The World Food Program in essence, doubled its estimate of people facing crisis level food shortages, with the risk of perhaps 36 countries seeing famine for some of their people. Currently there are 10 countries in the world where more than a million people are at crisis levels of food insecurity, and thus on the brink of falling into widespread famine.
Haiti is one of them.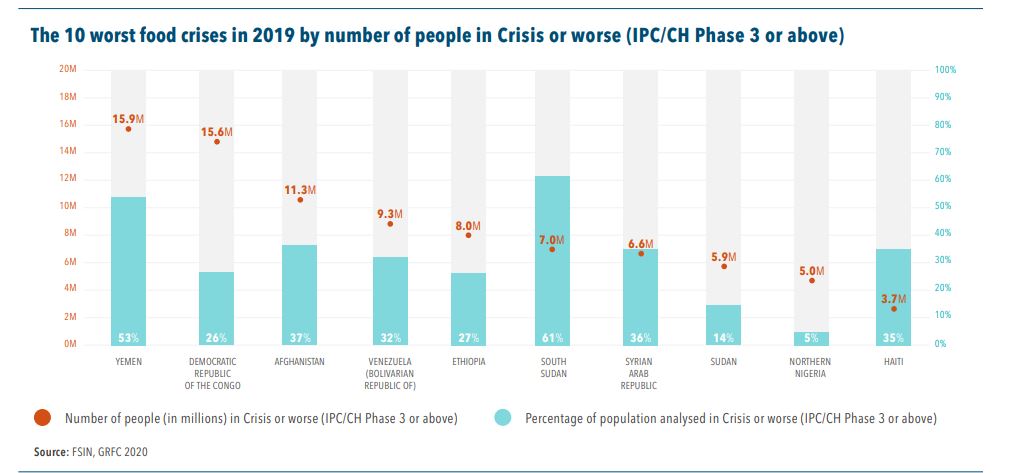 The World Food Program tracks crises across different levels of food insecurity. From Phase 1 (None, or minimal) to Phase 5 (Famine). As the map above shows, almost all of Haiti's departments are at Phase 3 (Crisis). As noted, this means there is either not enough food, or people can only eat enough if they forego other necessities. Across the country 2.6 million people are at this level. Another 1.1 million people are facing Phase 4, or emergency levels of food insecurity, meaning there are large gaps in meeting daily requirements that are reflected in wide spread malnutrition. In total, then 3.7 million people are at crisis level of higher.
Another 3.2 million people are at Phase 2 - or stressed, meaning households are barely finding enough to eat. The households at Phase 2 are at high risk of sliding into Phase 3 as the economy slows and food prices increase.
All of which means, in Haiti, 35% of households are currently facing crisis levels of food insecurity, or worse and the prospect of that number reaching 65% amidst the economic contraction associated with COVID-19 is very high. This would, of course, also mean that people currently facing more extreme shortages will see their situation worsen. Famine is a very real possibility in parts of the country.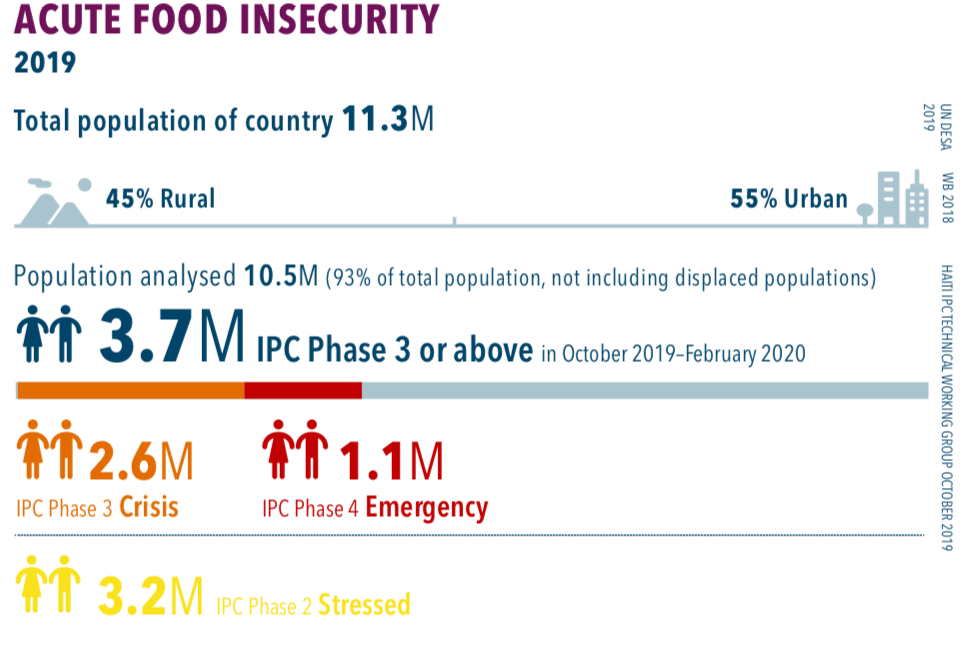 The roots of this crisis run deep. It is widely understood that the current food crisis in Haiti rests on historical factors, from the re-engineering of Haiti's economy as an agro-export platform under the U.S. occupation 100 years ago, to the dismantling of protections for domestic food production in the late 1990s, to the recent collapse of their currency, the Haitian gourde, and spikes in fuel prices. Another collapse, that of the rural economy in Haiti, contributed to the movement of people to increasingly crowded and under serviced cities, thus magnifying the tragedy of the earthquake in 2010 and other disasters. The point is that these deep structural changes have reshaped Haiti and will not be transformed any time soon. Though, perhaps, as the current crisis unveils the global forces undermining food security, world leaders will take it more seriously in Haiti and elsewhere. Maybe.
Meanwhile, the primary countervailing force has been the organization of people in rural areas seeking to find sustainable pathways out of the crisis. The combined efforts of peasant associations, rural workers, reforestation initiatives and youth organizing are laying the foundation for a different kind of rural ecology. 
Our work with the Jean Marie Vincent Formation Center is one small part of this nationwide effort. You can explore the map below to get a sense of the scope of the program.
In the coming week we are making a special appeal to support an emergency fund that will support the purchase of seeds to disseminate to small farmers in the region. The program already runs a seed bank. Our goal is to boost supplies for the seed bank so that the team can expand efforts to deliver seeds for low or no cost as soon as the spring rains begin. Planting now, means more food in three months. You can join in this effort by making a donation here.