It has now been seven days since an earthquake struck the southern peninsula of Haiti, doing tremendous damage in the Sud, Nippes, and Grand Anse departments. According to the latest update from Haiti's government, 2,189 people are confirmed dead, with another 12,268 injured. Some communities have yet to be reached by government officials and volunteers, and so this toll is likely to climb much higher.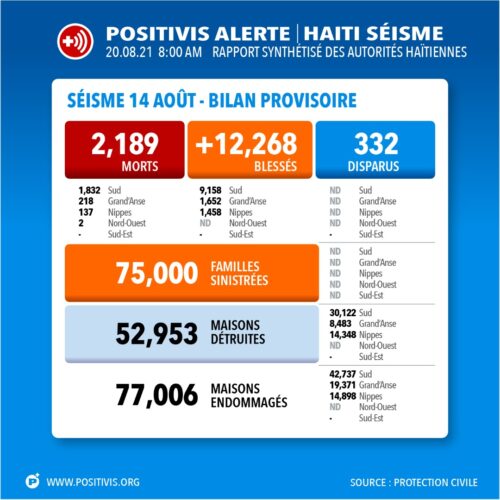 The damage is hard to fathom. Nearly 61,000 homes have been destroyed and 76,000 damaged. Nearly 75,000 families are without housing. The country was already facing a food security crisis, compounded by high fuel prices, and the closing of transportation corridors that connected the south to Port au Prince, which were closed off due to fighting in Martissant and surrounding areas. Emergency support efforts are thus compounded by the intersection of these other, pre-existing crises, draining resources and creating insecurity for the delivery of assistance. 
The government announced on Monday that there was a truce with gangs in Martissant. Several aid convoys were able to get through during that time. That truce seemed to be fraying by Thursday, as renewed fighting led to massive traffic jams coming in and out of Port au Prince. Two doctors were apparently kidnapped - one reportedly on his way to perform an emergency cesarean section. Unattended because of his kidnapping, the mother and child both died. Outside the main roads, however, it is not clear that the fighting in Martissant ever really stopped. A friend in the area wrote to me that people are risking their lives every day trying to get relief to the south.
The challenges are very real, to be sure. But it is also important to underscore that in the face of these challenges there has already been a significant response both within Haiti and among international actors. Within Haiti, official coordination is taking place through the National Centre for Emergency Operations (COUN) and Departmental Centres for Emergency Operations (COUD). Both the COUN and COUD meet regularly with local officials and organizations providing assistance in order to coordinate and prioritize aid. It is still in the early phases, and gaps in the delivery of assistance are clear. 
Les Cayes, for example, is still accessible by road and the airport is functioning. The response there has been significant. At the same time, Jeremie has been harder to reach, and the hospital is lacking in supplies. Smaller towns in Nippes are reportedly receiving little attention. 
Quixote Center response thus far
Thanks to the generosity of many of you, the Quixote Center raised funds this week, and will continue to reach out as the crisis evolves.  Our strategy for the use of funds includes short and medium term goals. In the short term we are supporting groups in Haiti that are delivering emergency supplies. Toward that end we have partnered with the Kolektif pou lakay.
The Kolektif pou Lakay is a new organization, and describes itself as, "a team of young professionals, mainly from the south of Haiti, the most heavily impacted area by the August 14, 2021, earthquake. Our objective is to ensure that the victims' urgent needs are met. Your contribution will help us acquire and distribute, thanks to our team on the ground, drinking water, food, medical assistance, and hygiene kits directly to the victims. Additionally, we look to provide temporary housing to those in need. In the interest of transparency, a report will be drafted every two weeks on our social media platforms."  

The Kolektif pou lakay is receiving donations from individuals through a Gofundme page - which you can access here to donate directly if you are able. We have worked with several members of the collective from Noupapdomi on other projects, and will continue to provide support in the weeks to come. 
The Quixote Center is also working in collaboration with the Haiti Response Coalition to establish mechanisms for need assessment and coordination of assistance. The Haiti Response Coalition is a network of mostly US based organizations that work in partnership with organizations in Haiti. The goal of our work with the HRC is to facilitate better coordination so that assistance is reaching some of the areas that might otherwise get looked over. HRC is in the process of investigating and doing some initial mapping of the area to get a better sense of what is needed and where. 
Go here to donate to the Quixote Center emergency response fund.
Longer term
The Quixote Center's core relationship in Haiti remains the Jean Marie Vincent Formation Center in Grepen, just outside of Gros Morne. We are reminded over and over again about the need to develop sustainable and equitable food systems. This is the work of the Formation Center and the primary outlet for our resources. Gros Morne was not impacted directly by either the earthquake or the recent tropical depression. Nevertheless, our work there is also an emergency response in many ways. 4.4 million people are impacted by food insecurity in Haiti - and that estimate is prior to the earthquake. Our commitment to the program, and the incredible ingenuity and creativity of the agronomy team is long term. Their work continues in these difficult times, and so does our support. We are keeping our emergency fundraising for the earthquake separate from our general efforts - this is just to let you know this other work continues.