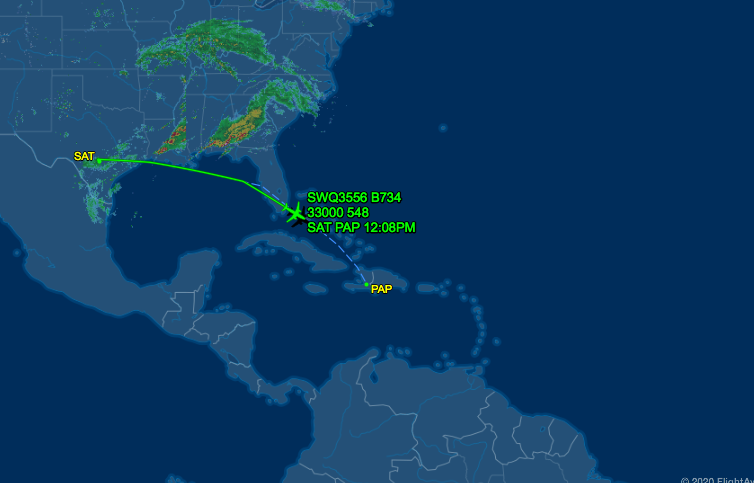 Around the world, leaders are closing borders, restricting travel and movement, mandating social distancing, and employing various restrictions on when, how and which business can be open. This includes the United States. 
However, for the business of Immigration and Customs Enforcement, things have been cruising along, pandemic be damned. There are many outrages here, but the most transparently obvious one is that Trump's team keeps deporting people. On the receiving end, countries are reluctant to open their borders and airports to people who are arriving from the global hub of coronavirus infections, the country formerly known as the United States, especially when they have not been screened for COVID-19. So, Trump has threatened to sanction any country that refuses to accept deportation flights. He has also, thus far, refused to take even the most modest precautions to ensure that people who are COVID-19 positive are not being put on a plane with others, and sent to a country that will struggle to manage the necessary quarantines and protective measures. 
For example, several people who had been deported to Guatemala tested positive for COVID-19 upon arrival two weeks ago. So, the government of Guatemala temporarily suspended acceptance of these flights. After Trump threatened sanctions (though not worded in a way to target Guatemala directly) the Guatemalan government agreed to accept more flights, but requested that anyone being put on those flights be thoroughly screened first, and that the flights themselves be limited to 25 people so quarantine on the receiving end could be managed.
When flights resumed to Guatemala at the beginning of last week, ICE sent 182 people in one day, on two different flights. On one of those flights, 44 people tested positive. That represented 25% of the total confirmed cases in Guatemala at the time. Additional testing showed that close to 80 people deported from the U.S. to Guatemala had arrived with COVID-19. 
Of course, in any sane country, the result would be suspending all deportation flights at this point, so that procedures could be evaluated.
We do not live in a sane country.
Deportations have continued. To Brazil and Honduras on Sunday. To Ecuador - which is facing, perhaps, the worst crisis in Latin America. To the Domincian Republic on Tuesday, which also has a very high infection total. As I am writing a deportation flight is literally halfway to Haiti, carrying 120 people. 
There is no evidence that ICE has changed anything  - they simply take temperatures as people board.
ICE deported 61 people to Haiti on April 7. Three of them were confirmed positive upon arrival.
The Quixote Center and many, many, many others have been speaking out - shouting out - about these flights. 164 organizations signed a letter calling for deportation flights to Haiti to end - this was published on Monday this week. Another 60 signed a letter released last week calling for flights more generally to be suspended. Members of Congress, including chairs of the House Foreign Affairs committee and subcommittee on the Western Hemisphere, have called for flights to end.
"No comment" from ICE. The administration did send a team from the CDC to evaluate Guatemala's testing protocols.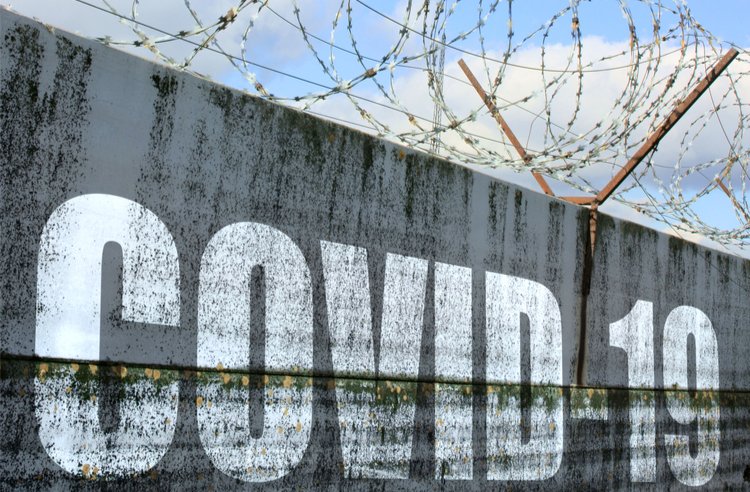 To be clear, the danger with deportation flights is not the people. It is the public health crisis unfolding in detention facilities, and the fact that the process of deportation involves shifting people through multiple detention centers on way to a "staging area" where they will be further detained until flown out of the country. We wrote more detail about this process last week here.
Within detention facilities, as with prisons and jails more generally, infections are spiking. Because ICE is carelessly shifting people from site to site, while within each site, social distancing and other basic precautions are not possible, means the risk of infection and spread within ICE's network of facilities is huge - and growing.
Accordingly, the call is to end deportations AND end detention. Both of these things must happen. Ending deportations without releasing people from detention risks leaving people in overcrowded, unsanitary conditions. It is quite literally putting people's lives at risk.
On a positive note…
People all across the country are continuing to mobilize. There have been a variety of creative actions outside detention centers throughout Texas, California and Washington involving people gathering in their cars. Across the country people are still keeping the pressure on to #FreeThemAll! 
In the courts, attorneys are working hard to get people out of detention, and out of prisons. An important ruling this week, could lead to thousands of people being released - though the administration will no doubt resist full implementation.
In the case, Fraihat v ICE, Immigration and Customs Enforcement was being sued in order to gain the release of people who are at risk for infection due to age or underlying medical condition. In responding to ICE's defense for failing to provide adequate care or establish guidelines for containment, the judge was not having it. In his ruling, U.S. District Judge Jesus Bernal wrote, "As a result of these deficiencies, many of which persist more than a month into the COVID-19 pandemic, the Court concludes Defendants have likely exhibited callous indifference to the safety and wellbeing of the Subclass members [detained immigrants at risk]. The evidence suggests systemwide inaction that goes beyond a mere 'difference of medical opinion or negligence.'"
The ruling, if implemented fully, will require ICE to release thousands of people, and mandate that the agency adopt protective measures to maximize the safety for those that remain in custody. Of course, ICE will fight the ruling. 
Until everyone is released, we will keep demanding that ICE #FreeThemAll, and we will continue to work for the release of people in jails and prisons around the country as well.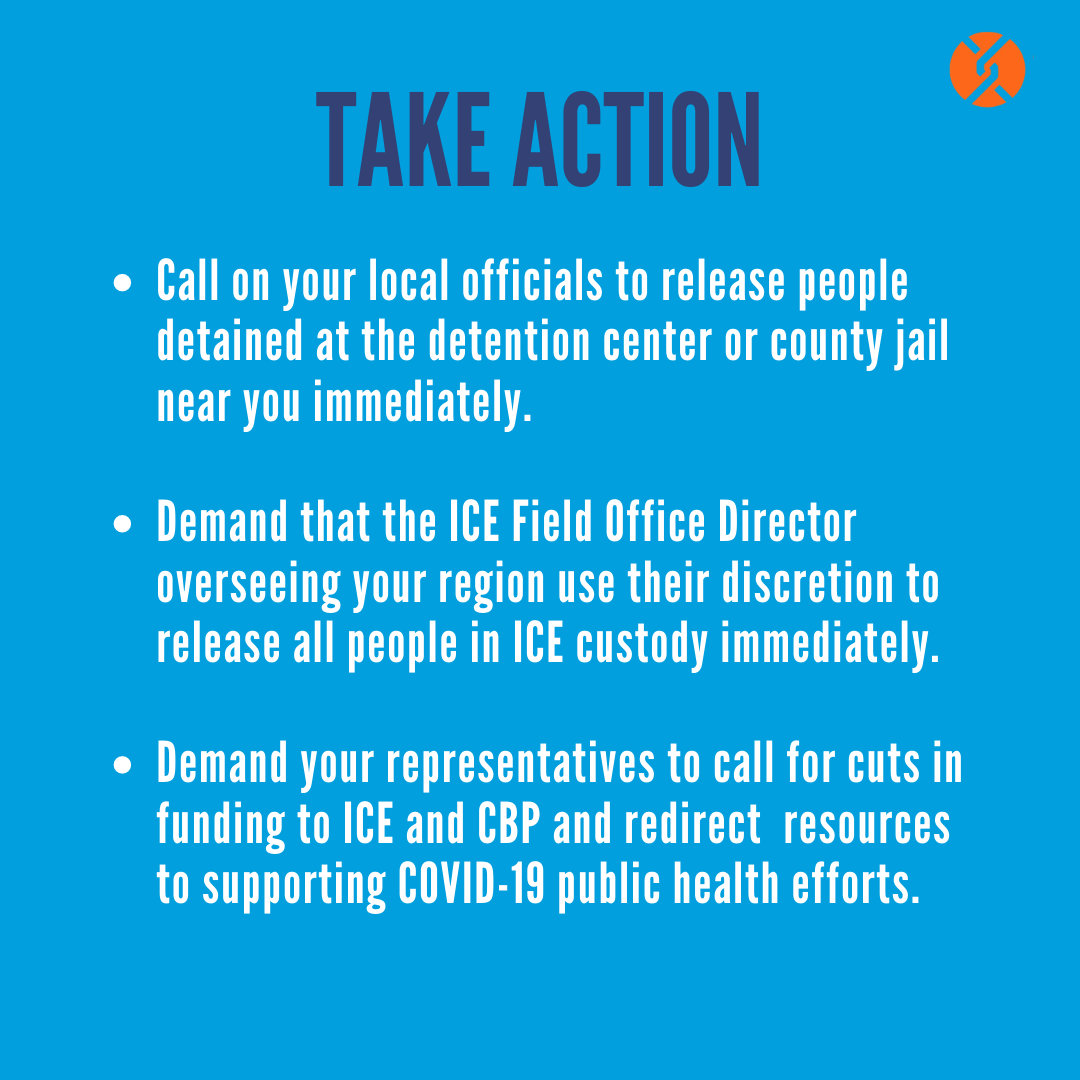 #DefundHate action: Send a video postcard to Congress
Send a video postcard to your member of Congress today, calling on them to reject any additional funding for Immigration and Customs Enforcement (ICE) and Customs and Border Protection (CBP) in the fourth COVID-19 stimulus package and let them know what investments you want to see in your community. 
The billions of dollars used to fund ICE and CBP could instead be invested in critical healthcare, education, and housing programs that support our collective wellbeing, while people navigating their immigration cases should be able to do so with their families and communities rather than in detention. Tell your member of Congress what you want to see!