[caption id="attachment_9270" align="alignright" width="1580"]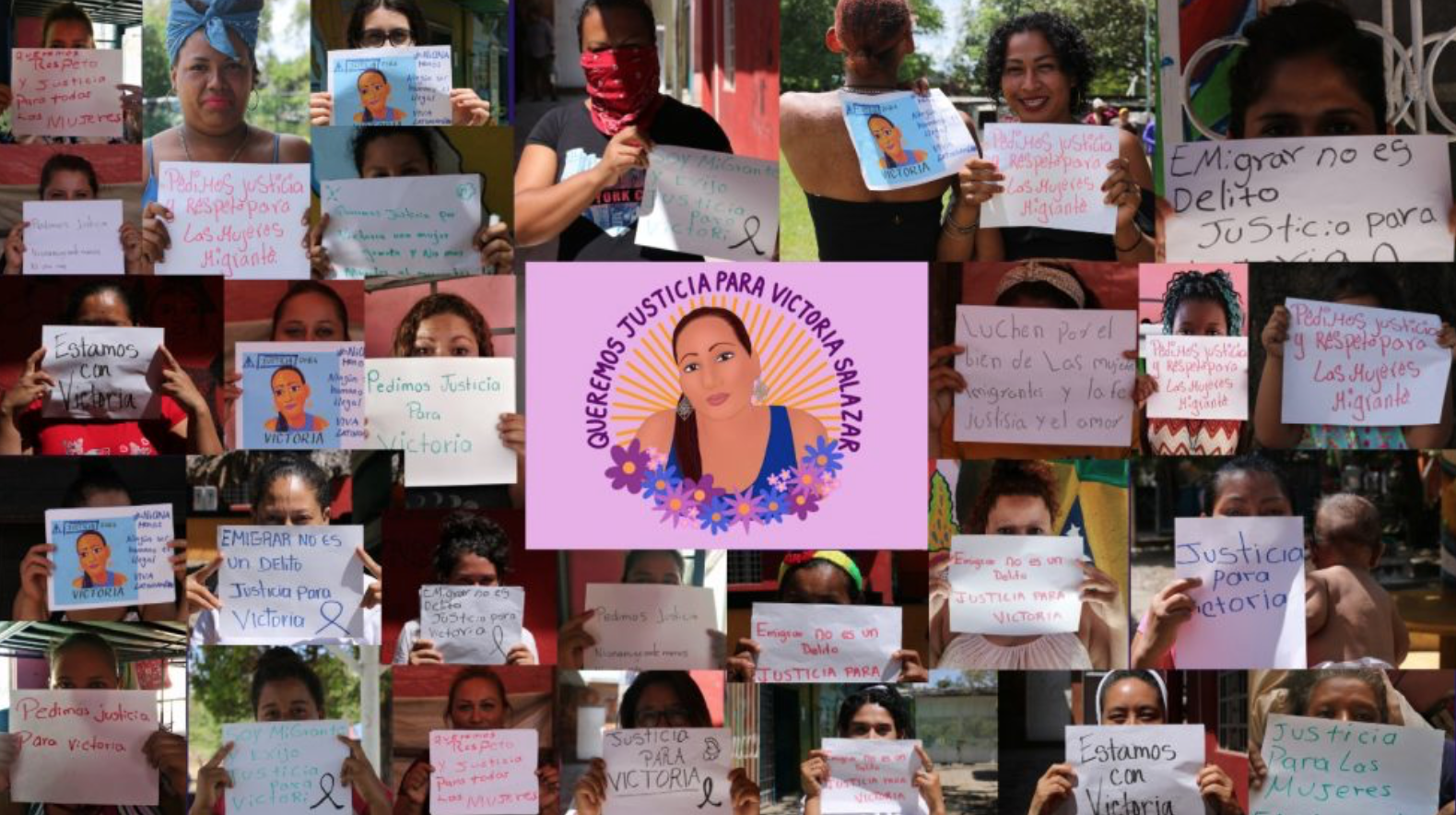 Photo: Red Franciscana para Migrantes[/caption]
Victoria Esperanza Salazar Arriaza was murdered on March 27 in the Tumbe Ka neighborhood of Tulum, Quintana Roo, Mexico. She was killed by members of a municipal public security patrol, who first handcuffed her and then continued to press on her body to subdue her, breaking her neck in the process. Victoria was originally from El Salvador and was in Mexico with her two youngest daughters, as refugees.
#justiciaparavictoria

Victoria was a Salvadoran migrant who was murdered by the police in Tulum, Mexico today. After detaining her, the police held her face down with their knee on her back and despite her yells of pain and that she couldn't breathe, they refused to release her pic.twitter.com/z3VDpOnNKX

— Central American Disruption (@centamdisrupt) March 29, 2021
Victoria's case is not isolated. Thousands of migrant women fleeing violence in their countries of origin paradoxically become victims of direct, structural, and symbolic violence in Mexican territory, making them a vulnerable group, making urgent the call for dignified care and respect for their human rights, in accordance with the law, as established in Article 1 of the Political Constitution of the United Mexican States and in various International Treaties signed and ratified by the Mexican State.
Violence, brought about by immigration policies applied by the Military and the National Guard, exacerbates racism and xenophobia on the part of the authorities at all three levels of government: municipal, state and federal.
The Quixote Center, as a member of the Franciscan Network on Migration, joins with them in rejecting this femicide, which is fraught with xenophobia, racism and discrimination on the part of the police authorities. 
Migrants are not criminals, they are not a criminal threat; but in cases such as this one, they are victims of corrupt police and local governments. We join the call by her relatives in demanding justice — zero tolerance for impunity in this case, which has drawn attention and been publicized on social networks. The officers involved have been detained at this time, but justice, as we know, still requires much more work.
Accordingly, we join the Franciscan Network on Migration in demanding from the Mexican authorities at all three levels:
Respect for the human rights of each and every migrant regardless of their immigration status.

Policies aimed at preventing and eliminating all types of discrimination and xenophobia by the authorities.

The intervention of the Consulate of El Salvador and Mexican authorities, to provide protection to the daughters of Victoria Esperanza Salazar Arriaza, exposed to physical and psychological violence, where the best interests of minors prevail.

To the Attorney General of Quintana Roo, the correct handling of the investigation file, with respect for due process, as well as reparation for damages and non-repetition of the violation of the human rights of migrants.

In conformity with the rule of law, we strongly urge that victims be offered adequate reparation, including compensation, rehabilitation, and satisfaction (including restitution of reputation and public recognition of the damage suffered).
For more information on this case:
"Who Was Victoria Salazar? Woman's Death at Tulum Police Hands Evokes George Floyd" in Newsweek, March 29, 2021
"Missing Teen, Daughter of Woman Killed in Mexican Police Custody, Is Found" in VOANews, March 31, 2021
"Comunicado público sobre asesinato de Victoria Salazar" Franciscan Network on Migration, April 1, 2021.