Read more about InAlienable.
Support Quixote Center's InAlienable program!
InAlienableDaily Dispatch
December 30, 2019
Liberians can transition from deferred enforcement to Green Card holders
Tucked into an otherwise immoral mess of a defense appropriations bill, was a provision that will allow Liberians who have been in the United States since 2014, but are currently under a temporary immigration provision, Deferred Enforced Departure, to apply for green cards. This is at once both great news, and a sad reminder of how absurd the legislative process is - e.g. the only way to do the right thing for Liberians was to bury it in a defense appropriation bill that is considered sacrosanct, and thus untouchable at vote time by both parties. Indeed, we'll recall from two weeks ago, that the Department of Homeland Security budget was bundled with the Defense appropriations bill to keep some Democrats in line who would have otherwise voted against the DHS bill (some still did, of course, but as DHS was bundled with Defense it did not matter for the final outcome [it passed by a huge margin], which was the point). On the other hand, do Republicans know they voted for the first expansion of eligibility for green cards and a path to citizenship in decades? Probably more than a few surprises in store for Congresspersons in a 2,400-page budget package delivered a day before the vote.
Conceding the mess that is our legislative process, we can still pause for a moment and celebrate a pretty significant victory for the nearly 4,000 Liberians living in the United States.
US Citizenship and Immigration Services announced Thursday that it started accepting green card applications for Liberians who have lived in the US since November 2014, as well as their spouses and unmarried children. After holding a green card for five years, eligible Liberians can apply for US citizenship.
Sens. Jack Reed (D-RI) and Tina Smith (D-MN) had originally proposed the legislation offering green cards to Liberians as an individual bill, before it was tacked on to the National Defense Authorization Act (NDAA). In an era of deadlocked immigration policy, this marks the first time in decades that Congress has offered a pathway to citizenship to a new group of immigrants.
"Separating and uprooting hundreds of Liberian-American families from their jobs and homes and forcing them to return to a country that is unrecognizable for many of them would not have been in America's best interests," Reed said in a statement in March.
Civil war drove thousands of Liberians to seek refuge in the US from about 1989 to 2003 under a program known as Deferred Enforced Departure (DED) that gave them temporary protection from deportation. About 4,000 Liberians continue to live in the US with DED status, which Trump threatened to end last year before deciding to extend the wind-down period to March 30, 2020.
In principal, the same arguments for extending a path to permanent residency, and then citizenship, to Liberians under DED would also apply to other deferred action programs - such as Temporary Protected Status and Deferred Action for Childhood Arrivals. TPS is extended to people from countries following extreme natural disasters or political conflicts. Currently there are 300,000 + people living in the U.S. (well over half from El Salvador and Haiti), who are allowed to work provisionally if they are registered TPS holders. DACA protects at least 700,000 people who came to the U.S. as children - usually brought with parents who were not authorized to enter the country. The House passed a bill this summer that would extend a path to citizenship for people registered under TPS and DACA - but that bill is not expected to see much daylight in the Senate.
Meanwhile, Trump's efforts to end TPS for most countries, and to rescind DACA are currently tied up in courts. So, we are probably heading for an election year showdown on both. The Supreme Court heard arguments on Trump's decision to end DACA in November, and is expected to issue its ruling this summer. On DACA, however the courts decide, it is important to remember that Trump has the authority to end the program. The issue before the court is how he did it. Which means a legislative solution is required for the program, or some variation of it.
Meanwhile, for Liberians living in the United States the insecurity of living with a deferred enforcement label is over, for now. We can only hope the same will hold true for the many other people living in this country with a status that subjects them to the whims of our deeply divided political process.
"White" evangelicals are said to love Trump, Why?
Since candidate Trump bragged about sexually assaulting women on tape, faced several lawsuits over rape allegations, and likley paid off women and reporters to keep affairs out of the media (turned out to be a bad strategy), people have wondered why conservative Christians still love the guy.
I haven't. 
First, not all concervative Christians like Trump. Which is not unimportant to keep in mind when reading headlines like, "One surprisingly simple reason evangelicals love Trump." That said, Trump is undeniably more popular with white Evangelicals that any other combined race/ethnic/religious demographic. Not 100%, mind you, but he does have a 75% approval rating among white evangelicals, compared to a 42% approval rating overall. 
Second, the reason why most white evangelicals like Trump is clear. They dislike immigrants even more. And so Trump is their guy. They are "conservative" or "nationalists" before they are "christians." This shouldn't be so hard to understand as these other values often trump the more challenging Christian ideals of compassion and non-violence (how many Christians in Congress voted for that Defense bill?). This is also why trying to give them gospel lessons won't matter. They often don't read the bible anyway (at least nothing between Deuteronomy and Revelations). 
To the point, Ryan Burge, a professor at Eastern Illinois University, reviewed the data, and yes, white evangelicals support harsh immigration laws, and are typically far outside the mainstream:
I grabbed the 2018 wave of the Cooperative Congressional Election Study, and took a look at the five questions that they ask about immigration. Then I calculated three things for each question: the share of white evangelicals who are in favor, the share of the entire population that is in favor, and then I found the group that was the second most conservative on each issue (because white evangelicals were always the most conservative). The results are visualized below.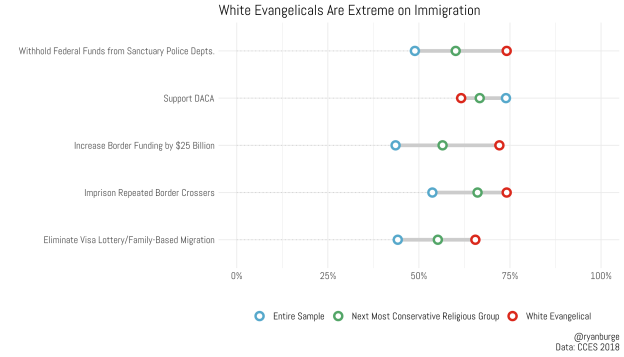 The gap between white evangelicals and the average American is humongous. In fact, on four of the five issue areas the total distance between the two groups is at least twenty percentage points. And, when compared to the next most conservative religious groups, there's still a decent amount of daylight. For three issues, it's at least ten percentage points, but it's never less than five points (on the issue of DACA).
It is worth pointing out that even a majority of white Evangelicals  support DACA. So, there is that. 
This is Trump's base - and he built it demonizing immigrants. That it has worked, despite his other well publicized moral failings, should be a warning. It is not enough to call people hypocrites, bigots or whatever. We have to out organize them. The religious right figured this out a long time ago. Which is why they exercise far more power than their overall numbers would suggest.