Share
A sampling of today's headlines on immigration, race, and related stories.
October 24, 2018
Caravan Edition
Latest Caravan News
Powerful photo essay published yesterday in The Atlantic.
Another photo essay here from the BBC.
Crackdown on migrant caravan is a violation of international law.
Report from Huixtla, Mexico from New York Times, as the caravan begins its 12th day: "This is straight-up biblical," said Julio Raúl García Márquez, 43, a Guatemalan traveling with his wife, their 1-year-old son and a cousin. They spent part of the night on sheets of cardboard in the central square."
Journalist José Luis Granados Ceja accompanies the caravan across border between Mexico and Guatemala. "We're not migrating, we're fleeing!"
[caption id="attachment_4199" align="aligncenter" width="1200"]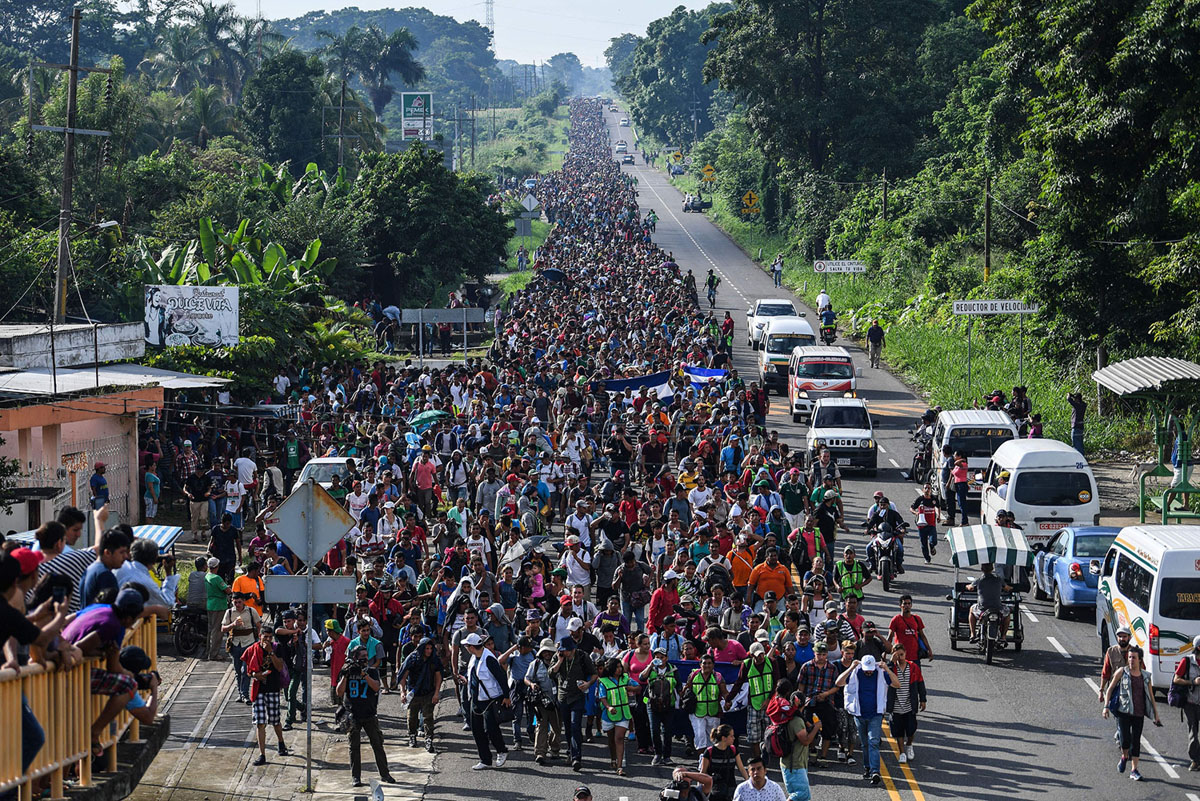 Honduran migrants take part in a caravan heading to the US, on the road linking Ciudad Hidalgo and Tapachula, Chiapas state, Mexico, on October 21, 2018. - Thousands of Honduran migrants resumed their march toward the United States on Sunday from the southern Mexican city of Ciudad Hidalgo, AFP journalists at the scene said. (Photo by Pedro Pardo / AFP) (Photo credit should read PEDRO PARDO/AFP/Getty Images)[/caption]
Reality Checks
Human Rights First - Myths vs Facts about the caravan.
ISIS? Caravaners attack Mexico's police? And other lies revealed here.
Luke Barnes and Rebekah Entralgo cover (and debunk) some of the false stories circulating about the caravan.
Background articles on migration
Alianza America's Oscar Chacon @AlianzaAmericas/what-is-the-hondurans-caravan-really-telling-us-cda6bcccad35">discusses what the caravan is "really telling us."
U.S. policy supports Honduran "tyrant" - Op-ed from Silvio Carrillo in New York Times (from Dec. 2017)
Mark Tseng-Putterman argues "U.S. empire thrives on amnesia….There can be no common-sense immigration "debate" that conveniently ignores the history of U.S. intervention in Central America." He offers detailed timelines concerning interventions in EL Salvador, Honduras, and Guatemala. (from June 2018)
National Geographic snapshot about gangs in Honduras (from Feb. 2018)
__________________________________________
Read more about InAlienable.
Support the InAlienable program!
__________________________________________