Read more about InAlienable.Support Quixote Center's InAlienable program!
InAlienableDaily Dispatch
September 18, 2019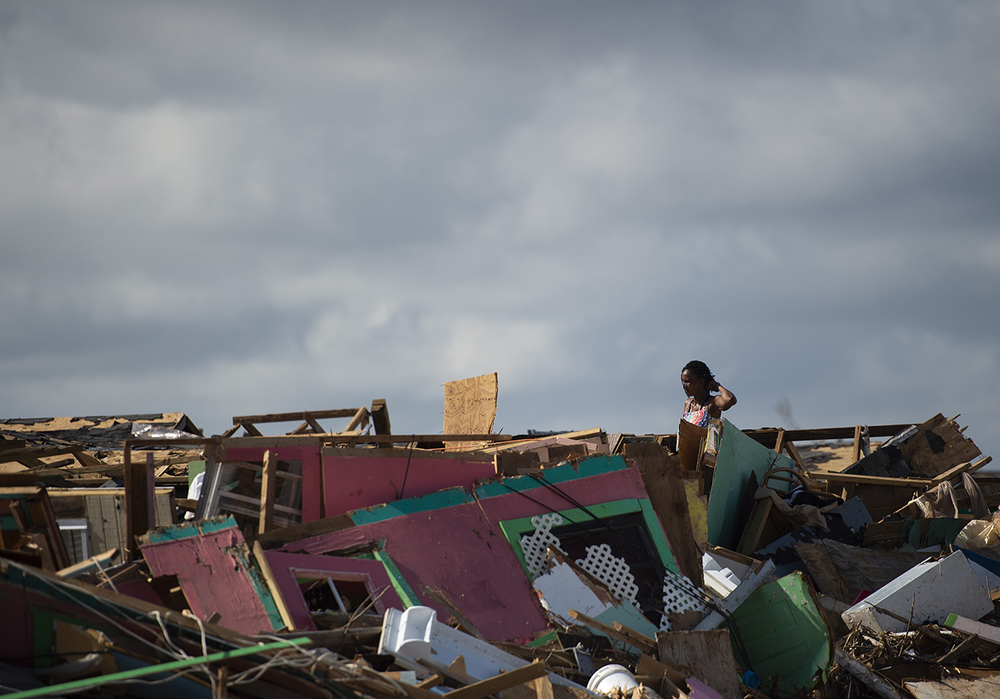 "You have a group of Haitians who have nowhere to go," said Duprat, now 48. "There's hardly a government in Haiti. They can't go to Miami now. And they can't really go to Nassau because of all of the hate. It's heartbreaking."
The situation of Haitians in the Bahamas remains tenuous. We offered some background on the situation of Haitians in the Bahamas last week. As we move into a new week since the storm, there remains a lot of fear and few  options. From the New Humanitarian:
In an interview with The New York Times, Minister of Immigration Elsworth Johnson confirmed the government had suspended deportation raids in storm-affected areas, but also appeared to contradict the prime minister. "Eventually persons will come out of those shelters," he said. "And if they're not properly documented, then we apply the law."
Late last week the Washington Post noted that many Haitians are fearful that once the media leaves and the humanitarian organizations go, that many will be deported. Johnson's comment seems to justify that fear. 
Ira Kurzban, an immigration attorney, notes that there are few options:
"The Bahamas isn't going to do anything [to change its policy], and this (U.S.) administration isn't likely to take anyone in. I don't see this as having a good outcome," Kurzban said. "At least with the earthquake, or with cholera, [the Haitians] were in their own country."
Hundreds fled Haiti after the 2010 earthquake that was followed by a deadly cholera outbreak linked to UN peacekeepers and poor sanitation networks. 
Nine days after the earthquake, Haitians were offered Temporary Protective Status – a measure that allowed Haitians already in the United States to remain there rather than return to a humanitarian disaster.
Kurzban considered it unlikely TPS would be extended in the wake of Dorian, but he said the U.S. Department of Homeland Security could offer a "parole" that would allow Haitians to remain in the US temporarily despite lacking documents. Parole has been granted on humanitarian grounds in the past, but Kurzban said few cases are going forward under the Trump administration. 
Indeed, the Trump administration seems unwilling to extend Temporary Protected Status to Bahamians already here - much less Haitians impacted by the storm, nor has it yet extended humanitarian parole that would provide an opportunity for people to come to the United States. From CNN: 
For people who aren't already in the United States and are fleeing the storm's devastation, but don't have valid visas to enter the country, the Department of Homeland Security could encourage officers to grant what's known as humanitarian parole, [Muzaffar Chishti, director of the Migration Policy Institute's New York office] said. "There would have to be a guidance issued by the DHS that we are authorizing issuing of a parole for this group of people and in these circumstances," he said.
TPS would, honestly, be of limited benefit because it only applies to people already present in the United States. It would provide some relief, but the numbers compared to El Salvador, or Haitians here following the earthquake in 2010 would be very small. There seems little reason not to extend TPS to the Bahamas, but providing temporary exit options for people who need to leave the islands is more important at this point. From McClatchy News Service:
Democratic state Rep. Shevrin Jones, a Broward County resident with Bahamian roots and extended family in the Bahamas, said TPS isn't defining the post-Dorian immigration conversation for Bahamians. It's much different, he said, from the continuing discussion in South Florida about extending TPS to Venezuelans and opposing the end of TPS for Haitians, Hondurans, Nicaraguans and Salvadorans.
About 195,000 Salvadorans, 57,000 Hondurans and 46,000 Haitians currently have TPS, according to the National Immigration Forum.
"I think it's important that we not confuse the conversations that are happening right now," Jones said. "TPS for Haitians and Venezuelans are not the same conversations we are having with the Bahamas because these people want to go back home. I think the best policy at the federal level that can be done is suspending some of the federal requirements for visas and some of the requirements needed for them to stay a little bit longer."
That said, Robert Menendez from New Jersey has entered a bill that would extend Temporary Protected Status to Bahamians present in the United States, and Democratic presidential candidates have endorsed this. 
None of this, however, is likely to help many of the Haitians in the Bahamas, who may not have proper documentation to qualify for entrance into the United States. Meanwhile, with ongoing political instability, blockades and a failing economy, return to Haiti offers little opportunity, even if many would no doubt prefer to return to their families.
We will have a more detailed update later in the week on political protests in Haiti, but a recent Al Jazeera video report below gives a sense of what people are facing. 
There is a video embedded into this post. To view it, click the link to the blog post. 
In a sign of the decreasing options for people from Haiti, the Dominican Republic closed its border with Haiti yesterday.