Read more about InAlienable.Support Quixote Center's InAlienable program!
InAlienableDaily Dispatch
September 16, 2019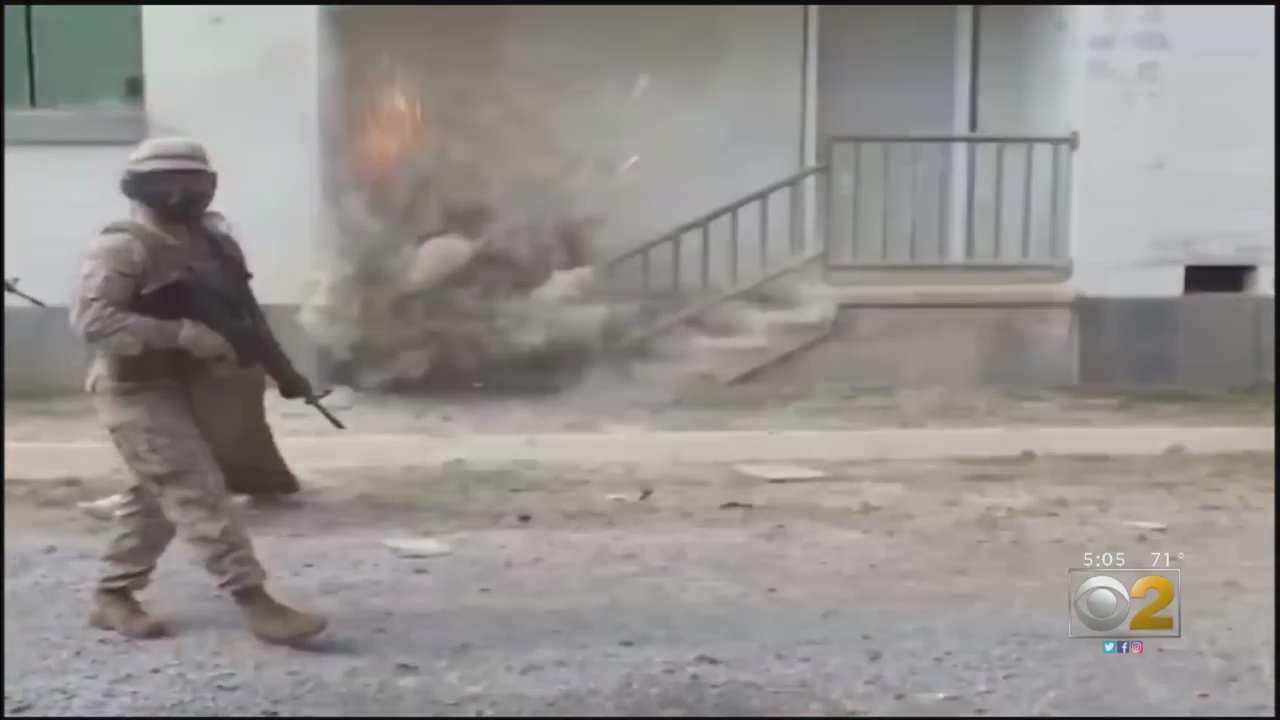 For $355,240, Immigration and Customs Enforcement will buy a replica of a Chicago-style neighborhood and use it to train agents at Ft. Benning in Georgia. There will also be an "Arizona" style training module and three "Fishbowls." The goal with these training modules is to create a "hyper-real" environment for agents to practice...what exactly? Invading a family home? 
Hyper-realism, the agency states, is "a critical component to this acquisition as the details provide essential information that must be acknowledged, processed and acted upon to minimize risk to our Special Agents, Deportation Officers and SRT operators during high-risk search and arrest warrants, fugitive operations, undercover operations, hostage rescue, gang operations, etc."
"For example, details like the number of dishes left on the table, toys in the yard, lighting, furniture, etc. all provide clues that allow our agents and officers to infer vital information that directly affects their safety and the potential resolution or outcome in the scenario," it continues. "Learning to process this information quickly to identify whether there are children present, or how many people are currently in the structure is a necessary skill developed in training."
The agency goes on to detail how a Defense Science Board task force "found that the probability of being a causualty (sic) decreases significantly after the first few 'decisive combats'," it adds. "These hyper-realistic devices will allow the teams to have those experiences in real-world conditions without the real-world casualties."
According to the document, ICE is working to continue expanding its Special Response Teams stationed throughout the U.S. and Puerto Rico.
ICE is not the FBI - at least not yet - but it now has the largest police force in the country. Which is kind of weird when you think about it. They are not fighting crime. While some people put into custody may have committed a crime - that is not why ICE in particular is detaining them. Immigration violations are civil infractions and constitute grounds for administrative detention. Overstaying a visa or failing to show up for a court hearing on one's asylum case do not seem to be infractions that necessitate this kind of training to enforce. If someone is on a list for criminal removal, they are typically already in custody, especially if the crime is a drug offense. This doesn't even seem to be the kind of training one needs for larger scale enforcement actions, such as workplace enforcements that use hundreds of agents.
This is not to say that agents are not at risk. Since 2003 six Immigration and Custom Enforcement Officers have died in the line of duty. From CATO study: 
Enforcement Agent Lorenzo Roberto Gomez died while in training.  Special Agent Timothy Allan Ensley died of dengue fever while on special assignment in Indonesia. Two agents were shot, one while on assignment in Mexico. One ICE agent was murdered in a vehicular assault in Miami [editor: struck by a drunk driver while on duty].  Lastly, one died of a heart attack while pursuing a suspect. 
CATO estimates that annual death rate from 2003 through 2018 was 2.6 per 100,000. Among all full-time workers, the average annual death rate is 3.6 per 100,000. Jobs more dangerous (there are many): Logger, roofer, agricultural worker, yard maintenance and landscaping, air conditioner installer.
[Sort of apples and oranges in comparison, but worth considering that the homicide rate in the United States in 2017 was 5.3 per 100,000. Unless you live in Chicago - where the murder rate was 23.2 per 100,000 last year. Or, live in one of the 13 cities in the country that have a higher murder rate than Chicago - for example, St. Louis' homicide rate is 59.3 per 100,000. Logging is still more dangerous than living in St. Louis though.] 
In any event, the story about the Urban Warfare Training modules broke because ICE administrators failed to redact details properly in documents that were put the "Federal Business Opportunities" website. Which is not the first time Department of Homeland Security agents failed to properly redact information. While the competency of DHS staff is certainly news worthy, I think it is not the real story. Why ICE agents are training for these kinds of exercises to begin with needs some explanation. From CBS Chicago:
A federal document details plans to build a new training facility for a special response team with U.S. Immigration and Customs Enforcement or ICE.
The project described as "hyper-realistic training devices that emulate structures the teams will encounter across the United States."
But when you look at the plans, there are only two U.S. locations chosen: Arizona and Chicago.
The estimated cost for each is over $350,000.
San Diego-based Strategic Operations has been tapped to build the training facility. Their main focus: helping the military train for third world combat conditions.
Now tasked to recreate a Chicago setting for ICE agents. As detailed as dishes left on the table to toys in the yard according to the document.
"They are laying out a plan to train for urban warfare in the city of Chicago," said Ald. Carlos Ramirez-Rosa (35th) who opposes the idea.
"The fact that we're spending taxpayer money to terrorize people in our communities is utterly ridiculous."
Update on Hunger Strikes 
We received this update on hunger strikers in El Paso on Saturday from Detention Watch Network staff:
I wanted to share a quick update on the hunger strikers from El Paso. Although ICE has deported some of the men even though they were on hunger strike, the men who remain on hunger strike are now entering day 68 [now 70] of their fight for their freedom.
If you haven't yet, please make sure to sign this petition calling for the immediate release of these men.
Additionally, I wanted to flag this @endforcefeedingnow/demand-an-end-to-force-feeding-in-ice-detention-centers-6ab91f469be0">new letter and petition for any members of the medical community that might be on this network. If you are a doctor or healer or know one, please sign/forward this to them.
More background on the hunger strikes from Public News Service:
EL PASO, Texas – Today marks Day 60 of a hunger strike by three political refugees from India, detained for more than a year in an El Paso Immigration and Customs Enforcement facility. 
The policy of indefinite detention began under the Obama administration, and has continued under President Donald Trump. Previously, most asylum seekers were released. 
Margaret Brown Vega, volunteer coordinator with the group "Advocate Visitors with Immigrants in Detention," says the strikers all passed a test showing they have credible fear of violence if they return home.
"All of these guys have sponsors," says Vega. "They don't have any kind of criminal history, so they pose no public threat. On that basis they should be released, to be able to pursue their asylum claim outside of detention."
The hunger strike was called to draw attention to poor conditions at the El Paso Service Processing Center, Vega says, and because of a deep desire to be free, one way or another. 
A report in The Guardian revealed that three strikers were recently force-fed by ICE through plastic nasogastric tubes, a practice opposed by the American Medical Association and seen as torture by United Nations officials. 
ICE representatives maintain that force-feeding is necessary to keep the men alive, and is required by regulation.
The force-feedings have been challenged in federal court, and a judge is now considering whether ICE has institutional alternatives. Vega doesn't believe the procedure is necessary to keep the men alive.
"These men will stop their hunger strike immediately if they're released," says Vega. "That option is available to ICE – but instead, every request for release for all of these men has been routinely denied by ICE."
ICE also force-fed at least six men from India this past December and January, according to The Guardian report. Nearly 1,400 people who are long-term detainees have gone on hunger strikes since 2015, in 18 different facilities.