Read more about InAlienable.Support Quixote Center's InAlienable program!
InAlienable
Daily Dispatch
September 10, 2019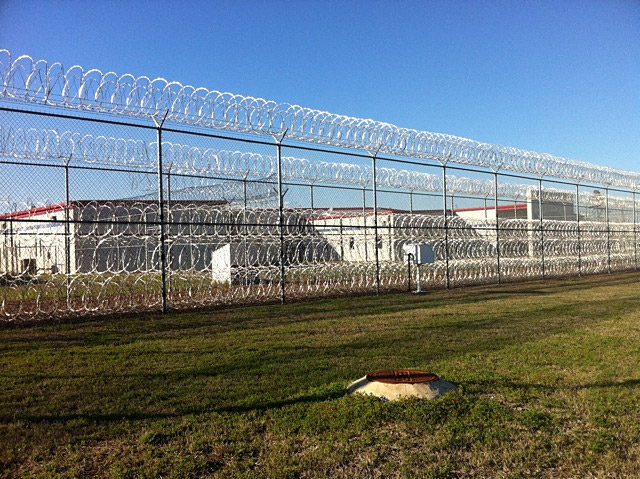 Louisiana is quickly becoming ground zero in Trump's effort to expand detention capacity - mostly behind the back of congressional budgetary oversight (not that Republicans seem to mind). In the last year, Louisiana went from having two ICE detention facilities to having eleven! It is an incredible expansion and accounts for almost half of the increase of the daily average of people held in ICE detention over the last year - from 45,000 by the end of last year, to the current 55,000. Louisiana detention facilities now incarcerate 6,500 detainees making it the second largest detention site after Texas. From Mother Jones:
ICE had the capacity to detain only about 2,000 people in Louisiana and Mississippi at the start of Donald Trump's presidency. But contracts signed with private prison companies in the past year have pushed ICE's capacity in those states above 10,000 people. The horrifying conditions uncovered by Mother Jones at the Winn Correctional Center in Louisiana and by The Nation at Adams County helped push Barack Obama's Justice Department to move to end its use of private prisons. Since June, ICE has started sending asylum seekers to both of those prisons.
Sadly, the expansion in Louisiana seems to be partially driven by the success of criminal justice reform measures that led to rewriting sentencing guidelines in the state. The new guidelines were part of an effort to cut incarceration rates (and the cost of incarceration). Not too long ago, Louisiana had the highest incarceration rate of any state in the United States. In 2014 Louisiana's incarceration stood at 816 per 100,000 - one of the highest in the world. The fiscal impact was significant. From a Pew study on the reform effort:
These high levels of imprisonment came at great cost to Louisiana taxpayers. In fiscal year 2017, lawmakers appropriated $625 million for adult corrections—the state's third-largest expenditure behind education and health care. The consequences of these high costs can be best understood by comparing Louisiana with other states. For example, had Louisiana's 2014 imprisonment rate been the same as Oklahoma's—the nation's second-most-imprisoned state—Louisiana would have spent roughly $49 million less annually.
In 2015, Louisiana's legislature put together a task force to study the situation and come up with solutions, with the "modest goal of no longer having the highest incarceration rate in the country." The task force found a host of problems, from much higher average prison sentences for non-violent offenses than other states to jury rules that allowed convictions based on the votes of only 10 of 12 jurors. On the other side of the process, there was a marked failure of reentry efforts - as many people left prison in debt to the state, and, with a felony record had a very difficult time securing employment to pay off these restitution debts. Recidivism was predictably very high.
In June of 2017 Governor Edwards signed into law ten bills that were the result of the task force's work:
The measures steer people convicted of less serious crimes away from prison, strengthen incarceration alternatives, reduce prison terms for those who can be safely supervised in the community, and remove barriers to re-entry. Over 10 years, the reforms are projected to reduce the prison and community supervision populations by 10 and 12 percent, respectively. Lawmakers also committed to reinvest 70 percent of the estimated $262 million savings in local programs that reduce reoffending and support crime victims.
A year later, in June of 2018, Louisiana no longer had the highest incarceration rate in the country - at 712 per 100,000 it fell below Oklahoma's rate of 719 per 100,000. Both are still well above the national average of incarceration. But in Louisiana this reflected a 7.4 percent fall in the number of people behind bars and $12.2 million in savings in one year. Great news. Right?
However, for the people on the other side of the budget equation - those who receive funds to incarcerate human beings - savings for the state means a decline in revenue for them. So, it seems there has been an intersection of interests between private contractors and local law enforcement in need to revenue replacement as state incarceration rates in Louisiana decline, and the Trump administration's quest to detain more and more people. From the Times-Picayune back in May:
"It seemed that Louisiana was ready to move away from its dependence on mass incarceration through its efforts at justice reinvestment," said Jamila Johnson, a senior supervising attorney with the Southern Poverty Law Center. "It's disheartening to see that it continues to rely heavily on it through its switch to the mass incarceration of civil detainees."
This year, ICE began using River Correctional Center (500 beds), Jackson Parish Correctional Center (1,000 beds) and Richwood Correctional Center (1,000 beds) to house detainees, said Bryan Cox, an ICE spokesman.
Johnson said these efforts began in September after the agency contracted with Bossier Medium Security Facility in Bossier Parish to house up to 240 detainees.
The largest facilities in Louisiana are privately run. Pine Prairie Processing Center and LaSalle Detention Facility in Jena are both operated by the GEO Group, and have been the sites of demonstrations against conditions in recent weeks. 
A specific case that has gained attention in the last few days is that of Yoel Alonso Leal, a Cuban asylum seeker who has been shuffled back and forth between Louisiana and Mississippi detention facilities while awaiting his asylum case. Yoel has lost his most recent appeal and is facing deportation at any time now. Yoel did everything by the law - he presented himself at a port of entry and declared asylum. He was put into detention immediately anyway, where he has been for 11 months. Yoel is the lead plaintiff in a lawsuit challenging the New Orleans ICE office and the illegal detention of asylum seekers. Yesterday, 10 people protesting Yoel's pending deportation were arrested in New Orleans.