Read more about InAlienable.Support Quixote Center's InAlienable program!
InAlienableDaily Dispatch
August 28, 2019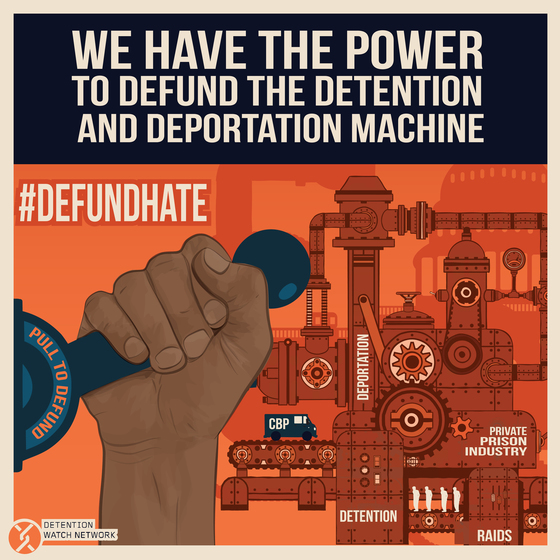 Or why we must #DefundHate
For the current fiscal year (2019), Congress appropriated funding for Immigration and Customs Enforcement detention to equal a daily average of 45,000 detention "beds" (average number of people in custody). At the time the Trump administration was holding close to 49,000 - the intent was that detention would scale down over the year to closer to 40,000 in order to reach this average.
It is now August, and there are two months left in this fiscal year. Daily average detention in the fiscal year to date is still over 49,000 - and currently ICE is holding 54,344 people - well above the target Congress set. What this means in financial terms is that the administration is way over budget for ICE detention. 
So, what does one do when over budget? Cut back? Nope. You steal from other accounts. Which is what ICE is doing. Despite receiving $200 million in "emergency" funds to deal with the incarceration spike at the border - created by the lack of humanity this administration exhibits toward refugees - ICE is still falling short. Why? Because they are holding 6,000 more people a day than they are supposed to even though alternatives exist that are far cheaper (and more humane) than locking up asylum seekers for months, or making them wait in Mexico until they have a hearing. 
I cannot emphasize this enough. The funding shortfall is not the result of a spike in migration. It is the result of the practices of this administration that have turned a humanitarian crisis into an incarceration nightmare, and now you have to pay for it. 
We issued an action alert about this on Monday as part of the #DefundHate campaign we participate in as members of the Detention Watch Network. We are demanding that:
ICE and CBP's budgets are cut - not increased! And,
That DHS is not allowed to circumvent the will of Congress by simply taking funds from other entities.
SO what did ICE do? Exactly?
The Department of Homeland Security took $271 million dollars from other accounts to pay for ICE detention and the "Remain in Mexico" debacle….uh...policy.
The largest share of funds were taken from Federal Emergency Management Administration (FEMA) - the people who help out in the wake of hurricanes and other disasters. $155 million was taken from FEMA's Disaster Relief Fund to pay for costs associated with the "Remain in Mexico" policy - specifically creating hearing sites at the border and other court related costs. Another $116 million was taken out of accounts for the Coast Guard, aviation security and "other components" in order to pay for expanded detention space. The Department of Homeland Security did not request the transfer of funds from Congress. They simply did it and then notified Congress. The notification letter can be read here.
From the ABC story covering the transfer:
Sen. Jon Tester of Montana, the ranking Democrat on the Senate Appropriations Subcommittee on Homeland Security, also expressed reservations about the administration's plan.
"I have grave concerns about DHS's proposed end-run around laws passed by Congress that would drain millions from agencies tasked with protecting the homeland from security threats and natural disasters like hurricanes and wildfires — including CBP, TSA, FEMA and the Coast Guard," Tester said in a statement.
"Congress has already deliberated DHS's request and appropriated the highest-ever funding for border security and immigration enforcement, which passed on a bipartisan basis and was signed by President Trump," he added.
The question is what will Congress do? Democrats hold the House, and have space to operate in the Senate even if they do not have a majority there. Shaming Trump (who has none, so…), hand wringing press conferences, and offering "grave concerns" are not policy. Stand up, or be walked over.
Our suggestions for where to start - 
Cut ICE's budget and do not let them get around the cut by appropriating from elsewhere. See more here. Take action.