Read more about InAlienable.
Support Quixote Center's InAlienable program!
InAlienable
Daily Dispatch
August 27, 2019
The Transactional Records Access Clearinghouse released a report on program yesterday.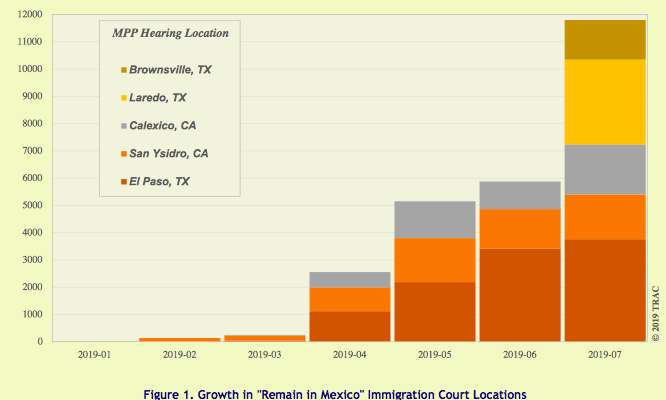 Read the full report here.
Ciudad Juarez
At least 15,000 people returned to Mexico have been sent to Ciudad Juarez to await a court date. Juarez is one of the most dangerous cities in Mexico and support services for immigrants are limited. ABC News local affiliate KVIA did a story on immigrants forced to wait in Juarez yesterday. The story is below.
More than 15,000 asylum seekers sent back to Juarez since start of 'Remain in Mexico' policy
To view the video, please view the article at www.quixote.org.
Nuevo Laredo
Voice of America ran a good article on the "Remain in Mexico" policy this weekend. The focus here was on migrants returned from the U.S. to Nuevo Laredo, and that changes in the program have created enormous confusion.
Among the more disturbing features of this report involved the Mexican government providing buses to MPP arrivals back in Mexico - originally the buses went to nearby Monterrey, but now are taking people back to the border with Guatemala. From VOA:
The Mexican government at first provided buses from Nuevo Laredo to Monterrey, a 270-kilometer (168-mile) journey that takes about three hours to drive. The buses were an option for migrants; no one was forced on board.
Beginning earlier this month, though, the buses that showed up at the bridge drop-off site were bound for Chiapas, the Mexican state bordering Guatemala, which in turn, borders Honduras and El Salvador.
The Homeland Security Department and U.S. Customs and Border Protection did not respond to multiple VOA requests for comment on Mexico's busing plan and concerns over how people would be able to return for their U.S. court dates.
Calling the busing plan "voluntary," said Maureen Meyer, director of Mexico programs at the Washington Office on Latin America, a Washington-based human rights organization, "seems hard to justify when the people aren't even very clear on what they're going into."
Meyer traveled to Chiapas this month to see the buses from Nuevo Laredo arrive, after a more than 30-hour trip. Mexican immigration agents at the border with Guatemala seemed confused about what they should advise the busloads of people, she told VOA.
Immigration attorneys acknowledge that even if the migrants could get cellphone service in Mexico, and can pay for phone credit, there's a good chance they couldn't get a lawyer. Border attorneys are stretched thin, and the length of some asylum cases -- which can take years -- makes it difficult for outside lawyers to connect with potential clients.
Ultimately the goal of the "Remain in Mexico" program is to encourage people to give up and go back to Guatemala, Honduras, or where else they are from. Anecdotally, this may be working, as some report that as many as 30 percent of the people sent to Ciudad Juarez have left rather than wait in such a precarious place. As the evolution of the program just leads to more and more confusion about process, the uncertainty simply grows.