#NewWayForward: Help repeal the 1996 laws that gave us today's enforcement machine
Read more about InAlienable.Support Quixote Center's InAlienable program!
InAlienableDaily Dispatch
July 23, 2019
Within 6-months of the Oklahoma City bombing, Congress and the Clinton administration pushed forward two laws that gave us the detention and deportation machine we are now confronting. Though the Illegal Immigration Reform and Immigrant Responsibility Act and Anti-Terrorism and Effective Death Penalty Act were passed in the context of fear generated by an act of domestic terrorism, the laws created a host of provisions targetting immigrant communities. The laws:
Established mandatory detention and mandatory deportation for noncitizens with criminal convictions.
Expanded the list of crimes that could lead to deportation, even of permanent residents.
Most dispositions count as sentences, even if suspended or redirected to rehab.
Expanded definition of "aggravated felony" to the point that they need not be aggravated or felonies.
Laws applied retroactively - a marijuana possession charge 10 years earlier could lead to deportation.
Eliminated most judicial review of immigration court findings.
The Quixote Center recently joined in coalition with other national and local organizations demanding a repeal of the main features of these laws in a letter sent to Congress last month. The letter reads, in part:
As with the widely condemned and punitive welfare "reform" and crime bills from this era, these laws relied on racialized stereotypes to create policies and laws that treat people of color as disposable and criminal until proven otherwise. These laws are the blueprint for the sweeping enforcement and deportation machine that we see in full force today. 
We call on you to support legislation that begins to undo the harms of the 1996 laws by: 
Ending immigration detention without bail; 
Ending the automatic deportation of individuals who have had contact with the criminal legal system; 
Ending the entanglement of local policing and immigration enforcement; and 
Decriminalizing migration by repealing laws that make migration a crime. 
An entire generation of people in this country have never experienced immigration apart from criminalization, as law enforcement and immigration enforcement functions have merged to arrest, detain, surveill, punish, and exile people of color. The abuses of these criminal legal and immigration systems have devastated our communities. 
We have come together around a different vision: communities that are healthy and thriving, instead of ones torn apart by biased policing, incarceration, and deportation. We know that our community members who happen to not have been born in this country have no less dignity or value than those who were.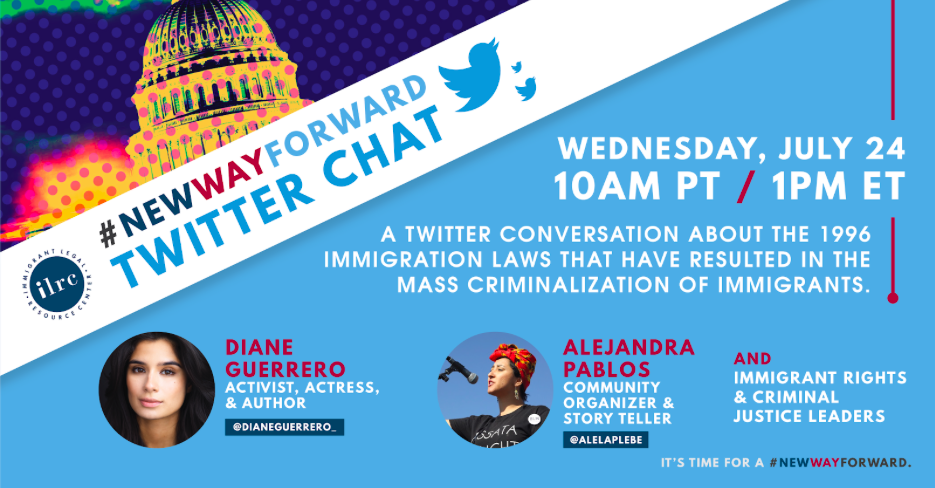 Tomorrow you can join with other activists to discuss repealing these laws by following and taking part in a Twitter chat organized by the Immigrant Legal Resource Center. Details:
What: Twitter chat with Orange is the New Black Star and Actress Diane Guerrero and Social Justice Activist Alejandra Pablos, who has been targeted for deportation, on immigrant criminalization 
When: Wednesday July 24, 2019 at 10AM PT / 1PM ET
Background: Diane Guerrero, known for her roles as inmate Maritza Ramos on the Netflix series Orange Is the New Black and Lina on Jane the Virgin, has been a fierce voice on immigrant rights, bravely sharing the personal impact of deportation on her family. Alejandra Pablos is an immigrant rights and reproductive justice activist who spent two-years incarcerated at the notorious Eloy Detention Center in Arizona and has been targeted for deportation and fighting for her freedom. 
These courageous voices will join immigrant rights and criminal justice leaders in a conversation about the immigration and criminal incarceration systems, ahead of the premiere of the final season of Orange Is the New Black, which will feature the story of one character's struggles in immigrant detention. The conversation will also focus on the 1996 immigration laws that are directly responsible for expanding the incarceration of immigrants, creating a fast track for deportations without due process, setting the foundation for local police and ICE entanglement and cementing the pipeline from arrest to deportation. It's time for us to envision and create a #newwayforward.