Take Action Against Immigrant Incarceration
Read more about InAlienable.Support Quixote Center's InAlienable program!
InAlienableDaily Dispatch
July 2, 2019
The conditions of immigrants being held in detention has reached the presidential race and the Democratic primary in particular. Last week 12 of the 20 candidates that were in the democratic debate in Miami visited the child detention facility in Homestead, Florida for photo ops and speeches. In Clint, Texas members of Congress visited the Border Patrol station where the conditions that children are being held in made national news a week and a half ago following an Associated Press story built on interviews with attorneys that had inspected the facility. The attention given to conditions in detention facilities is heartening because it creates the space for changes to be made in the system. But will candidates seek to make those changes? Will Congress pursue reform? As we know, last week the Democratic leadership in the House agreed to an emergency spending bill crafted in the Senate that gave more money to Trump for detention and was stripped of oversight conditions that had been a part of the original House bill. In a week where the public consciousness about conditions is this high, I have to wonder about the political calculation to cave into GOP demands.
Behind the spectacle, however, is the ongoing efforts of national organizations and countless local groups that have been doing the hard work of documenting conditions for years. Through visitation programs, raising bail funds, and seeking out sponsors for immigrants so that they can leave detention, organizations around the country have been creating an ecosystem of support for people in detention and working for their release. This work is vital. It provides for immediate relief for some of the people incarcerated and creates a framework for re-imagining a country without mass detention, one where community release becomes the norm. 
Freedom for Immigrants, for example, manages a National Bond Fund.  From their website,
A person is eligible for our bond program if they: 
are a recent asylum seeker, who has been persecuted in their home country and detained by ICE within three months of entering the country; OR
have been held in prolonged immigration detention for a minimum of 6 months; OR
have been living in the country for over 10 years with a strong community presence; AND
have been granted a bond by ICE or an immigration judge in California or Louisiana
Freedom for Immigrants is also involved in placing people with sponsoring families, which they refer to as an Alternative Accompaniment Program. Family placement is a huge need for people trying to get out of detention who otherwise have few contacts in the United States. Other groups doing this work include Stand Up for Racial Justice, which mobilized its network to find volunteer host families in response to the large immigrant caravan last year and continues to maintain a list of supporting organizations here.
Confronting the ICE detention system at the structural level involves many organizations who are doing work to confront those profiting from immigrant incarceration. For a great background article on these efforts, and the companies involved, see David Dayen's article "Below the Surface of ICE: The Corporations Profiting From Immigrant Detention" from In These Times.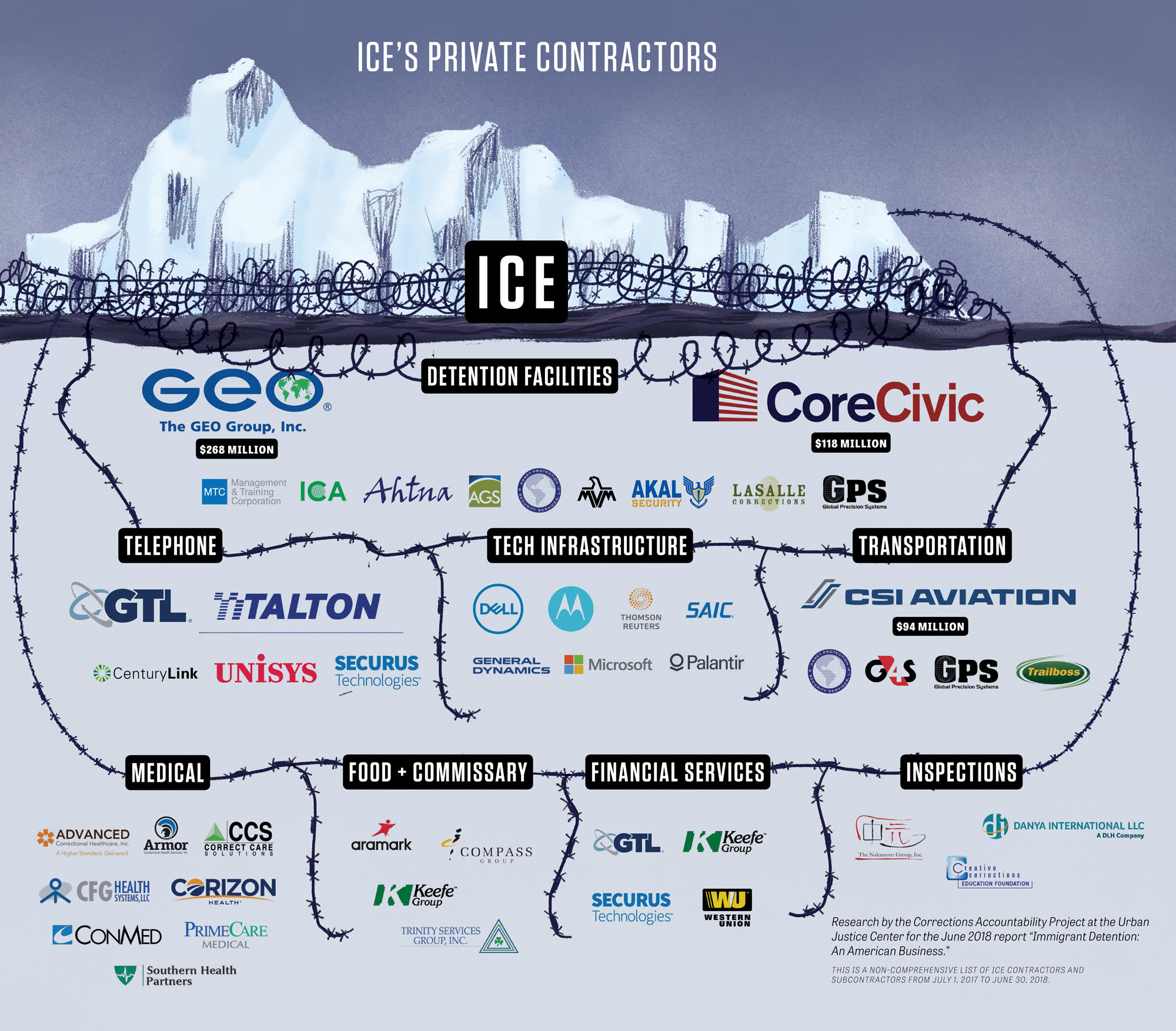 For local actions confronting companies, you can also visit No Business with ICE's website.
Detention Watch Network (of which the Quixote Center is a member) maintains a lot of resources on their website, and is also involved in multiple campaigns, like #DefundHate - an effort to go after the Trump administration's enforcement budget. And #CommunitiesNotCages, which is a grassroots campaign seeking to block expansion of detention centers into new areas.
So we are glad candidates are talking about detention, but the real work is being done by grassroots organizations around the country. These are just a few examples. You can look for more information on our Local Action Map.