Read more about InAlienable.
Support Quixote Center's InAlienable program!
InAlienable
Daily Dispatch
March 22, 2019
Local Action Matters! Get Involved
Immigration policy is supposed to be set at the national level, enforcement a federal responsibility. And yet, political differences at the national level have completely stalled any effort at comprehensive reform. This is mostly bad news, though it is important to remember that the last time there was enough agreement to pass far-reaching immigration reform at the federal level the result was a disaster.
In the current political context, bridging the partisan divide is likely impossible - certainly to get a comprehensive reform bill that would pass through both the House and Senate would require giving into the hardliners in the GOP on security, in exchange for modest reform of DACA and TPS. The last budget debacle is evidence of that. Trump was denied full funding for his wall in the bill, but Democrats gave in on expanding other security measures at the border. The current budget proposal from the Trump administration - with expanded detention-capacity, more wall funding, and huge budget increases for Border Patrol and Immigration Customs Enforcement (ICE) - is frankly immoral in light of other cuts. The Democrats will fight back on some of these measures, but aside from a handful of members, such as Pramila Jayapal from Seattle, there is an utter lack of political courage to confront the worst enforcement measures and challenge the logic of deterrence that has been the hallmark of immigration policy for decades now.
So, while we must continue to press for change at the national level by, for example, challenging Trump's budget priorities and executive orders, and supporting legal challenges to his policies, there is also a lot of room to make an immediate difference through local action.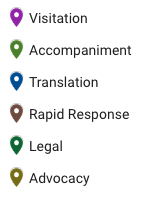 Throughout the country grassroots groups are engaged in activity to support immigrant communities, and in doing so, are building an expanded constituency for longer-term change. The forms of action include:
Rapid response networks that mobilize to serve as witnesses to ICE raids, documenting these encounters and at times disrupting or delaying enforcement actions;
Visitation programs, through which community organizations travel to detention centers, offering friendship to and, when appropriate, taking testimony from, those incarcerated ;
Accompaniment programs, organized to ensure that people traveling to immigration check-ins or court hearings have a witness some of the activity. If people are detained during a check-in, accompaniers can also notify local activists to mobilize;
A host of legal services offered to assist people with paperwork, and/or representation in immigration court;
Advocacy groups, often overlapping with those listed above, who press for changes in local and/or state law, such as promoting sanctuary cities or challenging the establishment of new detention facilities.
As bad as the news on immigration is, and it is often very bad, there are likely many ways for you to get involved in activity beyond sending letters to your members of Congress (keep sending them though!). And such activity really matters for individuals caught up in the system.
The Quixote Center is trying to make it easier for people to connect to groups in their area and learn first-hand about our immigration system. We are launching a Local Action Map on our site, where we have listed groups that are doing local work. We have entries in almost every state, but we know this is just the tip of the iceberg.
We will be doing a wider launch of the mapping project in a couple of weeks. So, your input now will make a difference! Please take a look here. Let us know:
General impressions of usefulness.
Are you aware of any groups in your area that are not listed? Please share through the form on the page.
If you are already involved in a local campaign and would be interested in sharing stories of that work, let us know. We are launching a new blog series to lift examples of local activity and would love to hear from you.