Read more about InAlienable.Support Quixote Center's InAlienable program!
InAlienableDaily Dispatch
February 11, 2020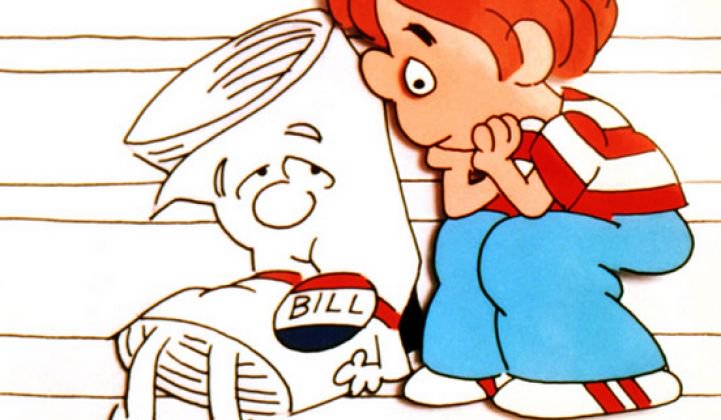 Trump presented his proposed budget yesterday. $4.8 trillion. If budgets are, as claimed, a moral statement of priorities, Trump's moral compass is pretty clearly pointed toward Wall Street's investment bankers. He proposes cutting food assistance (SNAP), child healthcare (CHIP), MEDICAID by huge numbers (almost a trillion dollars over 10 years!) while giving the military another record breaking $740 billion and adding $2 billion for wall construction along the border with Mexico. Along the way there are ideas not horrible - infrastructure spending, for example, is necessary, and depending on how done, could even represent a bit of foresight. But that is juxtaposed against extending the 2017 tax cuts, alongside assumptions about economic growth that bend the arc of reality - e.g., assuming an average 3% growth rate over a ten year period. Hmmm. 
In any event reception was predictable. The chair of the Senate Finance committee won't even hold hearings on the budget, because, what's the point. And this guy is a Republican. Which is to say the budget is largely an electoral set piece, as it will likely never be a governing document. That said, the Democrats will no doubt give in on military and other "security" measures, cuz they do that kind of thing historically (like just six weeks ago), and especially in an election year. Which brings us to the particular focus for this blog post: The budget's impact on immigration policy.
As noted, the budget includes $2 billion for border wall construction. Just so we are all clear - never, ever, under any circumstance, to be repaid by Mexico. Right?
But wait, Mexico is sort of building a wall for Trump, using, well most of the country to deter, deport, and incarcerate people migrating (or trying to) to the U.S./Mexico border. Among the horrible budget features is $126 million for the Remain in Mexico policy, which could never happen absent acquiescence from Mexico's government.
The budget also includes a 25% increase for Immigration and Customs Enforcement, with a goal of detaining a daily average of 60,000 people. It also includes a significant boost to Customs and Border Protection. Congress really, really needs to say no to all of this.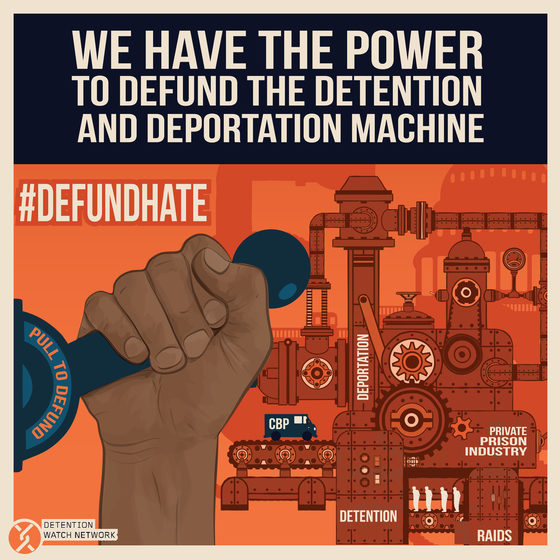 The Defund Hate Coalition, of which we are a member, issued the following statement yesterday on Trump's budget:
"For his final budget proposal before the election, the Trump administration is clear on its core motivations: a wholesale, hate-fueled attack on immigrants. In the four years Trump has put forth his annual budget proposal, he has requested a cumulative total of $36.4 billion for Immigration and Customs Enforcement (ICE) and $72.1 billion for Customs and Border Protection (CBP). These totals are on top of the billions of dollars in additional funding he's called for over the years through supplemental and transfer requests and the billions he stole last year with his 'national emergency' declaration.
These taxpayer dollars translate into the separation of loved ones and families, the detention of thousands in abusive and deadly immigration jails, and the degradation of thriving communities nationwide. This year's budget proposal is shamefully no different. Trump is once again asking Congress for billions to fund his hate-fueled attacks on immigrants — it is a blueprint of terror."
Trump's FY21 budget calls for:
$10.4 billion for ICE (a $2 billion or 24 percent increase from FY20). This includes another massive increase to the abusive and deadly immigration detention system, funding ICE to jail 60,000 people daily in 2021, hiring 2,844 new ICE agents, and a $2.3 billion increase for Homeland Security Investigations (HSI).
$18.2 billion for CBP ($800 million increase from the FY20 level). This includes nearly $2 billion for 82 miles of southern border wall construction, hiring 750 new Border Patrol agents, and $201.6 million for surveillance technology and equipment that will further militarize the border region.
$126 million for the Migrant Protections Protocol (MPP), the Trump administration's program to force asylum seekers to remain in dangerous conditions in Mexico while their cases are being processed.
The harm that this budget represents is also seen in the massive budget slashes to the Environmental Protection Agency, Department of Housing and Urban Development and Department of Education. We want our taxpayer dollars invested in critical education, housing, green infrastructure, nutrition and health care programs that support families and create thriving communities that enhance our collective well-being — not on terrorizing immigrants.
Many of our representatives claim they care about immigrant communities while simultaneously voting to fund aggressive immigration enforcement, border barrier construction, and deadly immigration jails. Members of Congress must fight to protect the immigrant community from deportation by rejecting Trump's budget proposal, and instead call for significant cuts in funding to ICE and CBP and meaningful restrictions on their authority to reallocate funds Congress appropriates."
###The #DefundHate campaign, composed of organizations representing directly impacted communities, faith leaders, and civil rights and immigrant rights advocates, is committed to divestment from agencies that tear apart our families and terrorize our communities.