Read more about InAlienable.
Support Quixote Center's InAlienable program!
InAlienableDaily Dispatch
December 27, 2019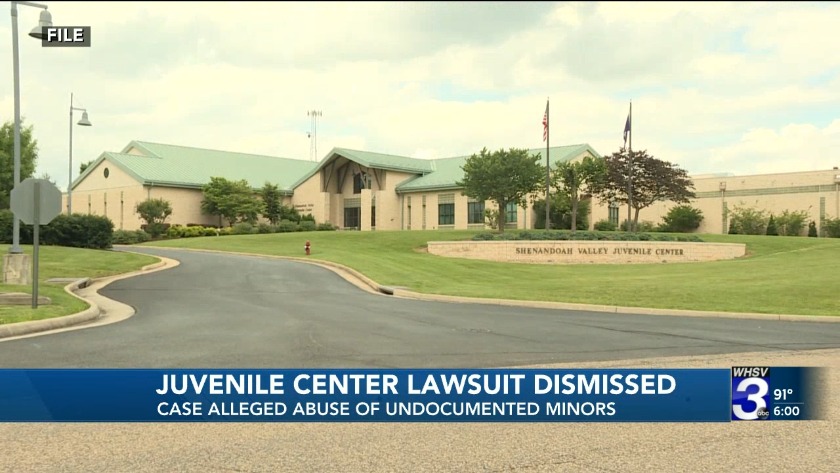 "Political language... is designed to make lies sound truthful and murder respectable, and to give an appearance of solidity to pure wind." George Orwell
In July of 2018, the Virginia Department of Juvenile Justice sent a certification team to the Shenandoah Valley Juvenile Center to investigate reports of abuse against immigrant teens being detained at the facility under contract with the U.S. Department of Health and Human Services' Office of Refugee Resettlement. Shenandoah Valley was one of three facilities with contracts to hold children deemed to be behavioral problems - most of whom, according to staff who testified before Congress, were suffering from mental health issues resulting from trauma they suffered in the places they were fleeing. 
The certification team was sent to the facility on direction from newly elected governor Ralph Northam following an investigative report by the Associated Press into conditions at the facility. The AP story presented evidence based on dozens of interviews with children who had been held at the facility, all of whom reported widespread abuse. The AP story was one of dozens of reports about the conditions of children in detention to emerge in the wake of Trump's child separation policy, as reporters began to track where children were ending up. In this case, the AP caught wind of a lawsuit against the facility filed in 2017 and followed up. There were a number of issues identified, but among the most abusive was the use of a "restraint" chair. From the AP story:
"Whenever they used to restrain me and put me in the chair, they would handcuff me," said a Honduran immigrant who was sent to the facility when he was 15 years old. "Strapped me down all the way, from your feet all the way to your chest, you couldn't really move. ... They have total control over you. They also put a bag over your head. It has little holes; you can see through it. But you feel suffocated with the bag on."
And,
A Guatemalan youth sent to the center when he was 14 years old said he was often locked in his tiny cell for up to 23 hours a day. After resisting the guards, he said he was also restrained for long periods.
"When they couldn't get one of the kids to calm down, the guards would put us in a chair — a safety chair, I don't know what they call it — but they would just put us in there all day," the teen said in a sworn statement. "This happened to me, and I saw it happen to others, too. It was excessive."
A 15-year-old from Mexico held at Shenandoah for nine months also recounted being restrained with a bag over his head. "They handcuffed me and put a white bag of some kind over my head," he said, according to his sworn statement. "They took off all of my clothes and put me into a restraint chair, where they attached my hands and feet to the chair. They also put a strap across my chest. They left me naked and attached to that chair for two and a half days, including at night."
From the lawsuit, filed in October of 2017 by "John Doe," unidentified Mexican teen on behalf of himself and others held at Shenandoah Valley Juvenile Center (SVJC):
Doe and other children have suffered serious physical and emotional harm from Defendant's use of restraints. The restraints are very tight, often leaving bruises and cuts on the children's wrists after they have been taken off. Doe has complained about this and shown his injuries to SVJC staff and to ORR's on-site representatives, but they have taken no actions to remedy it.
Doe and other children have also been confined to their rooms for 24 hours or more at a time. On some occasions the children are stripped of their clothes, including their underwear, during such lengthy periods of confinement.
Doe has also been tied to a chair, on multiple occasions, as a form of punishment. He has remained tied to a chair for several hours at a time.
There is no legitimate penological justification for using confinement or restraints in this manner, as they are used long after control of the subject child has been secured and there is no threat of further violence. Defendant's conduct is motivated by a desire to harass or humiliate the detained children in their care or to provoke a response that justifies the use of force by staff. 
Further, reporting earlier this year on systemic problems of sexual abuse of children in ORR facilities - over 6,000 claimants between 2014 and 2018 - included abuse at SVJC:
In October 2016, a child at the Shenandoah Valley Juvenile Center in Virginia said a staff member grabbed his crotch area and squeezed after he had been physically restrained. The incident was reported to child protective services, but not investigated, and the staffer was moved to another housing unit.
In testimony to the U.S. Commission on Civil Rights about this case one of the lawyers representing youth at SVJC wrote,
Between November 2015 and November 2017, the restraint chair was used over 40 times on immigrant children, often in excess of SVJC's two-hour limit policy; on one occasion, one youth suffering from serious mental health problems was placed in the restraint chair for over 6 hours in a day and for nearly 9 hours the very next day, while John Doe 1 was put in the chair 11 times over a 16 month period for between 25 minutes and 2 hours at a time. Such use of force and/or isolation deviates from professionally accepted standards in the medical (AMA) and psychologist communities and has been rejected by governmental and private commissions that guide standards for juvenile facilities.
Handle with Care….
The Certification team published its account of conditions at the facility in August of 2018, and found no evidence of abuse - or more specifically, no evidence of actions that met the legal threshold for abuse. In part, because the use of a restraint chair and placing of a bag over a child's head is permitted. From their report:
Review of training records indicated that all staff are trained in the use of restraints through a behavioral management system titled "Handle With Care." Per regulation, mechanical restraints shall not be used as punishment; however, they are used for the protection of resident and staff. The regulation requires that SVJC train staff in the use of mechanical restraints including but not limited to the restraint chair and mesh spit guards. The restraint chair is used for out-of-control residents who cannot be safely restrained by less intrusive methods. While in the chair, a mesh spit guard can be placed on the resident's head to prevent spitting or biting.
Interviews with children were also conducted on-site, where they are under supervision, and not likely to be forthcoming.
On the release of the report, the facility deputy director released a statement, ""The report confirms our long-standing dedication to being a well-run facility that treats our residents with respect and dignity." The report, though giving a pass on abuse below the legal threshold, did offer recommendations for improvements, including expanding training for staff on de-escalation techniques. 
However, in the midst of the investigation, the Department of Juvenile Justice "discovered" that its, Certification Unit and Quality Assurance Unit had "no legal access to the youth in the federally-run ORR program." As part of the expanded oversight, the Board of the Department of Juvenile Justice voted to require agency oversight on any new contract for detention of children held in Virginia. That the Department was unaware of this lack of access, and had not actually inspected the facility to this point is a sad testimony to the concern exhibited toward immigrant youth detained in this country. 
The Federal Lawsuit against Shenandoah Valley Juvenile Center was dismissed in July of 2019. It was not dismissed on the merits of the case, but because there were no plaintiffs left willing to testify: 
A federal judge dismissed a lawsuit against Shenandoah Valley Juvenile Center last week that accused the facility of abuse against undocumented minors. 
Filed in October 2017, the suit initially detailed alleged use of excessive force and solitary confinement of immigrant children as young as 14.
It included claims that children were beaten while handcuffed and locked up for long periods in solitary confinement, left nude and shivering in concrete cells. Lawyers for the detention center denied any wrongdoing.
However, those who filed the lawsuit steadily lost any of the complainants willing to testify about the accusations. They were given until January to substitute a new representative of the claims to "pursue a claim of constitutionally inadequate mental health care," but were unable to do so, requiring them to withdraw their claims of excessive force, restraints and isolation.
The original John Doe withdrew from the case - I could not find a verified reason - though he would have turned 18 by this point and faced immediate deportation. He was replaced by two other John Does who stepped-in as plaintiffs, both of whom were actually then deported. A fourth John Doe came forward to speak to the inadequate mental health treatment, narrowing the focus of the case significantly from the original filing. He eventually withdrew as well, leading to court to dismiss the case.
If there is an upside to this story, it is that local officials in Northern Virginia turned down the Department of Health and Human Services when it came looking for a site for a new 440 bed facility to detain immigrant youth long-term in August 2019. The public outrage over Shenandoah Valley was enough for officials to find some courage and keep DHS at arms-length. It is not clear that the new facility will even get built at this point - though ORR was still looking at potential sites in Texas and Arizona.
The reality, however, is that the abuse of children in custody is excessive and systemic, and continues. And this must change. From May 2019 testimony to U.S. Civil Rights Commission on SVJC:
it is critical to note that current regulations or laws in the state of Virginia were insufficiently stringent to prevent many of the egregious violations experienced by the immigrant children at SVJC. Unlike many states and facilities that have outlawed its use, Virginia permits the use of the restraint chair. It permits extended solitary confinement of children, including those suffering from trauma or mental health needs, for 72 hours at a stretch and up to 5 days with proper notification to facility administration – far beyond the time period countenanced by any medical, psychological or juvenile detention best practice. Experts (even including the SVJC psychiatrist), advocates, and detention staff members all agree that these punitive measures result in lasting harm to youth. Stringent federal standards are needed to ensure safe and humane conditions in those states where the regulations are lax. We urge the Commission to study the extent to which immigrant children in ORR custody are in facilities which are adhering to weak state regulations, and, consistent with the Attorney General's Report and well- established professional standards, to advocate for alternatives to detention and, where that may not be possible, for federal policies and practices that require immigrant children to be placed in trauma-informed environments that strictly limit the use of restraints, solitary confinement or other essentially punitive and harmful approaches. (emphasis added).
This seems like the least we can do.