Read more about InAlienable.
Support Quixote Center's InAlienable program!
InAlienable
Daily Dispatch
December 20, 2019
Take action to stop fee increases!
We posted this action two weeks ago. We are coming to the last few days of comments on a new rule being put forth by the Trump administration that would dramatically raise the fees that U.S. Citizenship and Immigration Services is planning to charge. Even worse - part of the scheme, which may not even be legal - is a plan to redirect $207 million raised from these fees to Immigration and Customs Enforcement over two years - which means fees charged for authorized immigration procedures, will be used to lock people up and/or deport them. 
The comment period was originally scheduled to close on December 16, but has been extended to December 30. You can drop a comment into the form we have created here.
If you'd like to read more first - here is our original post. And here is an overview by the National Immigration Law Center.
Stewart's Tragic History of Abuse
On International Day of the Migrant, Priyanka Bhatt and Azadeh Shahshahani of Project South published a powerful article on the history of ICE's silence about abuse at the Stewart Detention Center and other facilities they oversee. We joined with other groups in joining onto a letter from Project South demanding an investigation into Stewart's operations. It is run by the private prison profiteer CoreCivic. Some examples of this history:
In 2014, Stewart reportedly used lockdown and pepper spray on detained immigrants participating in a hunger strike to protest maggots in their food, lack of medical care, due process violations, and other human rights abuses.
Similarly, in 2015, officials at Stewart reportedly "brutally suppress[ed] hunger strikes, work stoppages and other forms of resistance" by attacking "immigrants with rubber bullets and pepper spray. At least one individual required serious medical attention due to the harsh response and excessive use of force." Immigrants were protesting the meager quality of food at Stewart along with the "long periods of time people are forced to stay in detention without being able to appear before a judge."
In 2017, ICE fought to obtain a court order to force-feed an immigrant on hunger strike.
In 2018, several immigrants reported that officers retaliated against them by sending them to solitary confinement for threatening to not participate in Stewart's forced labor program or for filing a grievance or complaint. Two immigrants were sent to solitary confinement after they filed a grievance in 2018 for not getting paid for the work they did as part of the forced labor program. In another instance, one detained immigrant was put in segregation for about two months after "he filed a grievance against an officer for forcing him to work while he was sick."
Unpacking Remain in Mexico Data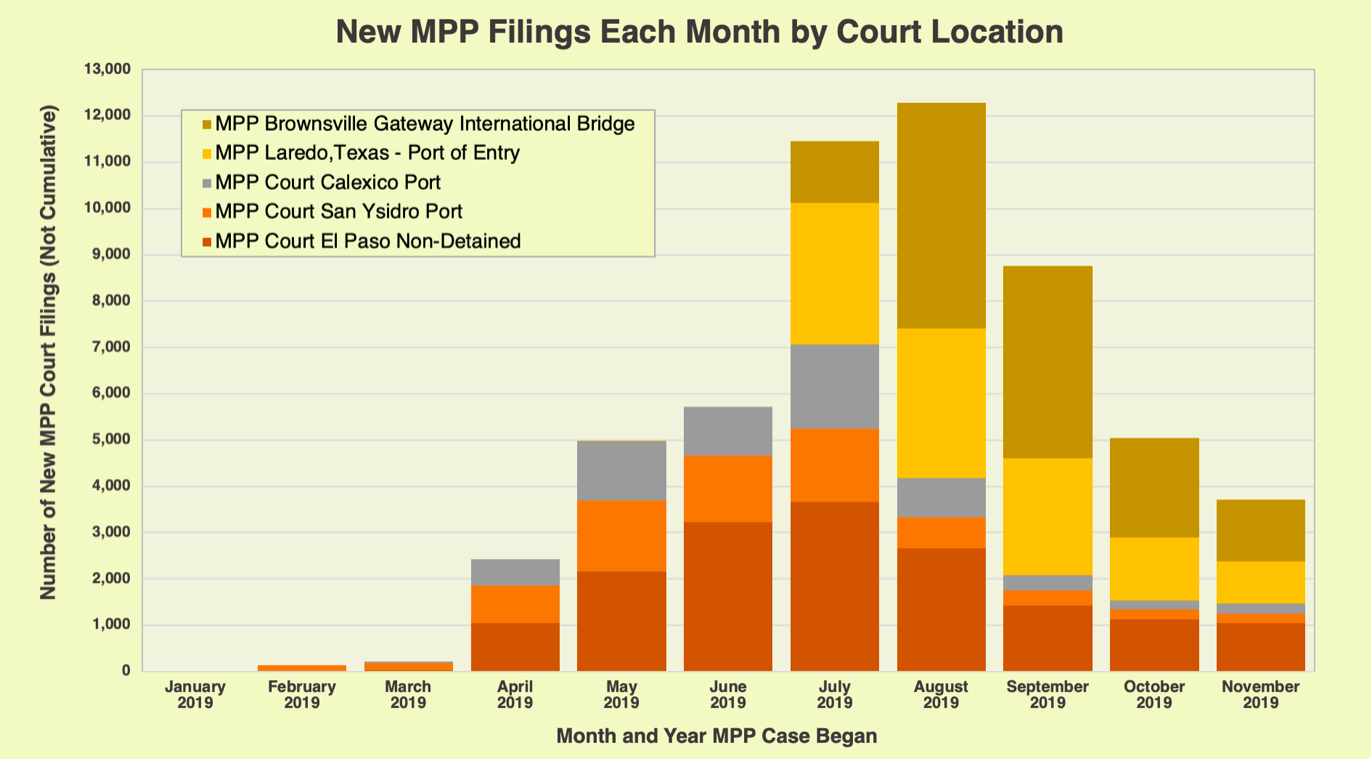 The Transactional Records Access Clearinghouse (TRAC) at Syracuse University released a report this week on the impact of the Migrant Protection Protocol (the "Remain in Mexico" policy) on asylum seekers. Specifically, the report compared outcomes for people seeking asylum who were referred to MPP versus those who were able to process claims from within the United States. Some of the results:
MPP Results in Slightly Longer Wait Times for First Hearing: Court data show that a slightly larger proportion of those assigned to MPP are still waiting for their first hearing, compared to those who were allowed to remain in the U.S. This was true particularly as MPP numbers climbed, because the special courts that have been set up to hear MPP cases apparently struggled to keep up. The latest available court records show that 39 percent of immigrants required to remain in Mexico are still waiting to have their initial Master Calendar hearings compared to 36 percent of those who were allowed to stay in the U.S.
Asylum Seekers in the U.S. are 7 Times More Likely to Have an Attorney: Immigrants who were allowed to wait in the U.S. were over seven times more likely to find an attorney to represent them than those diverted to the MPP program. As TRAC previously examined in a July 2019 report, access to attorneys is extremely limited for those required to remain in Mexico. Representation rates do generally increase over time the longer individuals have to obtain attorneys. So far only 4 percent of immigrants in MPP cases have been able to find representation. In contrast, nearly a third (32%) of those who were allowed to remain in the U.S. have obtained counsel over the same time period.
Without representation, the odds of securing asylum are dismal. Few asylum seekers over the years have been successful in obtaining asylum without an experienced attorney to help them prepare and present their cases.
Most Asylum Seekers Attend Their Hearings Unless Forced to Remain in Mexico: Nine out of ten (89%) immigrants who are allowed to remain in the United States attended every court hearing thus far. The situation is starkly different for immigrants required to stay in Mexico: a startling 50 percent have failed to show up for a hearing, which led to a judge closing the case with an in absentia decision.
The difference in hearing attendance between those who are allowed to remain in the U.S. and those under MPP reflects the challenges asylum seekers face in the border communities where they have been required to remain. Immigrants face kidnapping, rape, and other forms of violence along the border. Further, without a permanent address, there is no mechanism for the Immigration Courts to notify immigrants about the date, time, and location of their hearing. Notices that do reach immigrants may not have accurate or complete information about where and how to cross the border into the U.S. to attend their hearing. Many immigrants without resources to sustain themselves during their wait or who become victims of criminal activity decide to give up their asylum application and either return to the home they fled or try to relocate elsewhere.
TRAC has also created an MPP Web Query tool - which allows researchers to get summary data on individual courts, on the nationality of those seeking asylum, case outcomes and so on. Check it out here.