Read more about InAlienable.Support Quixote Center's InAlienable program!
InAlienableDaily Dispatch
December 19, 2019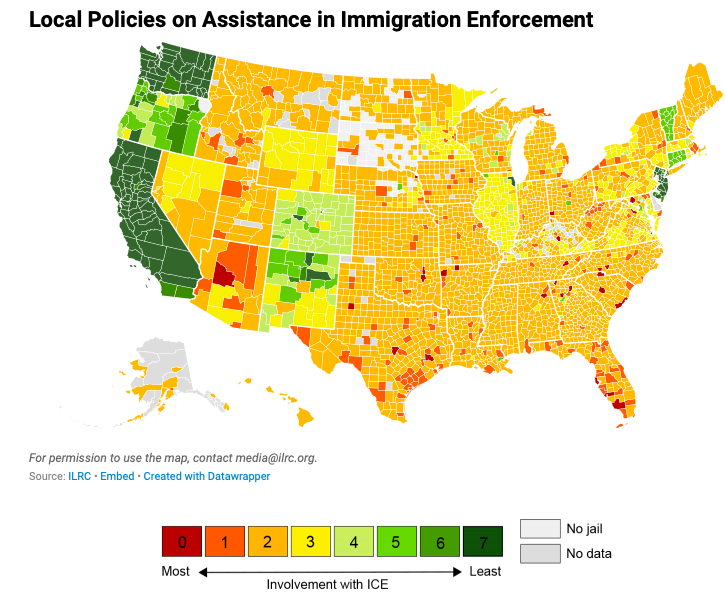 Sanctuary Expands Across the Country
A new report from the Immigrant Legal Resource Center documents the expansion of sanctuary policies over the last three years. From the Introduction:
Since Donald Trump was elected President, his administration has gone out of its way to detain, deport, and terrorize immigrant communities in every way possible. However, while the Trump regime has ruthlessly attacked immigrants, advocates on the ground have successfully resisted by passing local laws and policies that divest local agencies and resources from the immigration enforcement system. Popularly known as sanctuary policies, these laws take many different forms, but generally cut ties between states, counties, or cities and Immigration and Customs Enforcement (ICE).
Localities have no independent legal authority to enforce immigration laws and no legal obligation to provide assistance to ICE. To the contrary, involvement with federal immigration authorities will often undermine local priorities. Local involvement in immigration enforcement makes local agencies the gateway to deportation, increases racial discrimination, strips communities of any sense of safety, and undermines the rule of law. Despite the current administration's continual scaremongering about immigration and "sanctuary cities", actual sanctuary policies continue to flourish throughout the country and have helped to welcome and protect our immigrant communities. In fact, since Donald Trump was elected, at least 475 counties (about sixteen percent of all counties in the country) have increased their sanctuary policy protections. (Emphasis added)
The report explains the various tactics that localities have adopted to protect immigrant communities and push back against the administration's enforcement regime. Important to note that the emphasis in this report is on counties. There is no city level analysis here. A summary of activity documented in the report covers 2960 of the 3140 counties in the United States.
" As of September 2019, at least 715 counties have policies against holding people or ICE on ICE detainers. Federal court decisions continue to pile up against ICE's detainer regime and in favor of communities that decide to ignore ICE detainers entirely. Nonetheless, the data shows that more than 2000 counties may still be holding people in custody for ICE when they should be released, likely in violation of the Fourth Amendment.
" At least 241 counties have instituted policies limiting ICE agents' access to interrogate people while in local custody.
" At least 196 counties have decided not to notify ICE every time they release someone for whom ICE has issued a detainer.
" At least 169 counties prohibit officers from asking people their immigration status. This is a basic and essential first step to limit discrimination against immigrants in the criminal legal system. (This is also an extremely common policy at the city level - hundreds, possibly thousands, of police departments across the country direct their officers not to ask about immigration status.)
" At least 176 counties have policies that establish a general prohibition against using local resources to help with immigration enforcement or participate in joint operations with ICE.
" At the other end of the spectrum, a few dozen counties affirmatively contract with ICE: 83 had some form of affirmative agreement to conduct immigration enforcement under the 287(g) program, and 190 had contracts to rent bed space to ICE for immigration detention. The vast majority of counties do not actively partner on immigration enforcement in this manner.
The full report can be read or downloaded here.
Major Lawsuit takes on the "weaponization" of immigration courts
Immigration courts operate in a parallel universe. Though they present as courts, and make potentially life and death decisions, they are not in fact courts in any traditional sense. There is no right to an attorney respected in these courts. Rules of evidence of highly are prejudicial to people who come before the courts seeking release. The people, who are not facing a criminal violation in these spaces, often come in from a jail cell, dressed in orange jumpsuits, and shackled. The have become spaces for intimidation and deterrence, not justice. 
This "weaponization" of the court system is now the subject of a lawsuit being brought by several advocate organizations. From the Southern Poverty Law Center:
The Southern Poverty Law Center (SPLC), Innovation Law Lab (Law Lab), Las Americas Immigrant Advocacy Center, Asylum Seeker Advocacy Project (ASAP), Catholic Legal Immigration Network, Inc. (CLINIC) and Santa Fe Dreamers Project (SFDP) have filed a federal lawsuit challenging the weaponization of the nation's immigration court system to serve the Trump administration's anti-immigrant agenda.
"Under the leadership of President Trump and the attorney general, the immigration court system has become fixated on the goal of producing deportations, not adjudications," said Stephen Manning, executive director of Innovation Law Lab. "The system is riddled with policies that undermine the work of legal service providers and set asylum seekers up to lose without a fair hearing of their case."
The complaint outlines pervasive dysfunction and bias within the immigration court system, including:
 Areas that have become known as "asylum-free zones," where virtually no asylum claims have been granted for the past several years.
 The nationwide backlog of pending immigration cases, which has now surpassed 1 million — meaning that thousands of asylum seekers must wait three or four years for a court date.
The Enforcement Metrics Policy, implemented last year, which gives judges a personal financial stake in every case they decide and pushes them to deny more cases more quickly.
 The "family unit" court docket, which stigmatizes the cases of recently arrived families and rushes their court dates, often giving families inadequate time to find an attorney and prepare for their hearings.
"The immigration courts make life-and-death decisions every day for vulnerable people seeking asylum – people who depend on a functioning court system to protect them from persecution, torture, and death," said Melissa Crow, senior supervising attorney with the Southern Poverty Law Center's Immigrant Justice Project. "While prior administrations have turned a blind eye to the dysfunction, the Trump administration has actively weaponized the courts, with devastating results for asylum seekers and the organizations that represent them."
The lawsuit was filed on behalf of six legal service providers whose work for asylum seekers has been badly impaired as a result of the unjust immigration court system.
For more on the lawsuit check here. Click here for background report, The Attorney General's Judges: How the U.S. Immigration Courts Became a Deportation Tool.