Read more about InAlienable.Support Quixote Center's InAlienable program!
InAlienableDaily Dispatch
December 18, 2019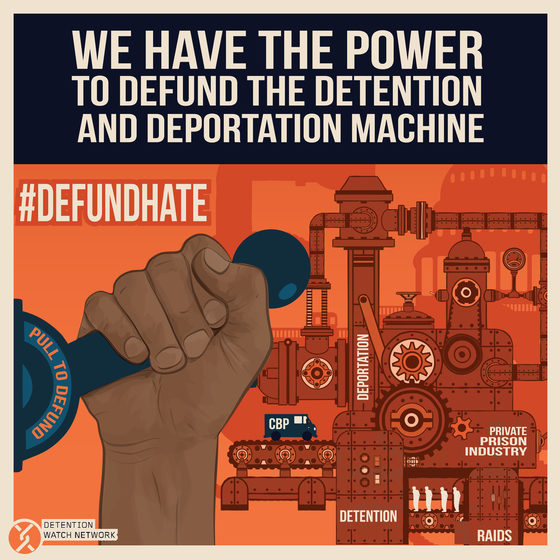 As members of the Defund Hate campaign, coordinated by the Detention Watch Network, we are sharing the coalition statement on the budget vote and what it means for immigrant communities in the United States.
Defund Hate Campaign on Appropriations Bill: Allowing Unchecked Spending by ICE and CBP Will Fuel Further Abuse and Deaths of Immigrants 
For Immediate Release: Wednesday, December 18, 2019
Washington, DC — On Tuesday, the U.S. House of Representatives passed H.R. 1158 (116), which will allow Immigration and Customs Enforcement (ICE) and Customs and Border Protection (CBP) to continue expanding its detention and deportation force. The bill allows ICE and CBP to continue taking money from other Department of Homeland Security (DHS) agencies and gifts DHS $1.37 billion to continue building deadly border walls. 
Just a few days before the vote, a Buzzfeed report exposed even more abuse immigrants have endured at the hands of ICE and CBP, including a child having part of his forehead removed, four deaths, and medicine being wrongfully administered.
Responding to the bill's passage, the Defund Hate Campaign, which is made up of 38 organizations comprising directly impacted communities, faith leaders, and civil rights and immigrant rights advocates, released the following statement:
"For over two years, the Defund Hate Campaign has called on members of Congress, and state and local officials, to reject Trump's anti-immigrant agenda by defunding the agencies that are militarizing, incarcerating, and surveilling our communities. In that time, we have made immense progress in centering the role the appropriations process plays in allowing these unaccountable and dangerous agencies to harm our communities.
In response, members of Congress have become increasingly vocal about the need to include good governance and accountability mechanisms in our federal budget. 75 House representatives, including members of both the Congressional Hispanic Caucus, Congressional Progressive Caucus, Congressional Asian Pacific American Caucus and the Congressional Black Caucus voted to reject the FY 2020 DHS appropriations bill in order to express their opposition to the legislation's failure to hold ICE and CBP accountable for their human rights abuses and fiscal mismanagement. 
Last week, 37 members of Congress sent two letters, including one from members of the Congressional Hispanic Caucus, to congressional appropriators requesting that their final bill include language blocking DHS's ability to transfer or reprogram money between accounts, including from outside of DHS, to fund wall construction or expand ICE detention and enforcement. Our communities' voices are being heard by some courageous members to whom we are grateful for having joined us to fight for a federal budget that serves the wellbeing of all of us.
Unfortunately, Congress ultimately failed to cut funds for Trump's mass deportation machine for the next fiscal year, or to place any restrictions on DHS's or the president's ability to transfer funds from other agencies like the Federal Emergency Management Administration or the Department of Defense to increase ICE's and CBP's funding for detention beds and enforcement. The budget passed this week also failed to defund the Migrant Protections Protocol program, also known as Remain in Mexico, which has trapped more than 50,000 asylum seekers in dangerous conditions in Mexico.
While the bill includes new reporting requirements for DHS and funding for additional oversight by the Office of Inspector General and a new Immigration Detention Ombudsman, as well as reporting language requiring that ICE detention facilities permit members of Congress access for unannounced inspections, the bill contains no enforcement mechanisms for any of these provisions.
By voting for this spending bill, members of Congress have wasted their opportunity to responsibly exercise their power of the purse and prioritize programs that support our communities instead of funding detention and deportation."
Contacts:Tara Tidwell Cullen, NIJC, (312) 833-2967, ttidwellcullen@heartlandalliance.org
###The #DefundHate campaign, composed of organizations representing directly impacted communities, faith leaders, and civil rights and immigrant rights advocates, is committed to divestment from agencies that tear apart our families and terrorize our communities. For too long, our representatives have said they care about our communities while simultaneously funding aggressive immigration enforcement and deadly immigration jails. They must be held accountable to keep their promises and stand with the immigrant community. We call on our members of Congress to say no and vote against wasting taxpayer dollars on an abusive and deadly immigration enforcement system. Instead, we want our tax dollars used to strengthen our families and communities by investing in education, housing, nutrition and health care programs that provide opportunity and increase well-being.