Read more about InAlienable.Support Quixote Center's InAlienable program!
InAlienableDaily Dispatch
November 21, 2019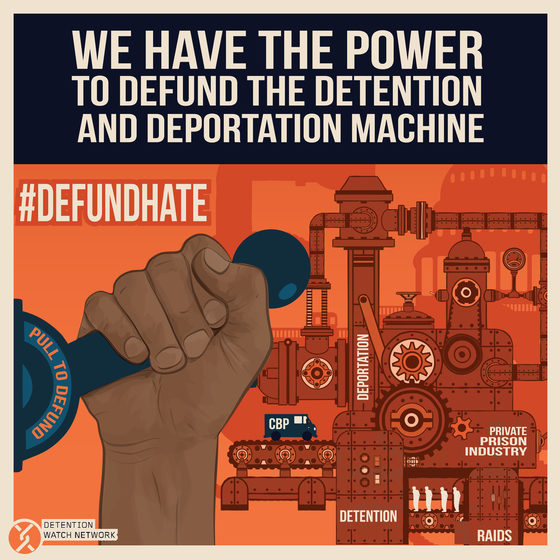 Over the last couple of weeks we have put out some call to actions and discussed other items in the news. For today's Dispatch, we want to simply update folks about these actions.
Defund Hate 
Last week we circulated an alert for the National Call-in Day in support of the Defund Hate campaign of the Detention Watch Network. As a coalition we are not real sure how many calls, tweets and other communications resulted, but a rough tally from a few sources suggest at least 1,000 people took part around the country. If you were one of them, thank you!!!
So what does it all mean? The goal for the campaign is cutting Immigration and Customs Enforcement and Customs and Border Protection's budgets as a means toward reducing - eventually eliminating - the incarceration of immigrants. That message has been received loud and clear - though remains a highly partisan frame. A proposed budget (not yet voted on in the House), for example, reduces daily average of people in detention to 34,000 from the current 45,000 budgeted for FY2019 (though ICE is holding 50,000 and wants capacity to hold 52,000 a day next year). The Senate proposal is higher, largely giving in to ICE's demands for bed space and border agents (and funding for the wall). There is a big fight looming once these proposals hit the floor for debate in each house, and then have to be reconciled. We are not there yet.
We are now in the Continuing Resolution (CR) phase of the budget cycle. That time of year when the government is out of money because no budget has been passed, and in order to avoid shutting down, Congress passes CRs to keep the government funded at its current rate. So, the goal at the moment is to make sure the CRs are not padded with extra money for immigration enforcement. ICE and other agencies would love to get extra funds this time of year as a way of boosting their overall budget, and, in theory, give them leverage for even larger sums of money in the fight for FY2020.
A Continuing Resolution was passed in the House this week - and there was no extra money added for ICE or CBP - which means ICE and CBP must continue to operate, on a prorated basis, under the same budget as last year. The Senate votes today and is expected to support the House version of the CR. There is money for the wall in there - because there was funding for the wall added to last year's budget. But no new money for detention or enforcement, which is a success. The CR runs until December 20th, at which point a budget will need to be passed, or another CR passed, or the government (more likely specific departments) will be forced to close again. This last option is actually likely as the CR will end during the most likely week for an impeachment vote in the House….
For now, keep up the pressure on Congress to cut funding for ICE and CBP in FY2020! We've made this case several places - most recently here. And no new funding in any future CR.
Dignity for Detained Immigrants Act - New cosponsors, need more
A couple of weeks ago we put out a call to action to encourage folks to contact members of Congress to request they become co-sponsors of the Dignity for Detained Immigrants Act. We spend a lot of time talking about the problems with immigrant detention - the Dignity for Detained Immigrants Act actually offers most of the solutions we want, at least what we can get out of legislation (more details here). The general consensus is that the bill will not get a vote this year, but that we need to use co-sponsorship as a means to build momentum for action next year (and a lot of this depends on the outcome of the elections).
You can still ask your member of Congress to do what they can to move it out of committee!! This probably won't happen, but it is still a message they need to here.
You can still take action HERE!
Check the current list of cosponsors first. If your member of Congress is already here, thank them! And then ask them what they can to get it to a vote. Let us know what they say!
Scott Warren Acquitted!!
Scott Warren, a volunteer with No More Deaths, was tried for a second time, charged with harboring and trafficking. Scott was tried back in June for the first time, with the result being a hung jury. Federal prosecutors dropped conspiracy charges, but chose to retry him on another charge. We have reported on his trials here and here. 
This week he was acquitted!! Great news for Scott and for everyone doing what they can to accompany and provide assistance to people risking their lives to cross the deserts in Arizona and Texas. One day, this work will be unnecessary. Until that day comes, we are thankful for the courage of Scott and other volunteers, who continue to be harassed by federal authorities.
SaveAsylum - Keep the calls coming!
Finally, Tuesday we put out a call to action along with LAWG, WOLA, Alianza Americas and other organizations. The goal - get congress to stop (and defund) the Remain in Mexico policy. This call to action, though more specific, is very much in line with the Defund Hate actions we've been involved in. We hope you have a made a call. If not, get the details here, and make a call.