Read more about InAlienable.Support Quixote Center's InAlienable program!
InAlienableDaily Dispatch
November 1, 2019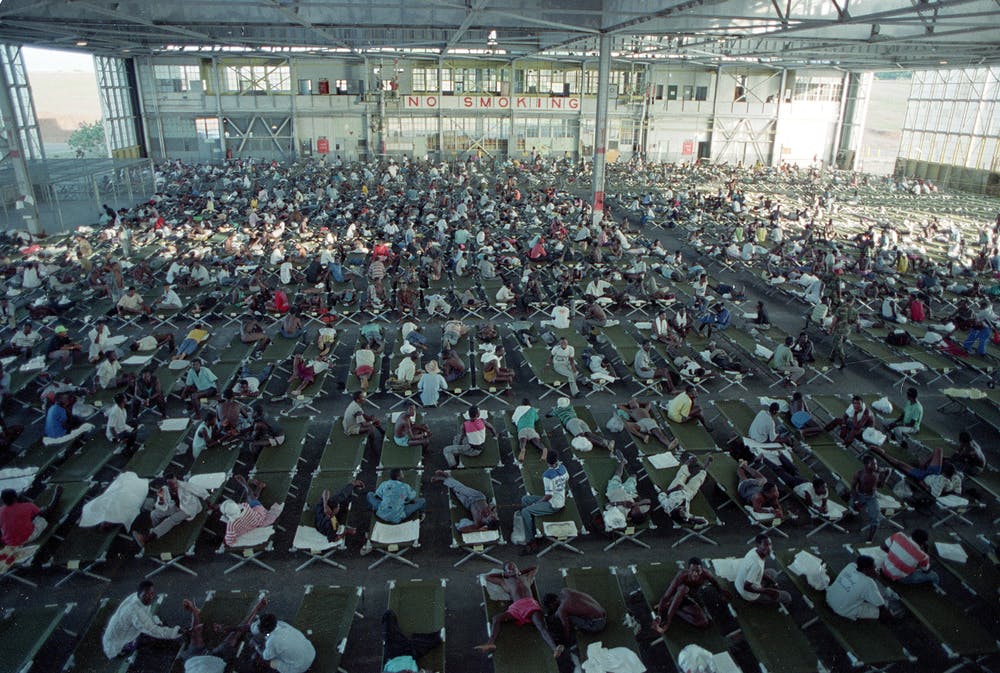 As despicable as Trump's immigration policies are, and they are truly despicable, we often try to remind people that they did not emerge solely from Trump's head or the pixel-pages of Breitbart, but from U.S. practices manifested over a long history of discrimination at our borders and beyond. Most people know this, of course. We just don't think too much about the long-term structural features of the system while battling the latest incarnation of nationalism in the White House. The balance we need to fight this fight, however, must include some reference to history because if Trump leaves office tomorrow we will still have a lousy immigration system, just as we had before he moved into the White House and made it worse.
This week I ran across a journal article from 2014 that documents the development of detention in the United States - and its diffusion as an approach to immigration enforcement across the globe, particularly to the European Union and Australia. The author is Michael Flynn of the Global Detention Project, and the article is certainly worth reading in its entirety. For this dispatch, however, I am simply focusing on one historical section that struck me as holding many lessons for what Trump is doing today.
As we and others have discussed recently, our current detention and deportation infrastructure has been developed over the course of the last 40 years. Detention in the U.S. was largely an ad hoc system from the early 1950s following the closure of Ellis Island (the west coast version, Angel Island had closed in 1940 - though in some sense replaced by war-time detention of Japanese and U.S. American families), until the 1980s when immigration from and within the Caribbean increased dramatically. The response of the Reagan administration to Caribbean migration provided two important precedents to the current approach being employed by Trump. The first was detaining (or trying to detain) targeted groups. Initially, Haitians fleeing the slow collapse and violence of the last years of the Duvalier regime. 
The modern U.S. immigration detention estate first emerged in the early 1980s, when the Reagan-era Immigration and Naturalization Service (INS) began systematically apprehending unauthorized migrants from certain countries in response to growing migration pressures from the Caribbean. The INS opened a number of new detention centers in Puerto Rico and the U.S. mainland to cope with the resulting surge in detainees (Frenzen 2010, 377). According to Welch, "Prior to the 1980s, the INS enforced a policy of detaining only those individuals deemed likely to abscond or who posed a security risk" (2002, 107).
In a 1985 U.S. Supreme Court case, Jean v. Nelson, the court overturned a mandatory detention policy put in place in 1981 that strictly targeted Haitian nationals. According to one migration scholar, "To a large extent once the Jean v. Nelson decision came down and the Reagan administration did not have the authority to detain only Haitians, the current detention system was born, i.e. detain all nationalities."
The second approach utilized by Reagan's administration was to offshore enforcement to keep people from ever reaching U.S. soil.
At the same time that immigration authorities were busy rounding up Haitians and "excludable" Cubans on US territory, the Reagan administration began a policy of interdicting migrant boats in international waters. In 1981, President Ronald Reagan issued a presidential proclamation in which he "suspended" the "entry of undocumented aliens from the high seas" because it had become "detrimental to the interests of the United States."
He subsequently ordered the Coast Guard to board foreign vessels in international waters to determine whether passengers had documentation to enter the country (Frenzen 2010). While the United States officially acknowledged that the 1951 Convention relating to the Status of Refugee's prohibition against non-refoulement applied to people interdicted during these operations, Haitians were given summary asylum hearings on board Coast Guard vessels that lasted only minutes. The vast majority were then sent back to Haiti under an agreement the United States had established with the Duvalier regime. Of the estimated 23,000 Haitians interdicted by the Coast Guard during this program, only eight were judged to have bona fide asylum claims (estimate from Cheryl Little, cited in Frenzen 2010, 380). As one scholar writes, "Washington wished to deal with Haitian migrants outside U.S. territory, since if they reached U.S. shores they could often delay deportation through a series of claims within the US administrative and courts systems" (Mitchell 2000, 87).
The offshoring of enforcement also included agreements to detain people outside the United States - this included establishing detention space on Guantanamo. Reagan also sought to establish agreements other Caribbean states to take Haitian immigrants.
In the early 1990s, a political and humanitarian crisis in Haiti spurred by the overthrow of President Jean-Bertrand Aristide prompted a new large-scale migration to the United States, which was followed in 1994 by a significant upsurge in Cuban balseros. This time, however, the United States faced political challenges in returning the interdicted migrants because of the brutality of the Cédras junta that had ousted President Aristide. While the United States sought out third countries to send Haitians fleeing the violence— including Jamaica, the Bahamas, the Dominican Republic, Belize, Venezuela, Honduras, and Suriname (Frenzen 2010)—"those intercepted were kept on the decks of Coast Guard cutters, under jury-rigged tarpaulins to ward off sun and rain," writes Mitchell (2000, 88).
Conditions on the vessels quickly became unmanageable ... and camps for the migrants were hurriedly constructed at the nearest offshore U.S. facility: The Guantánamo Bay Naval Base in eastern Cuba. At other times, detained refugees were held on U.S. bases in Panama, and on a hospital ship anchored in the harbor at Kingston, Jamaica. (ibid.)
According to the Congressional Research Service, the administration of George H.W. Bush began using the Guantánamo naval airbase to detain Haitians in 1991. It reports that Immigration and Customs Enforcement (ICE) uses this "Migrant Operations Center" to hold no more than 20-40 people at a time (Wasem 2009).
Throughout the 1990s, Guantánamo was a key element of the U.S. response to boat migration events. In July 1994, for instance, as the U.S. prepared to overthrow the military junta then in power at Port-au-Prince, it began sending all interdicted Haitians to Guantánamo as part of a new safe haven policy, ultimately detaining some 16,000 people there. After the overthrow of the junta, the United States gave the detainees that remained at the facility the option of voluntarily returning and receiving $80 dollars or being forcibly repatriated without payment (Frenzen 2010, 384).
In addition to Guantánamo, by the early 1990s, the United States had access to a network of offshore "processing" facilities that extended from the Bahamas to Panama. As one scholar writes, these sites presented a "range of logistical constraints" for detainees, and, importantly, the camps made it challenging for asylum seekers to access US asylum procedures (Magner 2004).
There are many parallels to this treatment of Haitians and what is happening today to asylum seekers from Central America. We can start with the fact that an increase in people seeking asylum in the United States is not treated as a humanitarian crisis facing refugees, but a logistical and financial problem for the United States politicized through a thinly veiled racialized discourse about criminal elements abusing the asylum system. Reagan did this to Haitians in much the same way Trump is doing this today to Central Americans (and is still doing to Haitians!).
The response to detain people seeking asylum while they await processing of their claims begins with Reagan - and was done specifically to Haitians, both as a deterrent to discourage others from migrating here, and an effort to keep the migrants themselves behind bars until (most) could be deported. As the response to the Jean v. Nelson ruling indicates, faced with a ruling that it could not only detain Haitians in this way, Reagan expanded detention to other groups rather than treat Haitians more humanely.
Currently, Trump is detaining asylum seekers, mostly, though not exclusively, from Central America throughout their entire processing. As we wrote earlier this week, the administration is continuing to detain asylum seekers, even after they have passed their credible fear interview, a point that, by any reasonable standard, they would be granted humanitarian parole. This inhumane policy is what is driving record detention numbers - not the "border crisis."
Trump is also borrowing from another aspect of the Reagan playbook and that is doing everything possible to keep people from reaching the U.S. border to begin with, so that they cannot access what is left of our asylum system. This has included, sending asylum seekers to Mexico to await processing, to now denying them even the possibility of seeking asylum unless they try (and fail) to get asylum in Mexico first. Trump has negotiated agreements with El Salvador, Guatemala and Honduras to receive asylum seekers, even though the vast majority are seeking asylum from these regimes. It is an absurd approach, but one rooted in history. 
Finally, the evolution of this system from Reagan to Trump has been built using private contractors. Over the last 33 years this has meant the development of a massive infrastructure of detention facilities (the largest in the world) that is run as a profit seeking enterprise, making a complete mockery of any concept of justice or humanitarian response. The first private facility was opened under contract with Reagan's Immigration and Naturalization Service in 1986 with what is now CoreCivic. The facility, the Houston Processing Center, is still in operation under contract between Immigration and Customs Enforcement and CoreCivic, just down the road from the newest massive ICE facility built in Conroe, Texas and operated by the GeoGroup. Sadly, this privatization approach to detention is another element that U.S. policy has helped diffuse to other countries, which along with border security, is now a multi-billion dollar global enterprise.
People like to say that the United States is a nation of immigrants. This is only partially true, of course, and the reality is that every generation of immigrants has been treated badly. Yet, the official discriminatory practices created never seem to go away. Rather, they just form part of a tool box of oppression that successive administrations can pull from and readjust whenever it is the right political moment to "get tough" on refugees. You can see this continuity from Chinese immigrants detained on Angel Island to keep them out of the U.S. in 1910 to Central Americans relocated to Ciudad Juarez as part of the "remain in Mexico" policy today. Trump won't be around forever - indeed, he might not make it until March next year as president. However, the historical legacy of inhumanity embedded in our immigration system will remain until the system itself is dismantled and reconstructed under different principles that respect human rights and basic dignity.