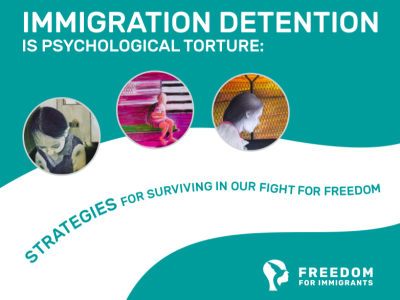 Read more about InAlienable.
Support Quixote Center's InAlienable program!
InAlienable
Daily Dispatch
October 30, 2019
The United States government regularly engages in behavior that constitutes torture of people it holds within its mammoth carceral infrastructure of prisons and detention centers. There is a reluctance to identify the maltreatment of people imprisoned as torture, either because in popular understanding torture only involves extreme physical pain, or, sadly perhaps more to the point, no matter what the treatment is there is general sense among those on the "outside" that the people incarcerated deserve it. 
In immigration detention facilities torture is practiced daily. 
Torture is defined in the U.S. legal code this way:
"Torture" means an act committed by a person acting under the color of law specifically intended to inflict severe physical or mental pain or suffering (other than pain or suffering incidental to lawful sanctions) upon another person within his custody or physical control.
Important aspects of this definition are "intention" and that the person engaging in the conduct is acting under the "color of law."
We know that immigrant detention is expensive and unnecessary in almost all cases. It serves no useful policy objective, and indeed, is a violation of other policies when practiced against people seeking asylum as is being done on a wide scale today. Detention is practiced by our government, along with other aspects of immigration law, primarily as a deterrent. U.S. officials are very clear about this and have been for a long time. We treat people badly in this country because we think this will discourage others from coming here. 
So, as a matter of policy and practice the U.S. government intentionally makes people suffer while in formal custody in order to serve other objectives. This is torture. The maltreatment of people in detention cannot be dismissed as "incidental to lawful sanctions." While one might argue that feelings of anxiety and depression are natural side effects of incarceration, and thus incidental to a lawful sanction for crossing the border unauthorized, one cannot seriously argue that prolonged use of solitary confinement, placing people in freezing rooms, denial of mental health services, and other health services, poor food quality, and effective denial of contact with family, friends and even counsel, are incidental to lawful sanctions. Indeed, these practices contravene legal obligations for how people are to be treated.
And yet, Immigration and Customs Enforcement and Customs of Border Protection, principally, and to some degree even the Office of Refugee Resettlement, engage in acts of torture. They create an environment of extreme mental hardship. By their own justifications, they do so intentionally. 
Congressional leadership refuses to sanction this behavior for fear of being viewed as soft on immigration or supporting "open borders." 
Immigration Detention is Psychological Torture: Strategies for Surviving Our Fight for Freedom
Freedom for Immigrants released a report this week that documents the mental health impacts of incarceration. The report is based on two sources of information. The first is the contact the Freedom for Immigrants (FFI) staff and volunteers have with people who are incarcerated throughout the country. FFI has the largest network of community visitation programs and as a result, organization visitations with tens of thousands of people each year. From this information, and more formal interviews, staff constructed a formal survey that was administered along with in-depth interviews of 40 people in detention, or people formally detained now released.
The report confirms previous findings documenting the mental health impacts of detention. From a summary of findings in the report:
Through in-depth interviews with 40 people impacted by immigration detention including people currently detained, people released, and their families, we learned:
78.6% of surveyed detained individuals expressed missing their loved ones.
32.5% of individuals with spouses, partners, or children reported not being able to have a single visit with their loved ones over the course of their entire time in immigration detention.
Survey participants indicated that the emotional strain of detention was much more intense than the physical strain, with 75% of formerly and detained individuals describing the emotional strain as "extreme" and 17.9% describing it as "significant."
Currently and formerly detained individuals expressed that the most stressful factors were ones related to isolation, with the greatest stressors being fear of being transferred or deported, barriers to visiting with family and friends, and barriers to making reasonably priced phone calls.
100% of survey participants indicated that they felt stress, while 82.1% of survey participants shared that they experienced depression and 67.8% experienced anxiety.
Headaches or migraines were the most common physiological response to the stressors of detention, with 64.3% of participants suffering from them. This was followed by fatigue with more than one in three (35.7%) individuals experiencing physical and mental exhaustion.
Once released from detention, the struggle continues: 57.7% of participants indicated that they did not receive a discharge plan, and 85.7% did not receive a summary of their medical records or referrals to community-based providers. As a result, 78.6% of formerly detained participants have not seen a mental health professional after their release.
Over 50% of loved ones surveyed described their emotional strain as "extreme" and their symptoms tended to reflect those of their family inside, with stress (88.9%), depression (66.7%), loneliness (66.7%), headaches/migraines (66.7%), anxiety (44.5%), insomnia (44.5%), fatigue (44.5%) and high blood pressure (44.5%) listed as the common ones.
What is different about this report from others - patterns of abuse are very well documented! - is the final section which profiles community health solutions to help people grapple with the aftermath of detention and torture. Community responses include expanding one-on-one communication with people in detention through volunteer hotlines and visitation. Solidarity newsletters, or venues where people can tell their stories. Freedom for Immigrants newsletter is call IMMPrint and can be read here. A final strategy discussed is building mutual support groups of detention survivors. The full report can be read here!
Support HR 2415: Dignity for Detained Immigrants Act
Because of conditions like those discussed above, we are supporting the Dignity for Detained Immigrants Act, which we detail more here - but in essence creates an enforceable framework of accountability and oversight, while also phasing out the use of private contractors and other subsidiary detention sites. Please take action today, by asking your member of Congress to co-sponsor.