Read more about InAlienable.Support Quixote Center's InAlienable program!
InAlienableDaily Dispatch
January 9, 2020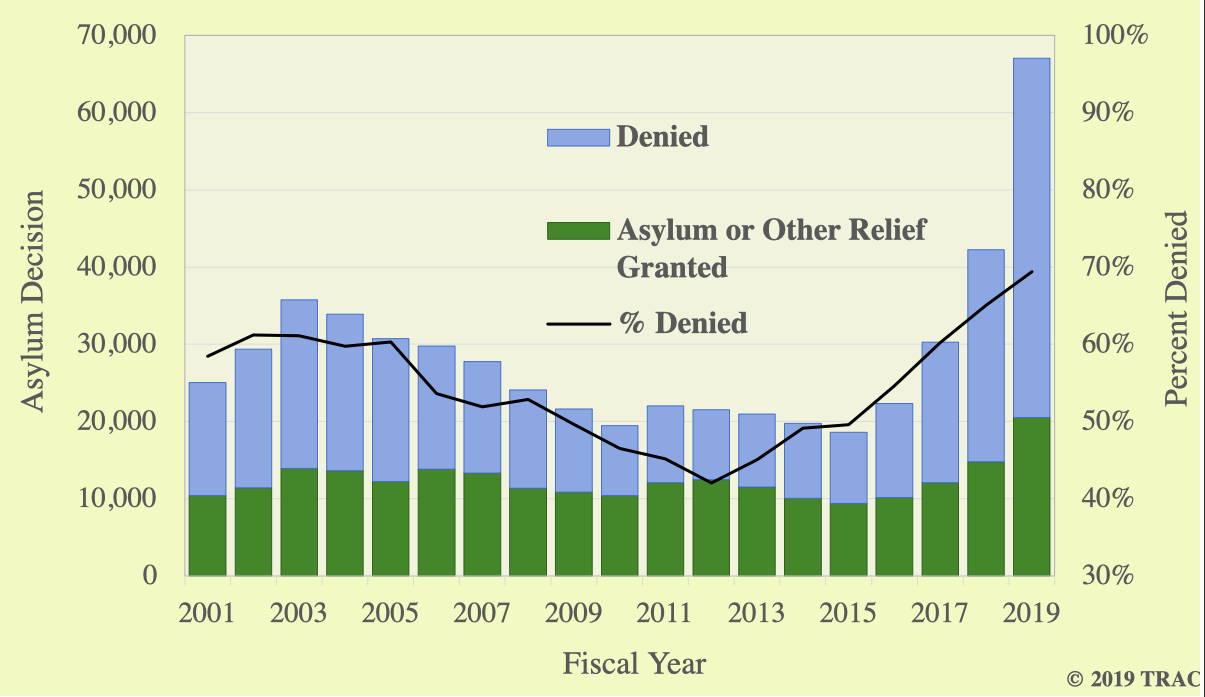 The primary justification for detaining people who are seeking asylum in the United States is the dubious argument that, if released, they will simply disappear into the population and never show up for court cases. Trump has claimed this many times, in one speech claiming that only 3% of people released show up for court. This, like so many other Trump statements on immigration, is completely false.
In 2019, 98.7% of the people seeking asylum went to EVERY court date. This, despite the fact that denial rates are increasing (see more on trends below). Most of the people who are clearing cases this year started the process in 2015 or 2016. Of these 80% were not detained, or detained and released early in the process. In other words, detention had no bearing on their attendance in court. So detention is demonstrably proven to be a complete waste of resources. This is one reason why ICE's own operational guidelines dictate that people be released from detention once they have established a credible fear of torture or persecution, a first step in seeking asylum (a guideline they are currently violating).
Detention, as practiced in the United States, has also been shown to be cruel and degrading, comparable to torture. People are denied access to sufficient health services, mental health support, and in their vulnerability, often become victims of abuse. People die in immigrant detention. Three people in ICE custody and at least four in Customs and Border Protection custody since October 1, 2019. Detention is not supposed to be criminal punishment. It is intended as an administrative hold. Yet, as report after report shows, the conditions are prison like - and usually takes place in actual prisons. 75% of the people in detention are held in facilities that operate under contracts with private companies - all of which are private prison companies. Prisons are what they know - and how they treat people.
The Trump administration has increased the use of detention in this country - reaching over 50,000 people held in Immigration and Customs Enforcement detention on average each day in FY 2019. A near 40% increase over detention rates when he took office. He was not authorized to hold that many people. He went over budget. And then, he simply transferred money from other accounts without congressional authorization to cover the shortfall.
As of January 4, 2020 there were 41,631 people being held by Immigration and Customs Enforcement. Of these, 9,884 people have established a credible fear of torture and/or persecution if returned home. They are still being held. 
TRAC Report on Asylum number/trends
The Transactional Records Access Clearinghouse (TRAC) issued a report yesterday on asylum court procedures that offers a look into recent trends. A few important takeaways:
The number of asylum cases heard has increased pretty significantly over the last five years, with last year totaling 67,406 cases heard, well over twice the number in 2014. 
The average length of time people wait for a determination of their asylum case is 1,030 days, or close to three years. However, one-fourth waited nearly 4 years 1,421 days. 
The rate of denials has skyrocketed under Trump. The current denial rate is 70% overall. Of people who have no representation, 16% are granted asylum. Of those who have representation, 33% are granted asylum or other relief. There is an increase this year in the percentage of cases where asylum seekers have representation, a tend that TRAC credits to efforts to mobilize pro bono representation around the country. However, overall denial rates continue to increase. 
Part of the reason, is expedited processes. Almost half of the cases decided where the people were not represented by an attorney were completed within a year and almost all of those were denied.
Important reminders:
Over the last year the Trump administration has begun to dismantle access to asylum procedures. For example, not included in this report, but discussed elsewhere, the denial rate of those placed in the Migrant Protection Protocol ("Remain in Mexico") is extraordinarily high, with only 117 people granted asylum out of the first 24,000 cases heard.
The administration's current Transit Ban denies people the ability to even apply for asylum if they have crossed a third country prior to arrival at the border, unless they have applied for asylum and been denied in that third country. As we've noted this means that only people from Mexico can apply for asylum at the U.S./Mexico border. [Worth noting here that the Trump administration has begun discussions about sending Mexican asylum seekers to Guatemala under its Orwellian "safe third country" agreement!].