Read more about InAlienable.Support Quixote Center's InAlienable program!
InAlienableDaily Dispatch
January 23, 2020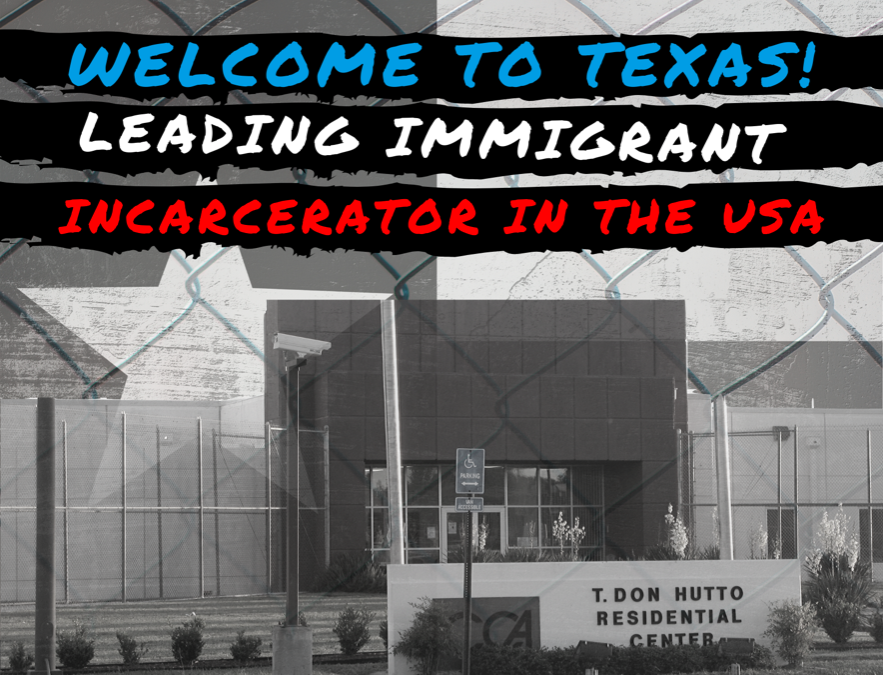 Here are two simple actions you can take TODAY to confront the Trump administration's detention machinery:
Block new detention contracts in TX!
Earlier in January we wrote about Immigration and Customs Enforcement looking to extend 10-year long contracts to three facilities in Texas. Today we are sharing a campaign from Texas-based Grassroots Leadership and our partners at the Detention Watch Network. See below:
Since the creation of the first detention center in the US, communities across the county have actively fought to shut down immigration jails that lock away loved ones, neighbors and friends. Immigration jails are inhumane, strip people of their dignity and agency, and must be shut down for good.
Right now, ICE is working to extend contracts for three Texas detention centers that will prolong detention in the state for the next 10 years. The facilities are the T. Don Hutto Residential Center near Austin, the South Texas Detention Complex near San Antonio, and the Houston Processing Center.  
DWN member Grassroots Leadership is doing everything they can to make sure we don't see a continuation of these facilities and the pain that they inflict for the next decade. Last month, more than 45 organizations across Texas delivered a letter to members of Congress urging them to investigate ICE's attempt to evade procurement law.s. And earlier this week, Texas representatives sent a letter to ICE demanding the immediate suspension of the contracts.
It's still not enough, and this is where we need your help!     
Members of Congress need to hear from you now. Death and ongoing allegations of abuse should be enough of a reason to close down these facilities full stop.     
Fill out this form, and Grassroots Leadership will send a postcard on your behalf to your representatives and members of key committees with the power to intervene.
Texas already incarcerates a quarter of all immigrants detained nationwide—we cannot allow for this to become the state's reality for the next decade and serve as a model for detention expansion nationwide.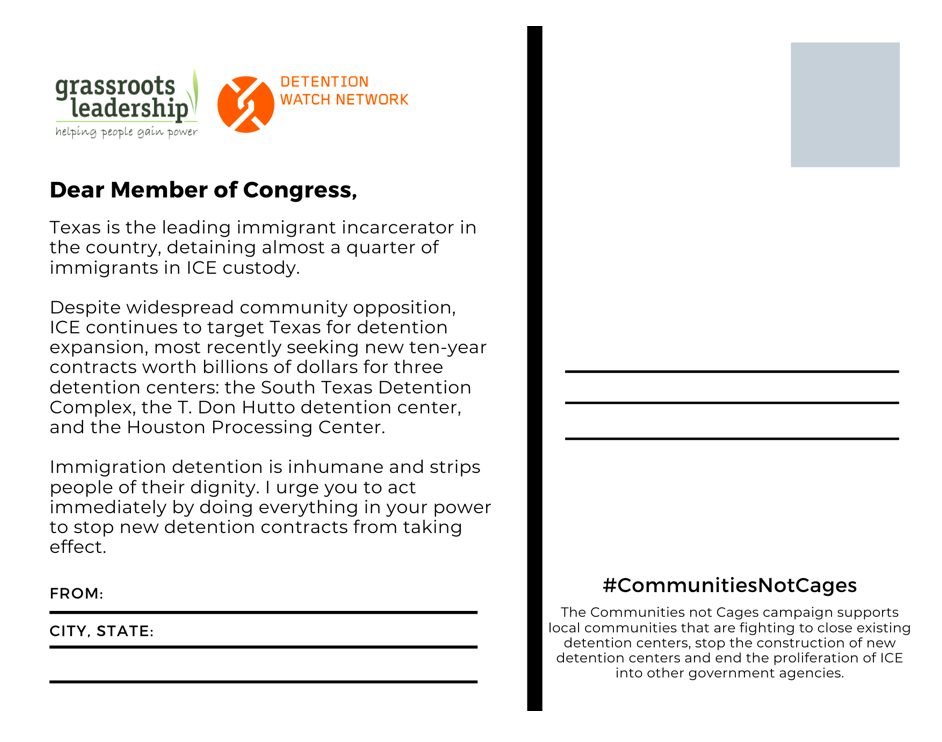 Gain release of hunger strikers in LA!
We've also been following the case of hunger strikers at LaSalle Detention facility in Jena, Louisiana. The men have passed the 75 day mark - approaching 80 days! Freedom for Immigrants has launched a petition demanding their release you can add your name to here.
Five South Asian men have reached the 75th day of a hunger strike in the GEO Group-operated LaSalle Detention Facility in Jena, Louisiana where they have been subjected to the tortuous procedure of forced-hydration and force-feeding. According to medical professionals, 75 days without adequate nutrition is when vital organs begin to fail.
The growing number of hunger strikes in ICE prisons across the country are no coincidence. It is indicative of complete disbelief in a fair legal process and the lengths ICE is willing to go to indefinitely detain them. Some of these men have been locked up for nearly 2 years. We are deeply concerned that ICE appears willing to let these men die in detention to make an example of them rather than be released to the community, where each man has family or close friends willing to provide housing and support.
Sign here.