Read more about InAlienable.Support Quixote Center's InAlienable program!
InAlienableDaily Dispatch
January 22, 2020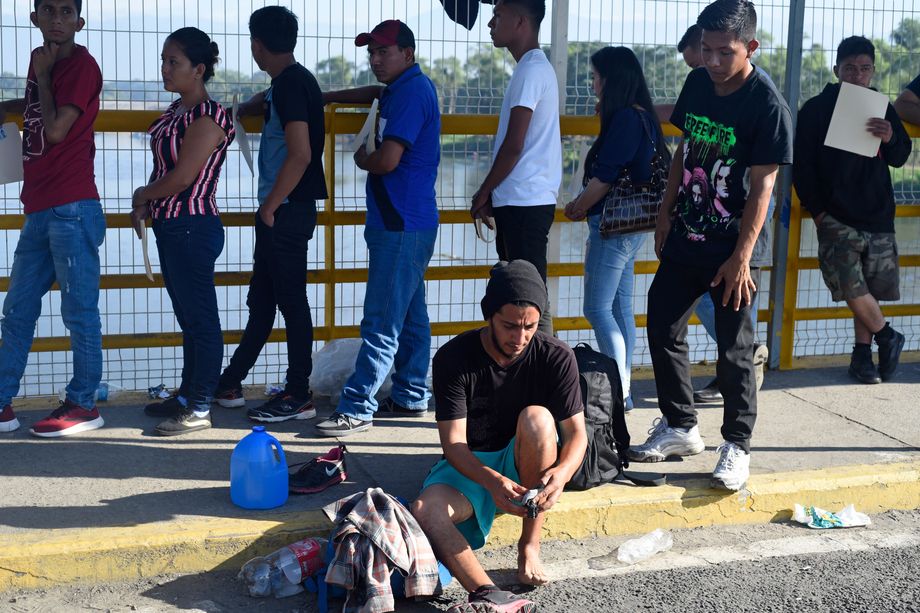 It is a new year, and a new test of immigration enforcement policy and strategy in Mexico. Recall that, last year, the Mexican government agreed to adopt a set of enforcement mechanisms under threat of sanctions from the United States. Trump threatened to add tariffs of 25% on all goods from Mexico unless the government ramped up its enforcement, and in essence, kept asylum seekers from Central America away from the U.S. border. The agreements included an expansion of the Migrant Protection Protocol (commonly called the "Remain in Mexico" policy), Mexico's deployment of 12,000 National Guardsmen to the southern border to stem migration, and its decision to adopt other measures to slow border crossings.
The Washington Office on Latin America issued an excellent report on the conditions created by these measures. Their report, "The 'Wall' before the Wall" came out in December, and can be read in its entirety here. A summary of key findings include:
An increase in apprehensions  - up to 31,416 in June 2019, the highest monthly apprehension rate recorded since 2001.
Detention facilities are operating well beyond capacity.
The deployment of 12,000 National Guardsmen in reality means deploying Army and Naval police and other military units, temporarily assigned to border duty. Soldiers, not trained for such a mission.
A surge in asylum-seekers in Mexico has strained the Mexican Commission for Refugee Assistance, already understaffed and reliant on support from the UNHCR.
Crimes against migrants continue unabated, despite the presence of National Guardsmen.
Against this backdrop, news over the last two days of the treatment of a caravan of migrants, many from Honduras, is not surprising. From Vox:
About 4,000 migrants had requested passage by presenting a petition addressed to President Andrés Manuel López Obrador on the bridge across the Suchiate River, which connects the port of entry at Ciudad Hidalgo to Guatemala. But after authorities refused to open the gates to the port, about 500 migrants attempted to cross the border by wading through the river.
In an unusual show of force, Mexican National Guard troops carrying riot shields fired tear gas and threw rocks at the migrants on the riverbank to stop them from crossing. The migrants threw rocks of their own at the guardsmen, according to NPR's James Fredrick. Amid the chaos, Reuters reported that some families were separated.
It was yet another instance in which Mexico has sought to clamp down on Central American migrant caravans arriving at its border with Guatemala. The government wants to avoid antagonizing US President Donald Trump, who in 2019 threatened to impose tariffs on all Mexican goods if the country did not step up its immigration enforcement efforts. Mexico also simply lacks the capacity to manage such large numbers of migrants.
From the Associated Press:
Hundreds of Central American migrants who entered southern Mexico in recent days have either been pushed back into Guatemala by Mexican troops, shipped to detention centers or returned to Honduras, officials said Tuesday. An unknown number slipped past Mexican authorities and continued north.
The latest migrant caravan provided a public platform for Mexico to show the U.S. government and migrants thinking of making the trip that it has refined its strategy and produced its desired result: This caravan will not advance past its southern border…
Honduran officials said more than 600 of its citizens were expected to arrive in that country Tuesday by plane and bus and more would follow in the coming days.
Of an additional 1,000 who tried to enter Mexico illegally Monday by wading across the Suchiate river, most were either forced back or detained later by immigration agents, according to Mexican officials.
Most of the hundreds stranded in the no-man's land on the Mexican side of the river Monday night returned to Guatemala in search of water, food and a place to sleep. Late Tuesday, the first buses carrying Hondurans left Tecun Uman with approximately 150 migrants heading back to their home country.
Mexican authorities distributed no water or food to those who entered illegally, in what appeared to be an attempt by the government to wear out the migrants.               
As the spring approaches more caravans are likely. What the new enforcement measures will mean in terms of deterring people from even trying the crossing is hard to say. More likely, if caravans become impossible, people will be forced back into migrating in small groups, becoming prey for gangs. The entire deterrence framework is based on the assumption that asylum claims are suspect, and thus if people know they won't succeed they won't even try. However, when the reality is that people are literally fleeing for their lives and seeking security for themselves and families, they will simply try another way to get it done. All Trump and Obrador are doing is making it even more dangerous for them to do so.