Read more about InAlienable.Support Quixote Center's InAlienable program!
InAlienableDaily Dispatch
January 2, 2020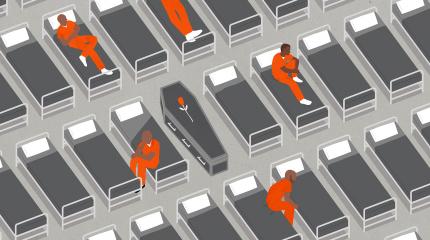 Another person died while in custody of Immigration and Customs Enforcement. The identity of the person has not been released yet, pending contact with relatives. What is known is that he was a forty-year old man from France who was being detained at the Otero County Processing Center in New Mexico until December 11 when he was transferred to Torrance County Detention Facility. A day later he was taken to the hospital where he died on December 29.
This is the third person to die in ICE custody since October 1, 2019, the beginning of the current fiscal year (which governs reporting cycles for government agencies). ICE issued a News Release about this death January 1 - two days after Buzzfeed News reported on it.
The other two people to die in ICE custody this year are, Roylan Hernandez-Diaz, asylum seeking from Cuba and Nebane Abienwi, asylum seeker from Cameroon. Both of whom would most likely still be alive if they had been granted parole to pursue their asylum cases outside rather than incarcerated. 
4 people have died this year while in Customs and Border Patrol (CPB does not report names):
A 49 year old man from Mexico died shortly after being detained by Customs and Border Patrol in Arizona from apparent cardiac failure.  CPB notification here. October 21, 2019
A 22 year old man from Honduras died in CPB custody after being struck by a vehicle on I-35 while running from a border patrol stop. October 22, 2019
A 42 year old man from Mexico held in the East Hidalgo Detention Facility, apparently committed suicide - though the case is under investigation. December 21, 2019
A 41 year old woman from Democratic Republic of Congo died on December 25, 2019. From CPB:
Early in the afternoon of December 24, 2019, a 41-year-old national from the Democratic Republic of the Congo and her family arrived in the United States, presenting themselves for admission into the U.S. at the Gateway to the Americas Bridge in Laredo, Texas. During initial processing, she was medically screened to include a review of paperwork she provided highlighting a previous medical condition, cleared by on-site contracted medical personnel, and transferred to the Lincoln Juarez Bridge for additional immigration processing and overnight holding. In the early morning of December 25, 2019, while awaiting final processing and release, the individual notified CBP officers that she was suffering from abdominal pain and had vomited.
She died at the Laredo Medical Center a few hours after being transferred.
Following the death of Roylan Hernandez-Diaz at a Richwood, Lousianna facility, USA-Today launched an investigative report documenting what is already widely known - that ICE detention facilities, many, though not all, contracted to private companies, are the sites of abuse and poor access to health services. From the December 22 report,  
The USA TODAY Network uncovered the Richwood episode during an investigation of the rapidly growing network of detention centers used by U.S. Immigration and Customs Enforcement (ICE). The investigation revealed more than 400 allegations of sexual assault or abuse, inadequate medical care, regular hunger strikes, frequent use of solitary confinement, more than 800 instances of physical force against detainees, nearly 20,000 grievances filed by detainees and at least 29 fatalities, including seven suicides, since President Donald Trump took office in January 2017 and launched an overhaul of U.S. immigration policies.
Combined with an analysis by a government watchdog, the USA TODAY Network analyzed inspection reports since 2015 and identified 15,821 violations of detention standards. Yet more than 90% of those facilities received passing grades by government inspectors. Network reporters interviewed 35 former and current detainees, some conducted using video chats from inside an ICE detention center. They reviewed hundreds of documents from lawsuits, financial records and government contracts, and toured seven ICE facilities from Colorado to Texas to Florida. Such tours are extremely rare.
The week and a half before the USA Today report was released, Buzzfeed published a scathing report on health conditions at ICE facilities following the leak of a memo written in April 2018 from a whistleblower from ICE's Health Service Corp:
The memo describes what happened to 17 different immigrants who were held at nine facilities across six states, from Georgia to Washington. The allegations include:
That immigrants received incorrect medications. One man was given an antidepressant instead of an antipsychotic drug, likely worsening his condition. Another was given aspirin despite having thin blood — he nearly died.
That four immigrants endured severe withdrawal symptoms while in ICE custody. One man addicted to opioids was the subject of a "medication error"; two men with a benzodiazepine addiction saw delays in treatment; and one man "went into severe alcohol withdrawal and delirium and was admitted to the hospital in the intensive care unit."
That IHSC leadership was unresponsive or even dishonest when confronted. They "failed to take appropriate action" when told of policy violations in 10 of the cases; "did not respond" to concerns about one case in which a detainee with non-Hodgkin's lymphoma died under "deplorable" conditions; and were "erroneous" and told others to "hold off" when looking into several cases.
Overall, the memo says, the whistleblower alleged that IHSC "has systematically provided inadequate medical and mental health care and oversight to immigration detainees across the U.S." The memo also says the inspector general will investigate the whistleblower's allegation that they were retaliated against for raising the issues.
Politico released a report on December 1 that demonstrates how poor record keeping concerning immigrant health has contributed to deaths. 
The Department of Homeland Security's inadequate medical technology and record-management for the thousands of migrants who pass through its custody are contributing to poor care and even deaths, according to lawsuit records reviewed by POLITICO.
A review by POLITICO of 22 deaths of detainees in Immigration and Customs Enforcement custody between 2013 and 2018 revealed malfunctioning software and troubling gaps in use of technology, such as failure to properly document patient care or scribbling documentation in the margins of forms. Those reviews echo persistent complaints from experts and advocates for migrants rights who say attention to the medical needs of asylum seekers is indifferent at best. Recent reports indicate that Customs and Border Patrol rejected a CDC recommendation to administer flu shots to people in its custody; two children later died of flu in the agency's facilities.
There have been at least 7 children who have died in, or shortly after release from, CBP detention under the Trump administration - the first children to die in custody in over a decade. The American Immigration Lawyers Association tracks deaths in CBP custody here.
In response to reports, most directly the Buzzfeed News report from leaked memo, The House Oversight and Reform Committee announced an investigation into the provision of health services at facilities housing immigrant detainees. While we are glad to see action at the Congressional level, these conditions have been reported on for years now - previous to Trump and now worsening under his leadership and expansion of detention. It is time for action.
There is a bill in Congress that would phase out the use of private contractors, as well as outsourcing detention to state and local authorities. The bill requires the Department of Homeland Security to keep civil detention in house, mandates restricted use of detention as a strategy, and extends significant oversight over the whole process. It is exactly what is needed, and thus, conventional wisdom says, it will go nowhere, especially in an election year. We need to confront the logic that treating people humanely is considered bad politics during elections in this country.  But that is a separate post. For now, read more about and push your member of congress to support H.R. 2415.