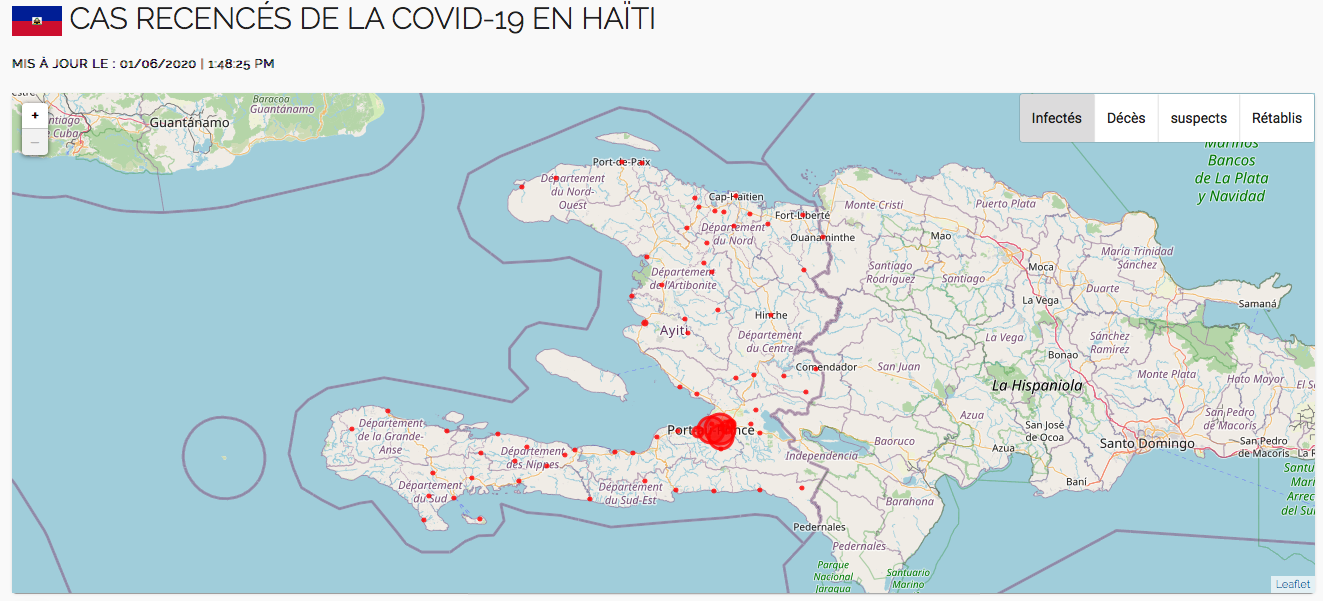 Geri Lanham works with our partners based at the Jean Marie Vincent Formation Center in Grepin, Haiti (just outside of Gros Morne). She offers an update below on the current situation in the area. Gros Morne has had one confirmed case as of June 11, 2020. The person, who was also diabetic, has died*. The community is nevertheless feeling the impact of the pandemic on everything from school schedules to food prices. Included are photos from our emergency seed distribution, ongoing as the rains have begun. Thanks to everyone who has supported these efforts - Tom Ricker
In Gros Morne we do not yet have a confirmed case of covid-19, but people are feeling the impact of the global pandemic. Community organizations created handwashing stations out of buckets and spigots, and placed them along the main streets in town. Local bank branches were some of the earliest adopters of covid prevention measures like washing hands and wearing facemasks, and they are now employing social distancing so that people can continue to utilize their vital services in this cash based society. Since many family members who went abroad now find themselves out of work, remittances are down for families back home in Haiti. Since the president officially closed the borders in a country where imports make up a large portion of the goods in the market, it has been more complicated to supply basic goods via the new guidelines of who and what can enter the territory. 
Many Haitians who entered the Dominican Republic for work in the past few months have made the decision to return to Haiti since the health crisis lockdown has been more severe across the border. Thousands of them have returned via irregular border crossings, which means that very few of them have gone into quarantine. Since there are over 10,000 confirmed cases in the Dominican Republic, this unregulated population of returnees poses a risk to the fragile healthcare system, especially since some of them are returning to the countryside to places like Gros Morne where healthcare resources are ill-equipped to manage an outbreak of covid-19. Thanks to community education campaigns, people here have tentatively begun to wear locally-made reusable cloth face masks, although practicing social distancing is practically impossible in the stressed parameters of the large local market and on public transport.  
As the exchange rate continues to rise north of 100 Haitian gourde to 1 US dollar, everyone is feeling the pressure of decreased purchasing power in the local markets. School teachers who have been out of work since 20 March are struggling to provide basic food for their families. Prices for basic goods like a bag of rice increase weekly, at a time when fewer and fewer families have the economic capacity to buy in bulk for a discounted price. Basic monthly provisions of rice, beans and oil now cost the equivalent of $50 USD. For teachers who were making about $100 USD per month, they now have to spend 50% of their income on basic food. and that does not include any spices or vegetables. 
Many families, especially in the countryside, rely at least partially upon income from their gardens to support their families. As a result of global climate change, the seasonal rains were slow to come this year. That means that the spring planting season was pushed back a few weeks in Gros Morne, which in turn increases the weeks of hunger that families will have to endure between planting and harvest. And this year the rains started and then promptly became irregular to the point that farmers who planted at the first rain lost some of their crop if they were not able to provide an alternate water source for irrigation of their fields. 
Schools have been closed for over 2 months. After the president announced that the schools and churches would remain closed until at least 20 July, the Ministry of Education presented a plan that would see schools opening at the beginning of August or the beginning of September, depending upon how the situation develops or deteriorates in the next few months. Due to a lack of access to regular electricity, it has been a challenge to support distance learning initiatives. Some schools have been able to take advantage of whatsapp, google classroom, and other technology to enable them to continue to provide classroom content for their students, but they are very much in the minority. 
In Gros Morne, we are launching a series of courses on the radio intended for secondary school students. The Ministry of Education maintains that once the students have returned to school, they will take official state exams after about 50 days of classroom instruction. Somehow during that time they are supposed to absorb, process, and comprehend the content that they were supposed to cover over the course of the more than 100 days of instruction they have missed this academic year between the locked country political debacle and now the coronavirus crisis. The math does not seem to add up, but the schools have to do something to salvage this academic year. Due to lack of electricity, it will be impossible to reach 100% of the students, but for those who are able to tune in this will at least provide a starting point as we start to look toward the future that will at some point involve classroom learning again. 
There is a sense of being in a holding pattern that involves suffering no matter what. People are trying to be responsible and take precautions to protect themselves and their families from contracting covid-19. But as they attempt to do this, they do not have much support, if any, from the state or other sources to enable them to provide the basics for their families. Students are suffering as they must sit and home and wait for the education structure to welcome them back to class, and parents are suffering as they must venture out to provide for their families while they know the risk and the lack of medical services if they do get sick. What little they are able to do still equals the current reality of families who are suffering from hunger and lack of resources in the midst of a pandemic.
This passage was updated since the article was originally published to reflect the one confirmed death in the area.