On Friday and Saturday (January 15 and 16) close to 6,000 people crossed into Guatemala near El Florido, Copán in Honduras as part of a massive migrant caravan. The caravan encountered resistance from Guatemalan security forces at the border but were able to get through. However, on Sunday, at Vado Hondo near Chiquimula, Guatemalan security forces turned out en masse to block the road in an effort to halt the caravan's progress. 
On January 15, Guatemala's migration office issued a statement reiterating that entry into Guatemala from other Central American countries requires evidence of a negative COVID-19 test, and a current passport. The national police and army have set up checkpoints throughout the seven departments that border Honduras and El Salvador under the provisions of a declaration of national emergency made by the government on January 13.
As the route along main roads is increasingly being policed, people are crossing into the countryside. The total number of people attempting to cross Guatemala on the way north is by some estimates now close to 9,000. The Guatemalan military's efforts to block the road in Vado Hondo are unlikely to have stopped all of those moving north.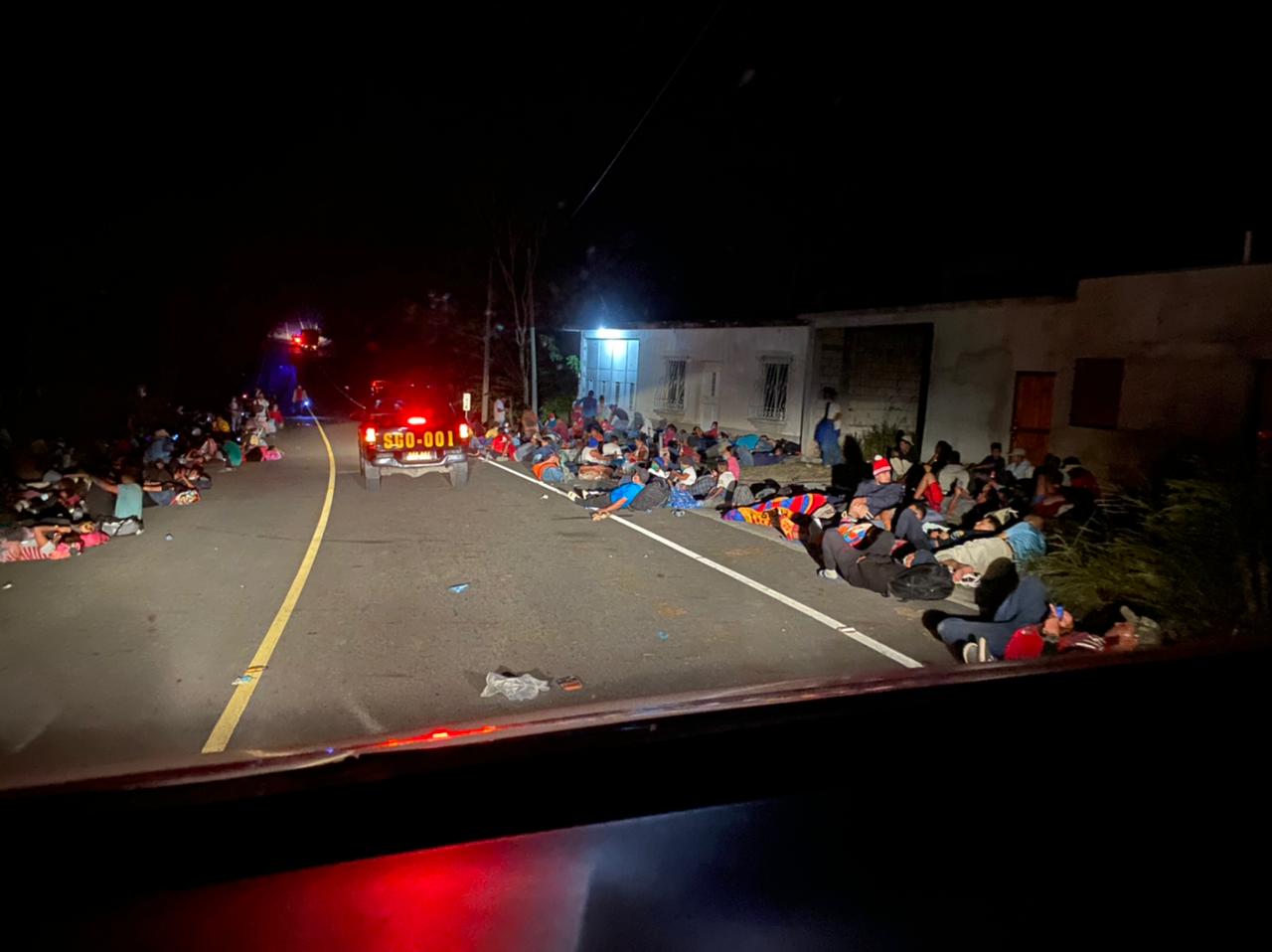 It does seem that people will have a hard time crossing in large groups. Caravans became an alternate way for people to cross through Guatemala and Mexico in the 2010s, primarily as a means to provide safety from gangs that prey upon migrants. However, since 2018, caravans have increasingly become a target of official state forces, under pressure from Mexico and the United States to halt caravans and turn people back. For example, a smaller caravan was blocked from crossing Guatemala in October, with most people returned to Honduras.
For those who make it across Guatemala, the road through Mexico will prove even more difficult. The Mexican government has placed soldiers from the newly created National Guard along the border, starting in 2019, under pressure from the Trump administration. These detachments will be reinforced. Indeed, the government issued a statement earlier in January making clear that they would not allow a caravan to enter the country.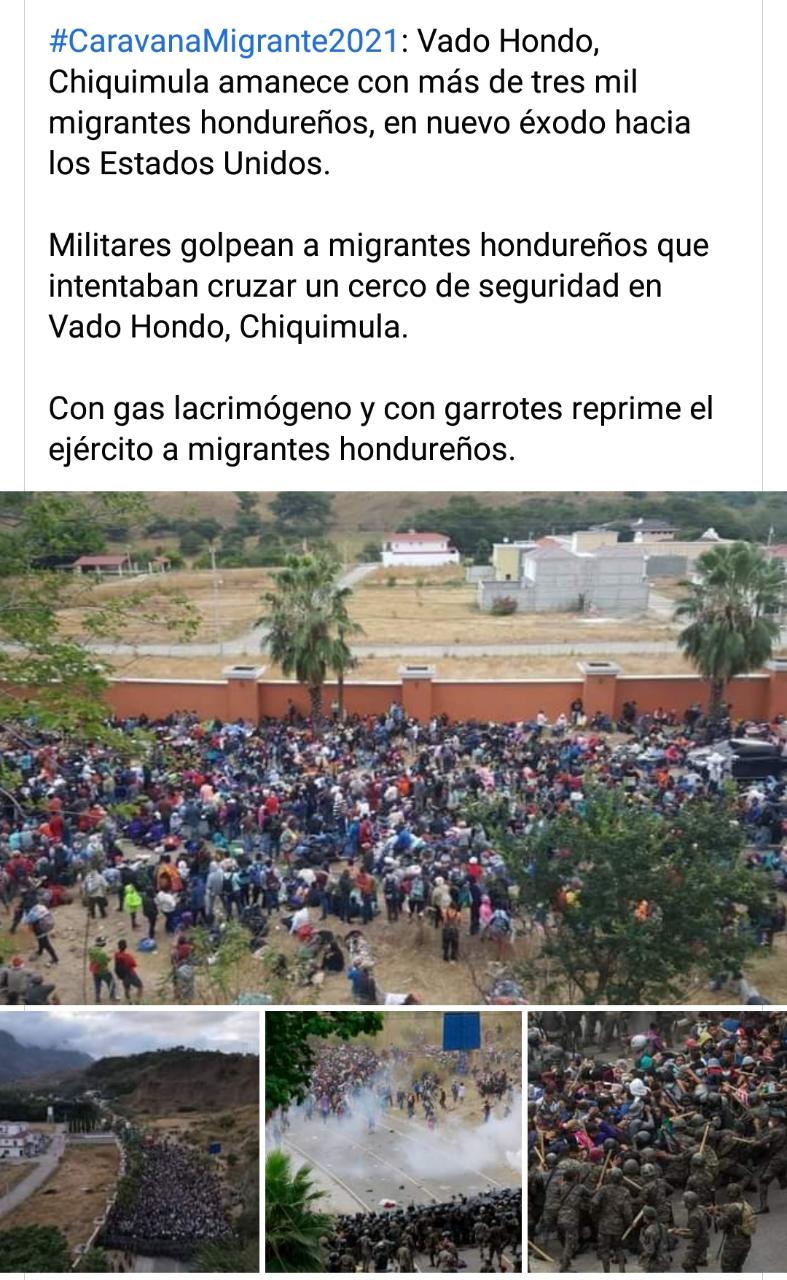 Should people enter in smaller groups anyway, the going is still tough. The routes heading north from Mexico's border with Guatemala have limited options. La Bestia – the train line made famous for carrying migrants north – no longer runs. Buses are now required to check for identification and visas. Travel is thus slowed, with many essentially forced to walk. Finally, under the provisions of different state laws governing Mexico's response to COVID, many migrant shelters were forced to close last year, with only a few now reopened. For those on foot, finding shelter and provisions on the month- to two-month-long journey through Mexico has become that much harder.
What all of this means, is that the efforts of governments in Guatemala and Mexico to crack down on migrants have not and will not stop people from attempting the crossing – but have made the journey more dangerous. The same is true of the U.S., where Border Patrol apprehensions are averaging well over 60,000 people a month since October 1 - despite Trump closing the border and turning everyone away with no chance to seek asylum or other relief. 
More to come….
While some participants in the caravan hold out hope that President Biden's administration will be more open to migrants than Trump, an assertion that members of Biden's team are somewhat pushing back against , the real driver here is desperation. Given the current context in Honduras, as well as Guatemala and El Salvador, it seems likely that many more people will continue to press north. 
The current situation in Honduras is particularly bleak. The people of the country entered into 2020 facing violent gangs, and an inept administration – many members of which, including the president himself, have ties to the very drug cartels they are supposed to be combatting. Then COVID-19 struck Honduras hard. The government's use of a lock-down, enforced with increased state violence, proved largely ineffective in halting the spread of the disease. Along with much of the region, Honduras sunk into a deep recession. 
It is important to remember that Juan Orlando Hernandez's presidency is in no small part the result of U.S. support for the consolidation of the coup d'etat against President Manuel Zelaya in 2009; support that has been extended under President Trump since Hernandez won re-election in 2017 in a process rife with irregularities and marred by violence. 
On top of all of this, Honduras was then slammed with two hurricanes, Eta and Iota, within two weeks of each other in November. The storms destroyed crops and flooded communities all along the northern zones of the country. With millions of people displaced in Honduras and Guatemala from these storms, and state capacity to provide assistance severely weakened by years of corruption and economic stagnation, a mass migration north is inevitable.
On the road....
Meanwhile, back in Vado Hondo, the Guatemalan military which had blocked the progress of the caravan the previous day, forcibly opened the road to traffic on Monday (January 18) – pushing the caravan to the side of the highway and forcing many people back toward the Honduran crossing near El Florido.
More news stories on caravan:
Sandra Cuffe, "'I was so scared': Guatemalan forces disperse migrant caravan" AL Jazeera, January 19, 2021
"Guatemalan troops forcibly clear migrant caravan from highway" Guardian, January 18, 2021
Luis Echeverria, "Guatemalan military clears U.S.-bound migrant caravan from road" Reuters, January 18, 2021
Jason Beaubien, "Migrant Caravan: Thousands Move Into Guatemala, Hoping To Reach U.S." NPR, January 18, 2021
"Crisis Migratoria: Policía de Guatemala hace retroceder a caravana de hondureños con gas lacrimógeno" Prensa Libre, January 17, 2021
Tom Phillips, "Migrant caravan trekking north to US border clashes with Guatemalan troops" Guardian, January 17, 2021
Kirk Semple and Nic Wirtz, "Migrant Caravan, Now in Guatemala, Tests Regional Resolve to Control Migration" New York Times, January 17, 2021
Julia Ansley, "Incoming Biden administration to migrant caravan: Don't come, you won't get in immediately" NBC News, January 17, 2021i
Sandra Cuffe, "Fleeing the pandemic and two hurricanes, thousands of migrants walk toward the U.S.," Los Angeles Times, January 16, 2021