In March the Border Patrol "encountered" 172,000 people - the highest monthly total in years. This surpasses the June 2019 peak of close to 150,000 under the Trump administration, the highest level in over ten years at the time. As we reported last Friday, however, there are some significant differences between now and 2019.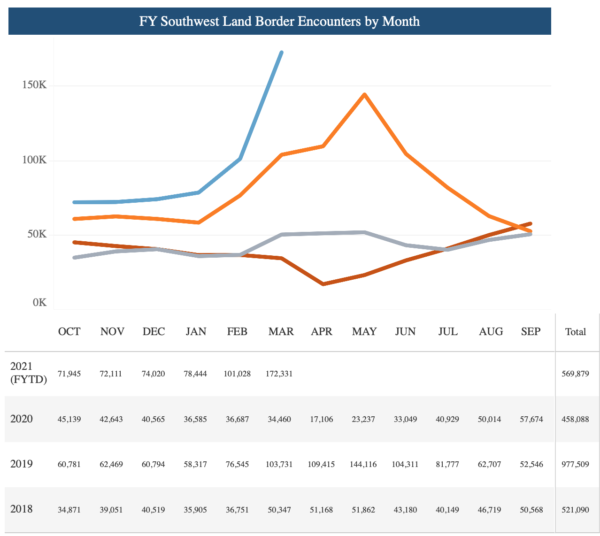 Of the 172,000 people encountered in March, 101,000 were expelled almost immediately under Title 42 policies - a set of regulations imposed by the Trump administration requiring the summary expulsion of most people encountered by Border Patrol. With the March 2021 figures included,  637,000 people have been summarily expelled in the year since Title 42 was enacted (March 20, 2020). 
It is also important to remember when looking at these numbers, many people are still removed quickly under traditional authorities (e.g. Title 8, not Title 42) if it is determined they do not have a valid claim under current law to stay. So, under traditional Title 8 enforcement authority, those wishing to do have a chance to make an asylum claim or present another basis for humanitarian relief, but most will still eventually be removed from the country.
As originally written, Title 42 included expulsion of children, either as part of a family group, or by themselves. A court temporarily blocked the expulsion of unaccompanied children in October of 2020, though the government won an appeal allowing the expulsion of children to resume in January 2021 just before Biden took office. Biden's administration has determined not to expel unaccompanied children. 
Further, although Biden has continued to otherwise enforce Title 42 - including summary expulsion of families - fewer families are being expelled. In March, 52,000 people who were part of a family group were apprehended by Border Patrol crossing. Along with children (18,000), this accounts for most of the 70,000 people encountered, but NOT expelled, under Title 42.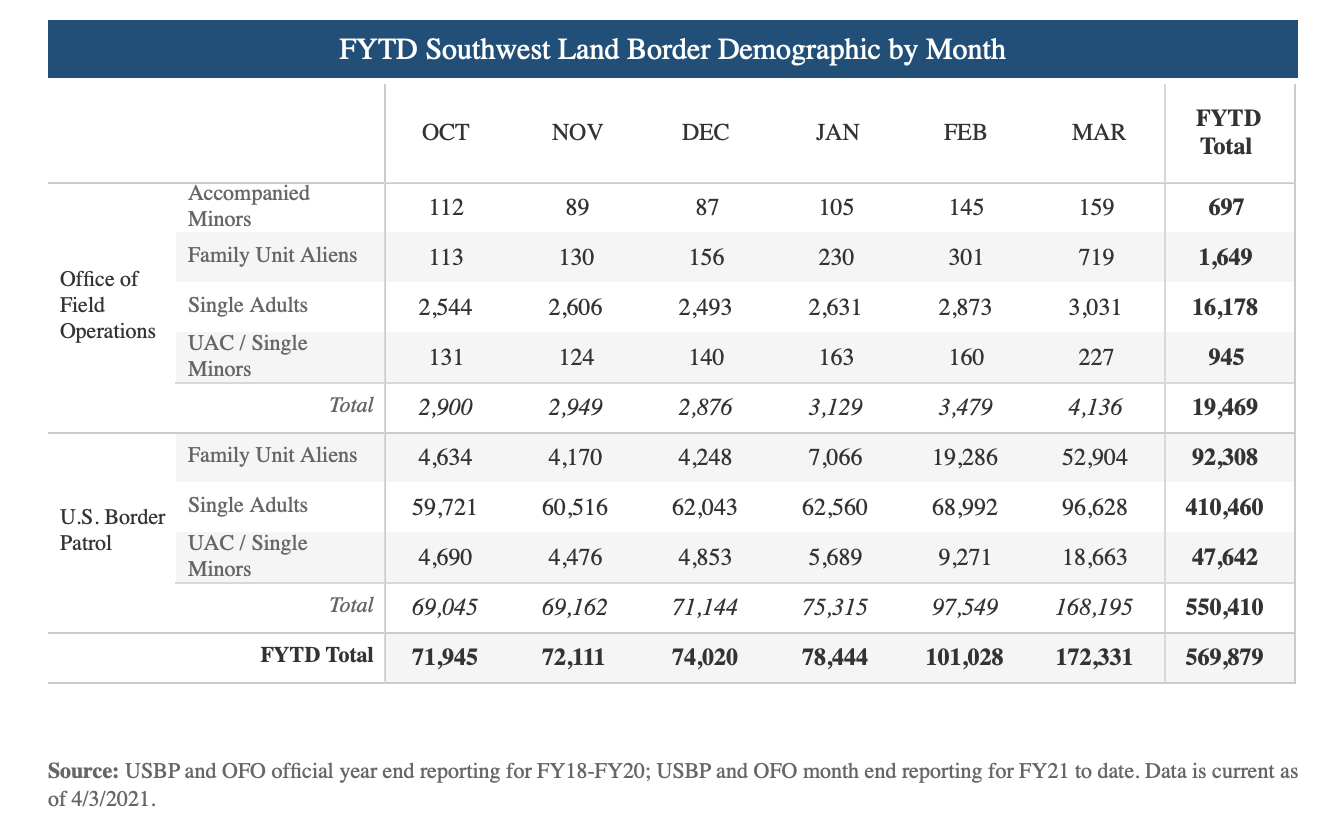 As the number of encounters has increased in recent months, the number of children in custody has also increased rapidly. According to figures from Homeland Security, the number of children in custody of Health and Human Services is now well over 14,000 while another 4,700 remain in the custody of Customs and Border Protection.  These figures now exceed the number of kids being detained on average for any month in 2019. The total number of children taken into HHS custody in Fiscal Year 2019 reached 76,000. Halfway through the current fiscal year, we are not close to that number...yet.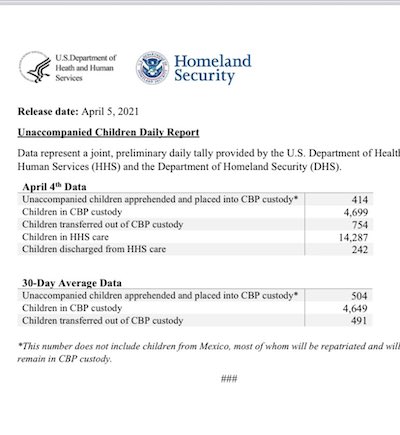 At the same time, overall detention numbers are well below 2019 figures. The number of people in ICE detention has dropped below 14,000 as of mid-March, for example. It was 55,000 in August of 2019. This mostly reflects the ongoing summary expulsion of single adults. Children are not transferred to ICE (rather, they are transferred to HHS), and families, if detained by ICE at all, are only held in one of three facilities (Berks in Pennsylvania, or Karnes and Dilley in Texas) and generally cannot be held longer than 20 days. 
The current stress in the system is the need to process the unaccompanied kids so they can be transferred to HHS, and out of Border Patrol custody. Most have been, of course, but there are still too many in Border Patrol facilities awaiting transfer. As has happened in the past, the government is turning to less than optimal solutions, including opening large tent facilities, often on military bases. Nominally under HHS control, these "influx facilities" have been deeply problematic in the past. They bypass state regulatory controls and oversight, and once the kids are in HHS custody, they can languish there far too long (close to three months on average during 2019).