Yesterday morning I had two messages on Haiti in my inbox. One noting that the 27th removal flight to Haiti since February 1, 2021 was scheduled to land in Port-au-Prince later that afternoon. The other message was about a gang attack in the Marin 26 neighborhood in Croix-des-Bouquets not far from the airport in Port au Prince. On Wednesday this week (April 7), three young men were shot and at least one of them beheaded. Initial reports indicated that members of the gang "Chen Mechan" were responsible for the attack - one of the victims being the leader of a rival gang. 
The two story threads have been consistent since Biden took office. Two or three times a week (back in February, three times in one day!) expulsion flights are leaving the United States for Port-au-Prince. Meanwhile, there are daily reports of gang attacks, kidnappings, or assassinations in Haiti. I keep wondering how Biden's folk are unable to connect these dots, and stop the expulsions. 
The sad truth is, Biden's people know all this - and they keep returning Haitians anyway; Women, children, men, families, are being expelled without having a chance to request asylum. This needs to stop. 
"May face harm…"
Toward the end of February, there was an interagency meeting held to discuss the dangers that people removed to Haiti may face. A document summarizing the meeting was leaked to Hameed Aleaziz of Buzzfeed News. His report of the document's contents on March 2, 2021, says: 
"[B]ased on a recent analysis of conditions in Haiti, USCIS believes that Haitians removed to Haiti may face harm upon return to Haiti as follows." The document goes on to explain the conditions in the country and relies exclusively on publicly available information, including a State Department travel advisory from August that recommended not traveling to Haiti due to "crime, civil unrest, kidnapping, and COVID-19."
By the end of February, the Biden administration had ramped up expulsions to Haiti, deporting more people during the first three weeks of February (963) than Trump had deported in all of Fiscal Year (895). Since this interagency meeting was reported (it is not clear when the meeting itself was held), and despite the clear observation that people "may face harm," another 700+ people have been expelled to Haiti. 
There is widespread opposition to these expulsions to Haiti within the U.S. Congress, and among human rights organizations, public health experts and others. Nevertheless, Biden's Department of Homeland Security has been unrelenting.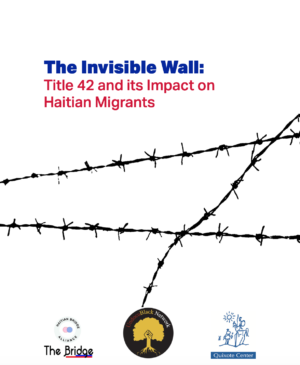 Two weeks ago we released a report with the Haitian Bridge Alliance and UndocuBlack, The Invisible Wall: Title 42 and its Impact on Haitian Migrants. The report concerns the Trump era Center for Disease Control public health order claiming authority under Title 42 of the U.S. Code to expel people absent an asylum review or access to other humanitarian relief.  Though public health experts have lined up repeatedly to denounce this order as having no public health justification, Biden currently insists on keeping it in place.
For most people, Title 42 policies mean summary expulsion back into Mexico. Well over 90% of the people expelled are removed within 2 hours of first encounter by Border Patrol. One result is that many simply try to come back again. Nearly 40% of those removed this way, try again (this is one reason why the number of apprehensions have been increasing in recent months, even before Biden took office). However, for the vast majority of Haitians, Title 42 does not mean quick expulsion back across a bridge into Mexico. For Haitians, Title 42 means being placed in detention for weeks, and then put on a plane and sent back to Haiti.  
As we document in this report, most of the people arriving at the United States/Mexico border today left Haiti years ago. They are arriving from Brazil, Chile and other countries in Latin America where tens of thousands fled after the Port-au-Prince earthquake in 2010. So, after years of migration, fleeing violence and racism in other countries, on a journey across thousands of miles and seven to ten countries, people arrive at the U.S. border to make a claim for asylum. This they are denied. They are summarily expelled to Haiti without being heard. 
Another distinction for Haitian removals is that a large portion of them are families. Title 42 policies have no exemption for families and as a result, families have been expelled along with everyone else. Though there is some evidence that Biden is expelling fewer families overall in recent weeks, Haitian families are still being removed at alarming rates. Again, they are not allowed to request asylum or another kind of humanitarian relief. They are denied access to attorneys. They are held in very poor conditions. Most are not able to communicate with the people detaining them. From The Invisible Wall:
"Roseline" is a 37-year-old wife and mother who fled Haiti after being kidnapped, beaten, and raped by a group because of her political affiliations."They had kidnapped me so I could give information about the political group I was a coordinator of. They beat me up, they raped me... I said I didn't know any- thing. They let me go and asked me to search for information to bring to them." After the attack, Rose- line tried to go to the Haitian police, but they refused to provide any form of protection."I went to the police with what had happened, the police just laughed. They act just like bandits and said I didn't get killed but I'm still complaining."
Roseline and her husband fled Haiti in July of 2016. She gave birth to their first son while they were traveling through Mexico. After a long and grueling journey, Roseline entered the United States on Feb- ruary 1, 2021, and was expelled on February 11, 2021 under the Title 42 policy.
In the United States Roseline did not have a chance to speak to an immigration officer about her fear of returning to Haiti. She was never given a Haitian Creole interpreter nor were any of the documents she was given translated into Creole. Roseline did not get an opportunity to speak to a lawyer nor present her case to a judge. She was detained for 11 days without access to a shower or to brush her teeth:
I was in prison, they kept me there and did not give me access to a shower or to brush my teeth or wash myself. I couldn't do anything and they put me on a plane back to Haiti.... Anywhere in the world it's known that a woman cannot go two days without bathing. I spent 11 days there without any access to clean myself with a 4-month-old baby. When I got wipes for the baby, I had to use the wipes to wash my private parts. The baby had pooped on the clothes. I asked if I could change the baby's clothes and I had to put the dirty clothes in a plastic bag, and they said they had no clothes for me. I wanted to get access to our stuff to get clean clothes but they didn't allow me so I had to put the clothes with the poop on the baby again, and those are the clothes the baby wore on the plane.... I had in- fection when I returned to Haiti because I spent the whole time without bathing.
Roselyn's case is not unique. While difficult to confirm with DHS, we estimate that Haitian families make up at least half of these expulsions. Advocates working to halt removals have encountered full expulsion flights of all family units, including dozens of young children. The optics of expelling children, some just months old to Haiti are not great for the administration. However, the optics of treating them decently seems to scare Biden more. So, while there is often buzz about this or that deal on Title 42, the only public gesture Biden's administration has made regarding Haiti immigration is the U.S. Embassy posting warnings to Twitter, telling people not to come to the United States.
Meanwhile, the conditions in Haiti that people are being returned to are deteriorating rapidly.
The psychosis of fear
The administration's observation that people returned to Haiti "may face harm" seems laughably obtuse - except that there is nothing funny about the collapse of governance and rising insecurity in Haiti.
"Practically every Haitian is living in a psychosis of fear," [Michelle] Obas told the Miami Herald. "Every time you see a vehicle, you jump. Even your child. You are taking them to school and they are afraid. … The country's traumatizing and we are in a situation that is chaotic with no idea when we will get out of it." 
The topic on everyone's mind at the moment is the rise in gang violence. The reality is that gangs are a manifestation of a deep structural crisis involving long-term unemployment, crowded, underserviced cities, and the parallel collapse of state capacity, as public agencies have been gutted by decades of neo-liberal reform. All of this has occurred alongside an utter refusal to stem the flow of weaponry to the country (despite a "weapons embargo" thousands of small arms have entered Haiti since 2004/5, most from the United States and the Dominican Republic).  
The result is that gang violence has been steadily on the rise over the past few years, and shows no sign of abating. While the refrain that the government is "behind the gangs" is probably not true across the board, there have been multiple reports that some armed groups, such as the federation G-9 under the control of Jimmy "Barbecue" Cherizier, are backed by - or at least tolerated by - the government in exchange for keeping a lid on opposition activity. 
Just this week the situation in Port-au-Prince exploded again, as Cherizier's gang attacked the community of Bel Air, burning out families in a rampage that left an untold number of people dead. From the Miami Herald,
They arrived unannounced, brandishing heavy artillery as they scaled the rooftops of houses, firing shots and setting homes ablaze.
While some residents managed to escape amid the billows of black smoke and tear gas, others became trapped and died inside their burning houses. The Thursday assault on residents inside the poor, pro-opposition neighborhood of Bel Air in Haiti's capital was the third large attack in less than two years.
It occurred within walking distance of Haiti's presidential palace and was perpetrated by gang members affiliated with Jimmy "Barbecue" Chérizier, a fired policeman-turned-powerful gang chief who is wanted in several massacres, including the slaughter of dozens of men, women and children in a 2018 attack in Port-au-Prince's La Saline slum.
Cherizier does not deny attacking Bel Air, but claims he was defending his neighborhood (Delmas) against attacks from rival gangs in Bel Air. Cherizier argues that Haiti's opposition is "supplying guns and cash to Bel Air so residents could attack his alliance."
Human rights leaders said it had nothing to do with gang rivalry, but "was to break the resistance of Bel Air, which is considered an opposition stronghold, and to prevent residents from taking to the streets in anti-government protests, which have increased in recent weeks. . . . The attack is also the result of the impunity that Chérizier and his fellow gang members have come to enjoy under the administration of President Jovenel Moïse, Gilles added." 
It is worth noting that days before the attack, people mobilized in large demonstrations against the government.
While the motivations and alliances underlying the gang phenomenon are multi-faceted, and vary in different parts of the country, one thing that should be abundantly clear to the U.S. Embassy and thus the Biden administration is that gang violence in Haiti right now, whatever criminal activity accompanies it, is political violence. Period. People who are fleeing this situation are as much refugees as people fleeing a war zone. 
For the time being, however, Biden's team keeps sending people back into the heart of the conflict. And, to be clear, not just sending them back, but doing so without even allowing them a chance to make a claim for humanitarian relief. It is infuriating to watch, and it must stop. What political calamity does Biden fear so much that he is willing to send families back to Haiti without even pausing to ask them why they fled? 
What can be done?
Among the recommendations we make in our report, the big ticket items are 1. Rescind Title 42 policies, 2. Re-designate temporary protected status (TPS) for Haiti, and 3. Halt all expulsions and deportations to Haiti.
Title 42 is just lousy policy. When implemented it was widely viewed as a political stunt by Steven Miller, Trump's anti-immigration advisor, to use the COVID-19 pandemic as an end around federal courts, which had blocked several Trump efforts to shut down asylum. Title 42 also bypasses Congress altogether.  Public health experts have repeatedly bashed the CDC order as unnecessary, and have offered multiple sets of recommendations that could replace it and actually provide enhanced public health measures at the border without closing off asylum claims.
Biden has agreed to review the policy - and the CDC order will have to be revoked eventually, one would think. For now, every day thousands of people are being expelled with no due process by the president who promised to rebuild asylum. He needs more time, he says, and blames the whole situation on Trump. We don't think this is good enough.
The message to Biden: Revoke Title 42, and replace it with real public health protections and expanded asylum processing.
Second, re-designate TPS for Haiti. Temporary Protected Status is a designation that the president can make that protects most people currently in the United States from a specific country from removal. People who are unauthorized, or unable to return home, can get permission to work for some period of time, rather than be deported. Haiti was granted TPS following the earthquake in 2010, and it was redesignated in 2011 (meaning anyone from Haiti living in the United States as of July 23, 2011 was protected from removal). 
Trump tried to kill TPS for Haiti by refusing to renew it in 2018. This set off a court battle that is still underway.
The demand being made now is that Biden re-designate TPS for Haiti. This would end the uncertainty Haitians previously designated have been living with since Trump starting dismantling TPS, and it would also protect others currently in the United State who are more recent arrivals.
Politically speaking, there is no reason not to do this! Members of the Senate, including Republican Marco Rubio, have called for redesignating TPS for Haiti.This week, House leadership on the foreign relations committee joined in the call for a redesignation of TPS for Haiti. This seems to be the most likely remedy. 
Unfortunately redesignation does nothing about the Title 42 expulsions. Anyone from Haiti arriving after the re-designation date, will still be expelled. At the same time, halting Title 42 expulsions, while reducing the number of people being removed, does not mean people get to stay unless Haitian asylum claims are taken more seriously.
So, we support all of the above. But the simplest demand is to stop the expulsion of Haitians! No more removals until the political situation stabilizes.