CNN reported on Thursday, April 1, "There were about 17,650 unaccompanied migrant children in US government custody….including 5,767 in CBP custody." So, 5,767 in Border Patrol custody, leaving "about" 11,883 in the custody of Health and Human Services (or in the process of being transferred into HHS custody).
In July of 2019, there were well over 14,000 children in HHS custody. Indeed, between October of 2018 and September of 2019, the average daily population of kids in HHS custody never dropped below 11,000!! 
Meanwhile, Border Patrol facilities were packed: A daily average of people in custody hovered at 16,000 in June of 2019 - including children, families and single adults. The people evaluating detention practices at Border Patrol stations were shocked at conditions, and the publication of their findings led to a widespread outcry.  In an interview with The Atlantic, Warren Binford, an attorney inspecting facilities, said:
Children described to us that they've been there for three weeks or longer. And so, immediately from that population that we were trying to triage, they were filthy dirty, there was mucus on their shirts, the shirts were dirty. We saw breast milk on the shirts. There was food on the shirts, and the pants as well. They told us that they were hungry. They told us that some of them had not showered or had not showered until the day or two days before we arrived. Many of them described that they only brushed their teeth once. This facility knew last week that we were coming. The government knew three weeks ago that we were coming.
At the border today, there are again a large number of unaccompanied minors, in numbers that apparently exceed current capacity at HHS shelters to receive them (though it is not clear why). The scenes of kids in crowded pods are a striking reminder of the sorry state of U.S. border policy. However bad that it is, it does not approach the catastrophe that faced migrants, including children, on our border in the late spring and summer of 2019.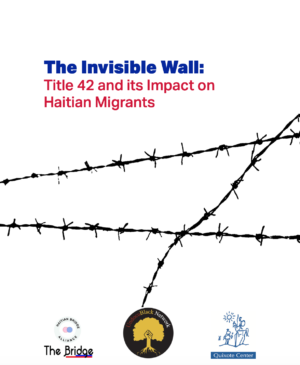 One reason is that there are fewer people in custody today. While the number of kids in custody is high today, this is not true of the overall population - which is actually very low by historical standards. In fact, the vast majority of migrants apprehended attempting to cross the border are single adults and they are being expelled immediately under "Title 42." Title 42 is an abusive policy which claims authority under public health provisions of the federal code to expel people. 536,000 people since last March. We oppose this program. Last week we released a report with the Haitian Bridge Alliance and UndocuBlack Network documenting multiple problems with Title 42, with a particular focus on harms to Haitian migrants. The fact that people are being summarily expelled in this manner is a shocking abdication of responsibility. 
What this also means, however, is that there are far fewer people in custody right now than any point in recent history. For example, Immigration and Customs Enforcement detention soared during the summer of 2019, reaching an all time peak of 55,000 people in custody a day by August. Currently the number of people in ICE custody is less than 14,000 (data sheet linked here - updated weekly) - the lowest level in over 20 years.
As noted, Border Patrol facilities were well over-capacity in 2019 - above and beyond the number of kids in custody. In addition, record numbers of people were being redirected for Federal Prosecution for "illegal entry" or "illegal re-entry" at the time as part of Trump's "zero-tolerance" policy. As a result, at least 23,000 people were either in Federal Bureau of Prison or Marshall Service custody on any given day serving time or in pre-trial detention. Indeed, as we reported at the time, there were approximately 100,000 people in some form of immigration detention in July of 2019. We are nowhere close to that now.  In addition, there were tens of thousands of other people (approximately 50,000 in summer 2019) waiting in Mexico to make an asylum claim under the Migrant Protection Protocol. 
Comparing 2019 to today raises a couple of important points. 
First, the U.S. immigration system remains broken. It is a disgrace that people are treated this way. But the situation now is by no measure worse than we saw in 2019. Talks of a 20-year high in apprehensions ignore that 80% of the people apprehended are pushed back out of the country within two hours of being encountered by Border Patrol under Title 42. Ignoring this fact also seriously mischaracterizes what is happening right now compared to other periods in history, when detention was much higher and conditions far worse. Also, while we may hit a 20 year high in total apprehensions before the year is over, we are still below 2019 at this point (April 2, 2021).
Secondly, we want to shout at Biden and his team with every decibel we can muster: Deterrence DOES NOT WORK!!! It is increasingly infuriating to hear the media talk about this increase in numbers as a result of the perception that Biden is going easy on people. There is anecdotal evidence of this, of course. Reporters can always find people who will say they expect Biden to be nicer. The administration needs to ignore this narrative, which implies generosity is an invitation to crisis, and, therefore, deterrence works.
A far worse human rights debacle was visited upon migrants, amidst a larger increase in border crossings while Trump was president. Trump's DHS brutalized people, proudly and on camera, under the delusion that doing so would keep others from trying to come. It did not work! The twenty year peak in apprehensions actually happened while Trump was president - the year after his administration decided that taking people's children would be an effective deterrent. If Trump's immigration program failed to "deter," Biden needs to rethink the idea that staying tough-ish is the answer. 
People are fleeing desperate circumstances and their decisions to leave home generally have nothing to do with U.S. border policy! For example, people from Haiti arriving at the border today generally left Haiti years ago, and are actually arriving from Brazil, Chile, and elsewhere. Yet, the U.S. embassy in Haiti this week is posting pictures of Biden telling Haitians "not to leave." It is a patronizing and frankly ignorant response to the criticism Biden has received for expanding removals to Haiti.
"I can say quite clearly, don't come over." - @POTUS pic.twitter.com/awzbolMzU6

— U.S. Embassy Haiti (@USEmbassyHaiti) March 24, 2021
Finally, Border and Customs Services proudly proclaims it processes 650,000 people a day. Given that, I have to ask how on earth 400 unaccompanied kids crossing a day is crippling the system? So, rather than doubling down on Title 42 expulsions, and co-opting Mexico to yet again play enforcement partner, as Biden is currently doing, resources should be redirected to facilities that improve processing  at the border so these kids are spending minimal time in custody (more asylum screeners and less Border Patrol for example). Also we need to be sure that adults and families can also be interviewed quickly, screened for COVID-19 and released safely upon the revocation of Title 42 - which must happen now.  People will keep coming - we need to be clear on that and adapt our approach to be far more humane. The media sensationalizing the border situation, however, is not helping.