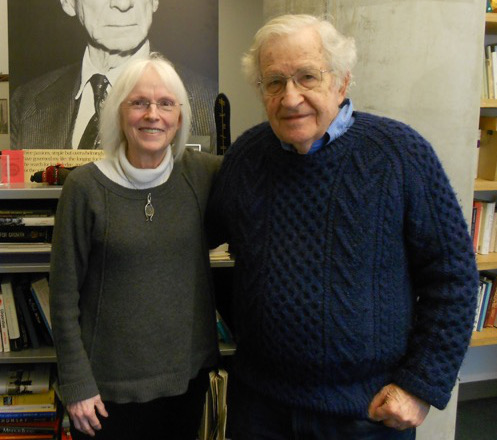 On April 10, I met with Noam Chomsky for 1/2 hour at MIT in Boston. Starting in the 1980s, I knew that he had been following the Quixote Center for many years, with special interest in our work in Nicaragua. Before going to Boston for the Catholic Organizations for Renewal meeting, I decided to ask for a meeting with Noam. Although most requests of this kind are refused, and considering the short timeframe, Noam's response was "I want to meet her."
Our meeting was warm and refreshingly candid. I shared with him our "Homes of Hope" plan for a sustainable home building program in Nicaragua and our latest QC Chronicles and annual report. I pointed out, with special pride, the offshoots of the Center over the last 40 years. He asked if we were still in touch with the groups, likely asking if the separations were amicable or turbulent. My answer was, yes, we are still in touch, if the organizations still exist. He was also curious to know if we were still in touch with members of the Sandinista government. Answer: "No."
Noam has been to Nicaragua a number of times. I shared with him the pain the Center experienced following Bill Callahan's final months and his death, along with the pride I now feel that the Center is back on its feet with strong, vibrant programs in Nicaragua and Haiti.
His assistant, Bev, after a ten minute extension of our allotted time, marched into the office with a bowl of soup for Noam's lunch, insisting that the meeting was over. "Ok, Ok, it's time for me to go – right now…" A photo, hugs, and warm handshakes, and I was gone.
Bev walked me to the elevator with her dog who goes to work with her. Noam is lucky to have her. She's smart and smart-assed, funny, tough and a softie.
When I returned to DC and sent my bread and butter letter, Noam wrote back, "It was a real pleasure to have a chance to talk.  Can't tell you how much I've admired the work of the Center over the years."
Enough said.
-Dolly Pomerleau