Asylum is Under Threat—Take Action to Protect It 
Two weeks ago, the Mexican government confirmed that it would begin receiving Venezuelan migrants expelled under an expansion of Title 42. In just two weeks, the U.S. has expelled 5,424 Venezuelans to Mexico, who earlier this month would have been able to seek asylum.  
At the same time, the U.S. announced a new humanitarian parole program for 24,000 Venezuelans to apply for entry and fly to the United States. However, the program's significant restrictions mean that most Venezuelans who already left their country hoping to seek asylum in the U.S. will no longer be able to do so.  
In Mexico, Venezuelans face the threat of immigration detention and removal back to Venezuela. On Tuesday, Mexico sent its first removal flight to Caracas, carrying about 100 migrants. Mexico itself is also not safe for migrants, as there have been nearly 10,000 recorded attacks against migrants blocked in or removed there under Title 42.  
We've been calling for an end to Title 42 for over two years now, but what exactly is this policy? What is asylum, and why is it in danger?  
Imagine you are being persecuted. You could apply for refugee status, a process that can often take months, or even years, all while your life is in danger. Or you could flee your home country in the hopes of applying for asylum, which requires being present on U.S. soil.  
Through various international treaties, the United States has the legal and moral obligation to protect anyone who qualifies as a refugee, whether it be through refugee status or asylum. Title 42, however, ignores that obligation.  
Title 42 stems from a now obscure U.S. health code dating back to 1944 that allows federal health authorities to prevent the spread of communicable diseases by blocking migration. Early in the pandemic, the Trump administration invoked Title 42 through the CDC, allowing Border Patrol to immediately expel anyone regardless of any potential claims to asylum.  
A top CDC official recently revealed that the order was drafted without the agency's guidance, revealing what immigration advocates have known all along: Title 42 was never necessary to protect public health.  
The Biden administration promised to restore asylum, but instead has carried out almost two million expulsions under Title 42. When the CDC finally moved to wind down Title 42, in April of 2022, a federal judge almost immediately blocked it from doing so, citing technicalities.  
Previously, Venezuelans, along with Nicaraguans and Cubans, were mostly exempt from Title 42 expulsions, as the lack of diplomatic relations made repatriation complicated. Now, following the recent expansion, the Department of Homeland Security is considering the Title 42 expansion to Venezuelans a "success," and is considering expanding Title 42 to other nationalities.  
Title 42 may be a recent policy, but it has simply laid bare the white supremacy inherent in our immigration system, as Haitian migrants have been removed at a disproportionate rate despite the security crisis in Haiti. And despite claims that the parole program for Venezuelans is modeled after that for Ukraine, Ukrainian migrants have faced far fewer obstacles to obtaining parole.  
The future of asylum appears grim. But it doesn't have to be this way.  
Click below to send a virtual letter to the White House calling for the restoration of safe and orderly asylum processing.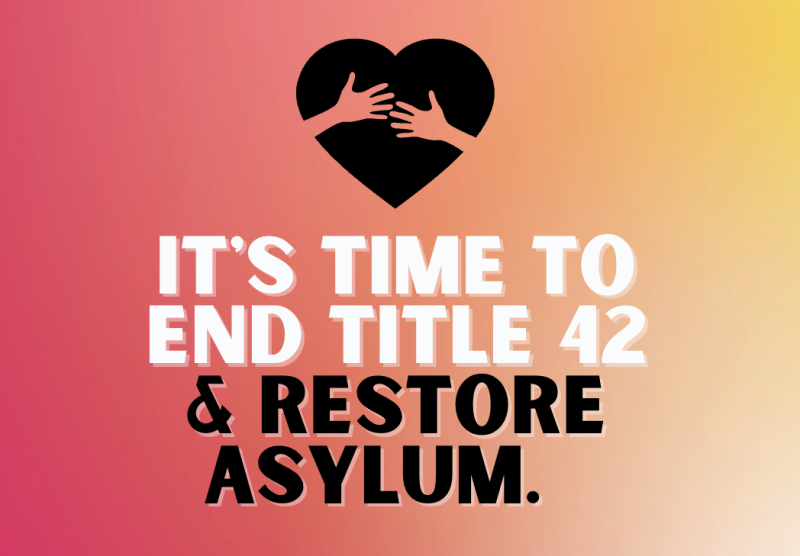 The Mexican government has confirmed that, after pressure from the U.S. government, it will begin accepting removals of Venezuelan migrants under an expansion of Title 42.  At the same time, the Biden administration created a limited program for 24,000 Venezuelans to apply for humanitarian parole from outside the United States. However, it comes with some significant restrictions, barring anyone without a valid passport, a financial sponsor in the United States, or that has crossed irregularly through Mexico or Panama after October 19th. Most Venezuelans that are currently fleeing will likely not qualify and face immediate expulsion under Title 42. Click here to take action